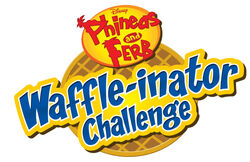 The
Phineas and Ferb Waffle-Inator Challenge
was a promotional interactive game that was run during the biennial D23 Expo held in Anaheim, California on August 9 through 11, 2013, and also held at the Downtown Disney district of the Disneyland Theme Park on August 16 through 18 of that same year to promote the Marvel/Disney crossover special "
Phineas and Ferb: Mission Marvel
".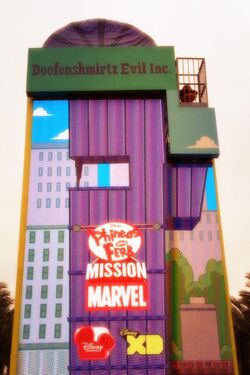 In the game, players shot inedible waffles at a giant 40-foot high high-defintion video board made to look like the headquarters of Doofenshmirtz Evil Incorporated by playing against Dr. Doofenshmirtz and his inators as Phineas and Ferb go up the building one level at a time to save Agent P from the top.  Teams of four had three minutes to help the boys climb six levels.