Home
Talk

205
1,985pages on
this wiki
Around the Wiki
Recaps on your favorite show.

The musical parts of the show.

Danville and beyond.

Cast members of the show.

Stuff to buy.

Participate, it's fun.

New to the Wiki?
Featured Article
Isabella Garcia-Shapiro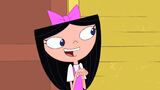 The neighbor of Phineas and Ferb with a crush on Phineas, Isabella Garcia-Shapiro is the leader of Fireside Girls Troop 46231. She and her troop often help the boys with their Big Ideas.
She has a wide variety of skills in the mechanical, musical, leadership and other fields and possesses the ability to sense whenever someone uses her catchphrase. Like the boys, she also has a pet that leads a double life unbeknownst to her. (Read more...)
Song of the Month
Summer Belongs to You
Summer Belongs to You celebrates the return of Phineas, Ferb, Candace and their friends after their around-the-world trip. It offers encouragement to everyone to make the most of every day.
Lyrics
Phineas: It's been a long, long day
And there were moments when I doubted
Isabella: That we'd ever reach the point
Where we could laugh and sing about it
Phineas and Isabella: Now the sun is set on this,
Another extraordinary day
And when it comes around again
You know I'll say...
Tell me whatcha wanna do today
All we need is a place to start
If we have heart, we'll make it
'Cause we're not messing around
(we're not messing around)
Yes we can dream it, do it, build it, make it
I know we can really take it
To the limit before the sun goes down...
Read more...
Monthly Quote
"How many jellybeans in the jar?"
"Oh, I'm really good on solving these kind of problems."
"The base of the jar is Pi times radius squared."
"You're measuring in radius in centimeter, right?"
"No, inches. That way the inches factions is rounded by the Pi of 22 over 7."
"You do not use 3.14 for Pi--"
"OH, FOR CRYING OUT LOUD!"
(Buford eats all of the jellybeans in the jar)
"There, zero."
(Door opens to the next path.)
"Okay, technically that was correct, but you did not show your work."
"I will in about 20 minutes."
-Buford, Baljeet and Phineas
Did You Know...?
From Phineas and Ferb Wiki's latest articles.

...that Dan Povenmire can do Dr. Doofenshmirtz's voice for about 2 hours at a time, but Jeff "Swampy" Marsh can only do Major Monogram's for about 45 minutes?
...that in the book "Learn to Draw Phineas and Ferb", one of the things Isabella says is that she doesn't have eyebrows and is sensitive about it, but she has eyebrows for a lot of the series and they don't even mention that at all. It could be just something to tease the reader.
Helping Out
Not sure where to start?
The Community Portal is a great place to learn about the wiki. It contains information for newcomers and regular members alike:
Information on the show, actors, theme song, broadcast channels, the Big Ideas and Doofenshmirtz's schemes and inventions.
Info on getting started and editing the wiki, with video demos.
How to customize your User page.
See what's missing on pages.
How to maintain pages and make sure they have a consistent look.
Reference materials on templates, categories and more.
Fan art, fan fiction, blogs and newsletter articles.
Talking with other members of the wiki in Forums and IRC channels.
When a new episode premieres, check the Editing checklist to see what information needs to be added.
The wiki about the television show


Phineas and Ferb

that

anyone can edit

!
We currently have


1,985 articles


and a plethora of

spoilers

relating to the show and its licensed media.
Currently, there are also communities in the following languages:

DE
ES
NL
PL
PT
PT-BR
RU
VI
Phineas and Ferb Headlines
Loading RSS data...
Refresh
·
Read more...
Show News Blogs
Dr. Doofenshmirtz hasn't really seemed to have much of a problem with funding his plans for tri-state area domination before, but it seems as the alimony from his ex-wife isn't covering it anymore, as next month he plans to go to professionals for help. Must be the economy. Or the fact that his pla…

Read more >
Community News
Are you talented in computer art?  How good are you with the colors turquoise (or teal) and tangerine?

Platypus Day is coming on March 2nd here in the Western Hemisphere, and if you're good with both colors mentioned, you just might to want to ceate a background in honor of Agent P like we did last …

Read more >


  (subscribe)                



The Official ' Newsletter, Issue 86: February 19, 2013



 











Contents
1 Big Same Sunday in Danville
2 Crat Corner
3 Platypus Day is nearly here







There was no truth to the rumors that the big football game between the Charm City Poebirds and the Bay Area Gold Rushers was delayed due t…














Read more >

Recently, Wikia announced that they were going to upgrade the MediaWiki software that runs all of their wikis. They have a lot of testing to do to make sure everything they've customized works with the new version. Some of the updates include making sure the code is HTML5-compliant. As such, the re…

Read more >

For a few months now, we've been floating around the idea of changing from standard user talk pages to Wikia's new Message Wall system. It is being used on many other wikis and seems to be working for them. For those who aren't familiar with the message wall, it allows you to make blog-like comment…

Read more >

In the newsletter, I made the suggestion that we have an Easter egg contest. Normally you decorate the eggs just before Easter, but since the eggs would be voted on to determine which ones will be shown on our main page, we need to start on them ahead of time. If nothing else, you can get some prac…

Read more >
Featured Pictures