Home
Talk

220
2,652pages on
this wiki
Around the Wiki
Recaps on your favorite show.

The musical parts of the show.

Danville and beyond.

Cast members of the show.

Stuff to buy.

Participate, it's fun.

New to the Wiki?
Featured Article
Phineas and Ferb: Star Wars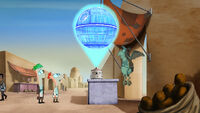 Phineas and Ferb are living just one moisture farm over from Luke Skywalker on the planet of Tatooine when R2-D2 and the Death Star plans inadvertently fall into their speeder. With the fate of the galaxy thrust upon their shoulders, they hire pilot Isabella, Han Solo's rival, to help them return the plans to the Rebel Alliance. Complicating matters, low-ranking Stormtrooper Candace is intent on busting the Rebels and chases them across the galaxy in hopes of retrieving the Death Star plans. (Read more...)
Song of the Month
"The Way of the Platypus"
This song is a song is a song from "Doof Dynasty" as Master Perry trains Phineas, Ferb, Baljeet and Buford to save Princess Isabella.

Lyrics
Rick: Oh yeah!
In other circumstances you might fail,

'Cause I know you don't have a beaver tail.

You're not a platypus, but I'm gonna see you sweat...

All: Milk!
Rick: We're going to see how much you can take,

I'm going to work you through your union break.

You squeeze a silkworm, what you think you're gonna get?

All: Silk!
Read more...
Monthly Quote
"Just remember, Baljeet, a captain always goes down with the ship. (gives hat to Baljeet)
Oh boy, a promotion."
— Buford and Baljeet
Vote for the next Monthly Quote
Did You Know...?
From Phineas and Ferb Wiki's latest articles.

...Principal Lang was a rival of Dr. Doofenshmirtz in high school in the 1980's?
Nominated by Mouseinphilly
...Throughout 2014, the show aired 12 regular episodes and 3 specials, 15 total, the shortest amount of episodes aired in a year so far?
Helping Out
Not sure where to start?
The Community Portal is a great place to learn about the wiki. It contains information for newcomers and regular members alike:
Information on the show, actors, theme song, broadcast channels, the Big Ideas and Doofenshmirtz's schemes and inventions.
Info on getting started and editing the wiki, with video demos.
How to customize your User page.
See what's missing on pages.
How to maintain pages and make sure they have a consistent look.
Reference materials on templates, categories and more.
Fan art, fan fiction, blogs and newsletter articles.
Talking with other members of the wiki in Forums and IRC channels.
When a new episode premieres, check the Editing checklist to see what information needs to be added.
 

Cast and Crew Birthdays

| | |
| --- | --- |
| Devin Bunje (writer) | Feb. 17 |
| Luc Robitaille (Himself) | Feb. 17 |
| Logan Miller (Johnny) | Feb. 18 |
| Tony Anselmo (Additional voices) | Feb. 18 |
| French Stewart (Gaston Le Mode) | Feb. 20 |
| Isabella Acres (Katie) | Feb. 21 |
| Josh Gad (Wendell) | Feb. 23 |
| Barry Bostwick (Clyde Flynn) | Feb. 23 |
| Keith Ferguson (Additional voices) | Feb. 26 |
| Kat Cressida (Additional voices) | Mar. 1 |
| Laird Hamilton (himself) | Mar. 2 |
| Jaret Reddick (Danny, himself) | Mar. 6 |
| Rob Paulsen (Manager of Little Duffer's, Mad scientist from the sci-fi film, Slushy the Clown jingle singer) | Mar. 11 |
| Jon Colton Barry (writer, storyboard artist, composer) | Mar. 12 |
| Vicki Lewis (Lulu Jones) | Mar. 17 |
| Greg Ellis (Jameson, additional voices) | Mar. 21 |
| Chaka Khan (Herself) | Mar. 23 |
| Richard O'Brien (Lawrence Fletcher) | Mar. 25 |
| Jennifer Grey (Dr. Gevaarlijk, Arlene (the Librarian), Baljeet's mother, Svetka, Mrs. Pierpoint) | Mar. 26 |
| Brenda Song (Wendy) | Mar. 28 |
| Shae Brewster (Nicolette) | Mar. 28 |
| Megan Hilty (Aunt Tiana) | Mar. 29 |

Update the cast and crew birthday list

 

Community member birthdays




Update the community birthday list
Affiliates
Be sure to check out our affiliated wikis!


The wiki about the television show


Phineas and Ferb

that

anyone can edit

!
We currently have


2,652 articles


and a plethora of

spoilers

relating to the show and its licensed media.
Currently, there are also communities in the following languages:

DE
ES
NL
PL
PT
PT-BR
RU
VI
Phineas and Ferb Headlines
Loading RSS data...
Refresh
·
Read more...
Show News Blogs
Almost here Phineas and Ferb: Star Wars is. Today, Disney announced the release date as well as some additional details for the long-awaited second crossover of the Boys of Perpetual Summer with an extended Disney universe (not to be confused with the Star Wars Extended Universe - or Star Wars Legends…

Read more >
Community News
Winter will soon give way to Spring, and that means it's time again for Nickelodeon to open the voting for their Kids Choice Awards. Just like last year, Phineas and Ferb is up against SpongeBob SquarePants for favorite cartoon, and they're joined by Adventure Time and the new Teenage Mutant Ninja Turtles…

Read more >

Around two years ago, I ended up becoming part of the Phineas and Ferb Wiki's social networking team by chance. I had submitted a number of posts on the Wiki's Facebook page linking to news and interesting links regarding Phineas and Ferb, which caught the attention of one of our admins and the prop…

Read more >

Are you talented in computer art?  How good are you with the colors turquoise (or teal) and tangerine?

Platypus Day is coming on March 2nd here in the Western Hemisphere, and if you're good with both colors mentioned, you just might to want to ceate a background in honor of Agent P like we did last …

Read more >


  (subscribe)                



The Official ' Newsletter, Issue 86: February 19, 2013



 











Contents
1 Big Same Sunday in Danville
2 Crat Corner
3 Platypus Day is nearly here







There was no truth to the rumors that the big football game between the Charm City Poebirds and the Bay Area Gold Rushers was delayed due t…














Read more >

Recently, Wikia announced that they were going to upgrade the MediaWiki software that runs all of their wikis. They have a lot of testing to do to make sure everything they've customized works with the new version. Some of the updates include making sure the code is HTML5-compliant. As such, the re…

Read more >
Featured Pictures