Home
Talk

218
2,200pages on
this wiki
Around the Wiki
Recaps on your favorite show.

The musical parts of the show.

Danville and beyond.

Cast members of the show.

Stuff to buy.

Participate, it's fun.

New to the Wiki?
Featured Article
Candace and Jeremy's relationship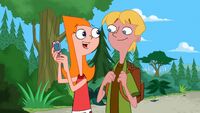 She's a high-strung bundle of neuroses with an over-protective streak. He's more laid-back, a musician and dedicated employee of the Mr. Slushy franchise.
Candace Flynn and Jeremy Johnson show that opposites do attract and they recently made being a couple official. (Read more...)
Song of the Month
I'm Lindana and I Wanna Have Fun!
This song is a one-hit wonder song sung by Linda Flynn-Fletcher as Lindana, shown in "Flop Starz" and "Ladies and Gentlemen, Meet Max Modem!". It was the song that she told Phineas and Ferb about that convinced them to make a one-hit wonder.

Lyrics
Singers: She's Lindana...
Lindana: I'm Lindana and I wanna have fun!
Singers: She wants to have fun
Lindana: I'm Lindana and I wanna have fun!
Singers: She's Lindana
Lindana: I'm Lindana and I wanna have fun!
Singers: She wants to have fun
Lindana: I wanna, wanna, wanna have
Singers and Lindana together: Fun fun fun!
Read more...
Monthly Quote
"Hello, brothers! I made you a pie...for your Bust Day!"
"Well, that can't be right. Bus Day isn't until next week. Guess she's getting a head start."
— Candace and Phineas
Did You Know...?
From Phineas and Ferb Wiki's latest articles.

...that the day Phineas and Ferb premiered on, August 17th, is the same day as the independence days of Indonesia and Gabon, birth and death of Franklin D. Roosevelt, Jr. (politician), the birth of Robert de Niro (director), Thierry Henry (footballer from New York Red Bulls), and Phil Jagielka (footballer from Everton FC)?
...that Isabella is named after series creator Dan Povenmire's oldest daughter?
Helping Out
Not sure where to start?
The
Community Portal
is a great place to learn about the wiki. It contains information for newcomers and regular members alike:
Information on the show, actors, theme song, broadcast channels, the Big Ideas and Doofenshmirtz's schemes and inventions.
Info on getting started and editing the wiki, with video demos.
How to customize your User page.
See what's missing on pages.
How to maintain pages and make sure they have a consistent look.
Reference materials on templates, categories and more.
Fan art, fan fiction, blogs and newsletter articles.
Talking with other members of the wiki in Forums and IRC channels.
When a new episode premieres, check the Editing checklist to see what information needs to be added.
Affiliates
Be sure to check out our affiliated wikis!


The wiki about the television show


Phineas and Ferb

that

anyone can edit

!
We currently have


2,200 articles


and a plethora of

spoilers

relating to the show and its licensed media.
Currently, there are also communities in the following languages:

DE
ES
NL
PL
PT
PT-BR
RU
VI
Phineas and Ferb Headlines
Loading RSS data...
Refresh
·
Read more...
Show News Blogs
Yet another one of Phineas and Ferb's big plans has mysteriously vanished into thin air: Exhibitor Relations Company, which tracks the release dates and box office grosses of the American film industry, has reported that today Walt Disney Studios Motion Picture made a minor change to its theatrical…

Read more >
Community News
Winter will soon give way to Spring, and that means it's time again for Nickelodeon to open the voting for their Kids Choice Awards. Just like last year, Phineas and Ferb is up against SpongeBob SquarePants for favorite cartoon, and they're joined by Adventure Time and the new Teenage Mutant Ninja Turtles…

Read more >

Around two years ago, I ended up becoming part of the Phineas and Ferb Wiki's social networking team by chance. I had submitted a number of posts on the Wiki's Facebook page linking to news and interesting links regarding Phineas and Ferb, which caught the attention of one of our admins and the prop…

Read more >

Are you talented in computer art?  How good are you with the colors turquoise (or teal) and tangerine?

Platypus Day is coming on March 2nd here in the Western Hemisphere, and if you're good with both colors mentioned, you just might to want to ceate a background in honor of Agent P like we did last …

Read more >


  (subscribe)                



The Official ' Newsletter, Issue 86: February 19, 2013



 











Contents
1 Big Same Sunday in Danville
2 Crat Corner
3 Platypus Day is nearly here







There was no truth to the rumors that the big football game between the Charm City Poebirds and the Bay Area Gold Rushers was delayed due t…














Read more >

Recently, Wikia announced that they were going to upgrade the MediaWiki software that runs all of their wikis. They have a lot of testing to do to make sure everything they've customized works with the new version. Some of the updates include making sure the code is HTML5-compliant. As such, the re…

Read more >
Featured Pictures