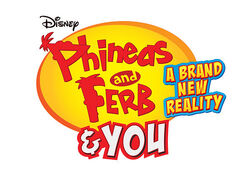 Phineas and Ferb and You: A Brand New Reality was an temporary attraction at Walt Disney World's Downtown Disney near Bongo's Cuban Cafe that was open between September 1st and December 1st, 2012 from 2 p.m. to 9:30 p.m.
The augmented reality experience allowed visitors to partake in one of 20 random 30-second encounters with Phineas, Ferb, Agent P, and Dr. Doofenshmirtz. Whether it was doing The Platypus Walk or caught in Dr. Doofenshmirtz's Freeze-inator, the experience came complete with a souvenir digital photo that can be shared with friends and family online.
Ad blocker interference detected!
Wikia is a free-to-use site that makes money from advertising. We have a modified experience for viewers using ad blockers

Wikia is not accessible if you've made further modifications. Remove the custom ad blocker rule(s) and the page will load as expected.