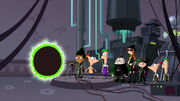 A "
Portal
" is a tear in the frabric of time and space that allows travel between
Dimensions
and, by extension, the
Multiverse
.
Portals plays a key role in "Phineas and Ferb The Movie: Across the 2nd Dimension".
Physical Appearance
The portal is usually circular, and the ring forming it has a green, static color that constantly waves. Inside the portal is a green void-space like place that serves as the image shown before a dimension is connected.
Once a dimension is connected, a random image, coinciding with the place the portal opened in, replaces the green void-space and remains there until the portal is closed.
Appearences