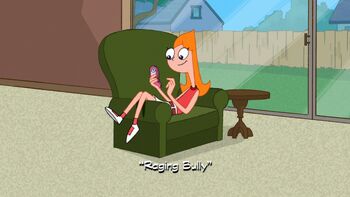 Buford challenges Phineas to a thumb-wrestling competition. Phineas receives training by guest star Evander Holyfield. Meanwhile, Dr. Doofenshmirtz invents a slave-inator to get people to attend his birthday, and clean up afterward.
Read the full summary...
Phineas and Ferb direct a film adaption of Candace's favorite play, but they transform this beautiful play into a full-out monster movie. Meanwhile, Perry the Platypus tries to find out why Dr. Doofenshmirtz is being so quiet.
Read the full summary...
Opening Credits for "Raging Bully"
Opening Credits for "Lights, Candace, Action!"
Ending Credits
Executive Producer
Dan Povenmire
Co-Executive Producer
Jeff "Swampy" Marsh
Line Producer
Natasha Kopp
Story Editor
Martin Olson
With the Voice Talents of
Vincent Martella as Phineas
Ashley Tisdale as Candace
Thomas Sangster as Ferb
Caroline Rhea as Mom
Alyson Stoner as Isabella
Mitchel Musso as Jeremy

♠


Dan Povenmire as Dr. Doofenshmirtz
Jeff "Swampy" Marsh as Major Monogram
Dee Bradley Baker as Perry
Evander Holyfield as Evander

♠


Michael Buffer as Announcer

♠


Bobby Gaylor as Buford

♠


Cymphonique Miller as Holly
Maulik Pancholy as Baljeet

♠




♠

character appears in "Raging Bully" only


♦

character appears in "Lights, Candace, Action!" only
Additional Voices
Dee Bradley Baker
Jeff Bennett
Michael Buffer
Grey Delisle
Bobby Gaylor
Phil Lamarr
Jeff "Swampy" Marsh
Vincent Martella
Mitchel Musso
Maulik Pancholy
Dialogue Director
Jame Thomason
"Raging Bully" Written By
Martin Olson
Dan Povenmire
Swampy Marsh
Wendy Grieb
Kent Osborne
"Lights, Candace, Action!" Written By
Dan Povenmire
Swampy Marsh
Martin Olson
Bobby Gaylor
Sherm Cohen
Antoine Gulbaud
Location Design
Brian Woods
John Seymore
Bruce Berkey
Character Design
Jill Friemark
Greg Guler
Mark Cote
Production Manager
Mark Brammeier
Prop Design
Chuck Puntuvatana
Anthony Vukojevich
Tom Foxmarnick
Additional Storyboards By
Jon Barry
Chris Headrick
John Infanito
Kim Roberson
Mike Singleton
Art Directors
Alan Bodner
Jill Daniels
Background Paint
Jill Daniels
Dorethea Schoentag
Animation Director
Robert F. Hughes
Timing Directors
Barbara Dourmashkin-Case
Frank Weiss
Storyboard Revisions
Leonardo Pinero
Edward Rivera
Assistant Technical Director
John Kranucevich
Continuity Coordinator
Wendy Jacobsmeyer
Supervising Technical Director
Alex Teslik III
Color Stylist
Nancy Ulene
Carol berke
Technical Directors
Brian Cole
Jezreel Mann Carlos I
Scanner
Sergio Armendariz
Music by
Danny Jacob
Main Title Theme by
Dan Povenmire
Jeff "Swampy" Marsh
Carl Hill Williams
Michael Walker
Michael Culross, Jr.
Performed by
Bowling For Soup
Animation Production by
Rough Draft Korea Co., Ltd.
Wang Film Productions Co., LTD.
Track Readers
Laurie Wetzler
Denise Whitfield
Skip Craig
Film Editor
Ted Supa
Assistant Film Editor
Lauren Crist
Kevin Locarro
Animatic Editor
Anne Harting
Pre-Production Dialogue Editor
Jim Harrison
Dialogue Editor
Robbi Smith
Dialogue Engineer
Cameron Davis
Re-Recording Mixers
Melissa Ellis
Fil Brown
Assistant Dialogue Engineer
Scott Corwin
Digital Coordinator
Karen Wong
Production Control
Sarah Wintucky
Post Production Supervisor
Geri Bryan
Post Production Coordinatora
Monica Kelly
Treasure Rawson
Record Machine Operator
Michael Sokey
Sound Designer
Robert Poole I
Foley Artist
John Lampinen
Digital Audio Transfer
J. Lampinen
On-line Editor
Keith Cook
Foley Mixer
Roy Braverman
Production Coordinators
Lance LeCompte
Nicole Kenney
Talent Coordinator
Sara Goldberg
Production Associates
Kenny Kweens
Production Secretary
Jeannie Skousen
Script Coordinator
Dawn Connors
Produced by
Walt Disney Television Animation


This picture made under the jurisdiction of
IATSE, affiliated with AFL-CIO

© 2007 Disney Enterprises, Inc.
All Rights Reserved
To return to the "Raging Bully" episode summary, click here.
To return to the "Lights, Candace, Action!" episode summary, click here.
Ad blocker interference detected!
Wikia is a free-to-use site that makes money from advertising. We have a modified experience for viewers using ad blockers

Wikia is not accessible if you've made further modifications. Remove the custom ad blocker rule(s) and the page will load as expected.