Schnell Foto is a store located in Danville. Heinz Doofenshmirtz got his picture taken at this store, which he said occurred on the happiest day of his life: the day he decided to get his picture taken ("It's About Time!"). This is also the day the he discovered he had a nemesis (Perry the Platypus). The framed photograph was damaged during a fight with a new nemesis, Peter the Panda ("It's About Time!"). This photo also serves as the reference photo that is usually shown on the monitor each time Agent P is being briefed (First seen in "Rollercoaster").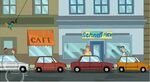 Agent P swoops past Schnell Foto with his grappling hook ("Bowl-R-Ama Drama").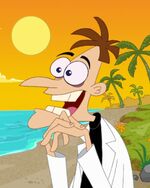 Zippy Pics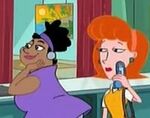 Another store in Danville that uses this background image is Zippy Pics, the place where Linda took her film to be developed ("I, Brobot"). The background image appears to be an example of stock photography, or may be an image common to different branches of the same company.
Background Information
"Schnell" is German for "fast".

That means the cameras here are fast and well, expensive.

A real-world example of a corporation that operates stores under different names is Ritz Camera Centers. Normally this is done on a regional basis, so if Schnell Foto and Zippy Pics are part of the same corporate chain, one is probably a recent acquisition that has not yet gone through the process of consolidating retail locations and brand names.
Appearances
See also
Ad blocker interference detected!
Wikia is a free-to-use site that makes money from advertising. We have a modified experience for viewers using ad blockers

Wikia is not accessible if you've made further modifications. Remove the custom ad blocker rule(s) and the page will load as expected.