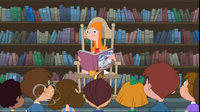 Smorky the Giant Rabbit's Family Picnic is the book that Candace reads kids at the library on the episode, Run, Candace, Run. Candace has to go between reading and Jeremy's family picnic, so only portions were actually read by Candace The book is probably (judging by what Candace read) about a rabbit named Smorky who eats a pie at a family picnic. Smorky has troubles deciding what to do after he eats the pie because he feels guilty. It is unknown whether Smorky confesses he ate the pie or not.
Ad blocker interference detected!
Wikia is a free-to-use site that makes money from advertising. We have a modified experience for viewers using ad blockers

Wikia is not accessible if you've made further modifications. Remove the custom ad blocker rule(s) and the page will load as expected.