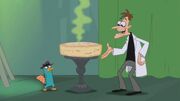 Stinky Limburger is a stinky cheese that Dr. Doofenshmirtz made in "Lights, Candace, Action!". According to Doofenshmirtz, the limburger is their family recipe.
Background
The cheese requires to be aged for 58 and a half years. In the episode, the cheese's resting age was accelerated with Doofenshmirtz's Age Accelerator-inator and became 58 and a half years old in an instant.
Despite the aroma, the cheese is very irresistible. Thus, once a piece of the cheese is eaten, the consumer will immediately eat the whole wheel of cheese.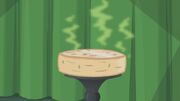 When the cheese is ready to be eaten, the pungent aroma can actually be seen to be rising from the cheese.
The cheese only made one appearance, in the episode "Lights, Candace, Action!".
Ad blocker interference detected!
Wikia is a free-to-use site that makes money from advertising. We have a modified experience for viewers using ad blockers

Wikia is not accessible if you've made further modifications. Remove the custom ad blocker rule(s) and the page will load as expected.