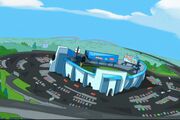 The Swamp Oil 500 is the race held at the Jefferson County Motor Speedway, which Phineas and Ferb enter with their life-size remote-control car, 42, Linda Flynn's beefed up car. ("The Fast and the Phineas")
Background Information
The Swamp Oil 500 was targeted by Dr. Doofenshmirtz and his Deflatinator Ray.
Phineas and Ferb's car number is based off of Jeff "Swampy" Marsh's favorite racer, Juan Pablo Montoya, who (at the time) drove the #42 for Chip Ganassi Racing. The Swamp Oil 500 is a parody of NASCAR's season opener The Daytona 500.
Ad blocker interference detected!
Wikia is a free-to-use site that makes money from advertising. We have a modified experience for viewers using ad blockers

Wikia is not accessible if you've made further modifications. Remove the custom ad blocker rule(s) and the page will load as expected.