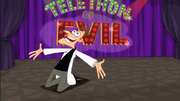 The Telethon of Evil was a TV show hosted by Dr. Doofenshmirtz to raise money because with the current cost of evil, the money that his ex-wife Charlene Doofenshmirtz gives him isn't enough. However the only people who donated money were the "Inator Corporation" (Sid and the Guys) who donated $23. It hadn't received donations even after Doofenshmirtz said "If no one calls in the next few second the platypus gets it!" Lawrence Fletcher thought that the Give Me Your Money Today song was a good satirical interpretation of telethons, and that's why he considered this show his favorite one.
The show was cancelled after Bridgette Oshinomi preempted it to broadcast news about Candace driving an all terrain vehicle in which there were only kids. Heinz went with his Inator to stop it but, he failed to do so.
Ad blocker interference detected!
Wikia is a free-to-use site that makes money from advertising. We have a modified experience for viewers using ad blockers

Wikia is not accessible if you've made further modifications. Remove the custom ad blocker rule(s) and the page will load as expected.