"Twelve Days of Christmas"[1] is a song sung by Dr. Doofenshmirtz in "Phineas and Ferb Christmas Vacation!"
Lyrics
Doofenshmirtz: And a partridge on a Perry...the Platypus
Background information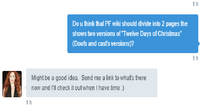 Songwriters
Jon Colton Barry
Danny Jacob
Piero Piluso
BMI Work #11654643
References
Ad blocker interference detected!
Wikia is a free-to-use site that makes money from advertising. We have a modified experience for viewers using ad blockers

Wikia is not accessible if you've made further modifications. Remove the custom ad blocker rule(s) and the page will load as expected.