Unnamed Hawaii hotel



The exterior of the hotel

Native language:   English
Stories:
Approx. thirteen
Location Information
Country:
United States of America (Hawaii)
Behind the Scenes
First Appearance:
"Phineas and Ferb Hawaiian Vacation"
The unnamed Hawaii hotel appeared in "Phineas and Ferb Hawaiian Vacation", which is run by the Unnamed hotel manager. It has about ten floors. The Flynn-Fletcher family stayed there. The hotel is near the beach. Wet suits, surfboards and towels are available for hire.
Activities
Restaurant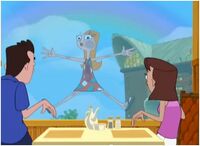 There is a restaurant on one of the floors.
Swimming pool
The swimming pool has a volcano slide and deck chairs on the edge of it. The rules for the pool are: No running, diving, pushing or modern expressionism. A drink bar is next to it. Regularly, there is a yoga class held there.
Rooms
There are about ten rooms on each floor. In the bedrooms, the bed is situated in a corner of the room with a picture above it and next to the bed is a table which has a clock on it. Above that is a lamp. A few pictures and a Hawaiian mask are on the wall. The window looks out over the hills. A table is situated in the middle of the room. They have an en-suite. Every room has a balcony.
Gift shop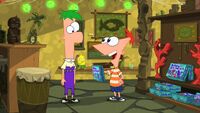 Main article: The Hawaiian Hotel Gift Shop
There is a gift shop in the hotel. It sells T-shirts, guitars, Pineapple Serenity lotion, Hawaiian statue models, palm tree clocks, pictures, Aqua Primates, drums, mugs, Ducky MoMo dolls.
Ad blocker interference detected!
Wikia is a free-to-use site that makes money from advertising. We have a modified experience for viewers using ad blockers

Wikia is not accessible if you've made further modifications. Remove the custom ad blocker rule(s) and the page will load as expected.