There is now a site for Perry the Platybus, a 4000-pound customized Airstream trailer inspired by Phineas and Ferb's teal-colored pet platypus Perry, but you already knew that. Perhaps it will make a stop near you on its way to San-Deigo Comic-Con to promote Phineas and Ferb's new TV movie, Across the Second Dimension!
http://tv.disney.go.com/disneychannel/phineasandferb/cds/platybus/

Check out the site for the platybus theme song, see how the platybus was built, and hopefully the schedule will be up soon too.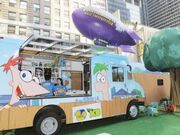 Ad blocker interference detected!
Wikia is a free-to-use site that makes money from advertising. We have a modified experience for viewers using ad blockers

Wikia is not accessible if you've made further modifications. Remove the custom ad blocker rule(s) and the page will load as expected.