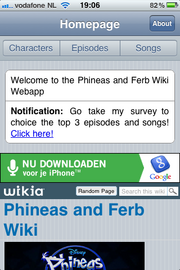 Do you have a iPhone or iPod Touch? Now you can with my webapp simply access the Phineas and Ferb Wiki.
Go on your iDevice to Safari
And type: http://phineasandferbwiki.webs.com/
Note:
The modes: "Add to Home Screen" doesn't work really fine now.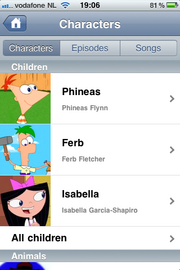 The best for now, is use the website in Safari.
Attention: Do you want to do my Phineas and Ferb survey and choice your top 3 episodes and songs!
Now online: Version 1.2.0!

And more! Check the changelog
Ad blocker interference detected!
Wikia is a free-to-use site that makes money from advertising. We have a modified experience for viewers using ad blockers

Wikia is not accessible if you've made further modifications. Remove the custom ad blocker rule(s) and the page will load as expected.