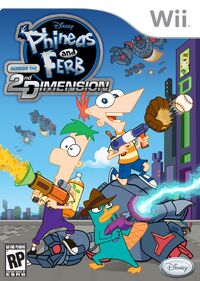 The heavily anticipated video game adaptation of the upcoming TV movie, Phineas and Ferb: Across the 2nd Dimension will be making its formal debut at the upcoming E3 2011 press conference on June 7-9. What is E3, you ask? Well, it stands for Electronic Entertainment Expo, and its where game developers and companies unveil and showcase their new gaming consoles and video games. And according to Game Informer, AtSD: The Video Game will be joining the group.
So what can we expect? Well, of course, a full trailer for the game, gameplay vids, screenshots, and a definite release date among some. So hang on for a few more weeks as we anticipate more info of what is to become perhaps the best game in Phinstory!
Ad blocker interference detected!
Wikia is a free-to-use site that makes money from advertising. We have a modified experience for viewers using ad blockers

Wikia is not accessible if you've made further modifications. Remove the custom ad blocker rule(s) and the page will load as expected.