Hey everyone Kyle here.
as you may have noticed, Phineas and Ferb magazine hasn't been releasing new issues since October and many people thought that the magazine has ceased publications.
However that is not the case. Last week, I ran into an issue of Phineas and Ferb Magazine for January and February of this year at a local Wal-Mart and picked it up. Here is the cover for the new issue.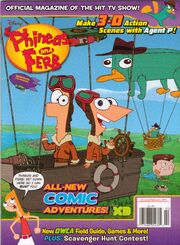 Also for those who buys subscriptions to Phineas and Ferb magazine through Disney Magazine, you are out of luck because Disney Magazine isn't doing subscriptions anymore.
From now on, any future subscriptions of Phineas and Ferb magazine are available through Redan Publishing.
http://redan.buysub.com/disney-phineas-ferb.html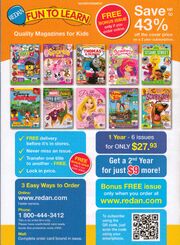 So for those who were wondering about PnF Magazine, hopefully this will provide the answers you need.

Kyle is out, PEACE
Ad blocker interference detected!
Wikia is a free-to-use site that makes money from advertising. We have a modified experience for viewers using ad blockers

Wikia is not accessible if you've made further modifications. Remove the custom ad blocker rule(s) and the page will load as expected.