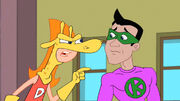 Disney/ABC Television has released some promotional material from the upcoming Phineas and Ferb episode "The Beak", airing March 8 on Disney XD and March 12 on Disney Channel. The prolific Ben Stiller guest-voices as a supervillain referred to in press materials as K.P. and Christine Taylor (his real-life wife) plays his complaining wife. Based on the clips, the episode looks like a lot of fun- and also show why he prefers to go by K.P. Hopefully the appearance of a high-profile star such as Stiller will create some PR for the show- not to mention the fact that the episode itself looks entertaining, which will hopefully make those tuning in for Stiller come back for more.
K.P. plots to ruin the best day ever
The disturbing truth about K.P.'s name
K.P. meets the Dangeraffe
"It's a little wordy for a headline."
In "The Beak," Phineas and Ferb must stop K.P., who has confused the boys for a superhero named (naturally) The Beak. The son of comedian Jerry Stiller (Seinfeld, The King of Queens) actor/director/producer Ben Stiller is a member of Hollywood's "Frat Pack" who has appeared in such films as There's Something About Mary, Meet the Parents, and Zoolander (which he also wrote and directed), as well as more kid-friendly fare such as Night at the Museum and Madagascar. He and Christine are the parents of two children who, according to Disney, are big fans of Phineas and Ferb.
Ad blocker interference detected!
Wikia is a free-to-use site that makes money from advertising. We have a modified experience for viewers using ad blockers

Wikia is not accessible if you've made further modifications. Remove the custom ad blocker rule(s) and the page will load as expected.