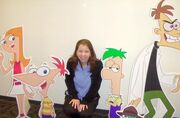 It takes a lot of people to make an animated series. There's the writers, voice actors, storyboard artists, overseas in-betweeners...the list goes on. But there's always someone at the head of any production. And at Phineas and Ferb, that would be Jill Sanford. She is the director of original series for Walt Disney Television Animation. Ms. Sanford has been working at the Mouse House for seven years, overseeing the creation of such hits as Hannah Montana before taking her current position. Now, Miss Sanford oversees storyboard pitches and meetings that bring the world of Phineas and Ferb to life and describes herself as "the middleman between the creative and the network."
A graduate of Arcadia High School in Arcadia, CA, Ms. Sanford recently sat down with Larry Stewart for an interview with an Arcadia-based news site, Arcadia's Best, telling a bit of her history and giving a behind-the-scenes look at what it's like to work at the TV animation division of one of the most famous animation studios in the world. Showing off Phineas and Ferb HQ, we can see some interesting items and artifacts including drawings sent to the show by children and international versions of the logo. It's kind of difficult to get the two hairdos into the Taiwanese logo, but they did it somehow! Keep a keen eye on Ms. Stewart's trinkets and you may be able to see some from some of the other shows she's overseen, such as The Replacements and the upcoming Fish Hooks.
Although sometimes you hear stories about executives meddling in the creative end's plans like they were Candace or Agent P, it's obvious that this is not the case at Disney- Ms. Sanford obviously loves her job and loves to see what Team Phineas and Ferb comes up with. Mr. Stewart is obviously proud of Ms. Sanford and her achievements. And he darn well should be, since he is her father. Congratulations to Ms. Sanford and her dear old dad. And thanks for giving us Phineas and Ferb. Keep up the good work!
Ad blocker interference detected!
Wikia is a free-to-use site that makes money from advertising. We have a modified experience for viewers using ad blockers

Wikia is not accessible if you've made further modifications. Remove the custom ad blocker rule(s) and the page will load as expected.