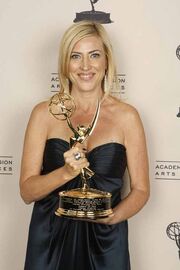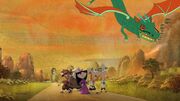 Today, the Academy of Television Arts and Sciences announced the winners of the juried categories of the Primetime Emmy Awards. According to the Emmy official rules, "In a juried award, all entrants are screened by a jury of appropriate branch members and one, more than one or no entry is awarded an Emmy. There are no nominations. The winner(s), if any, are announced prior to the awards presentation. Deliberations are open and arguments pro and con the giving of an Emmy to an entrant is discussed. At the conclusion of the deliberation on each entry, the jury votes on the question, "Is this entry worthy of an Emmy award - yea or nay?" Only those with unanimous approval win." Among those the jury found worthy of an Emmy is Phineas and Ferb's art director Jill Daniels, who won for her work as a background painter on the episode "Doof Dynasty." This is actually her second nod for her background color work, also winning last year for "Wizard of Odd."
Last year, Ms. Daniels told her life story to the Fairbanks Daily News-Miner. Born in Fairbanks, Alaska to an architect and a teacher, Jill Daniels (née Morgan) studied art in Southern California (as well as some time abroad in Europe during college) and from there did some freelance work in various realms, which led her down the road to animation. After some freelance work on Animaniacs, she ended up getting her first steady animation job helping design the look of the fictional Texan burg of Arlen, home to Hank Hill and the lovable oddballs that made up the universe of FOX's animated sitcom King of the Hill. From there, she helped design the look of such series as Curious George and Disney's own The Proud Family and American Dragon Jake Long before becoming Phineas and Ferb's art director, where her duties include figuring out how the show will look, in particular the colors, for which she has won two Emmys. She's even tried her hand at writing an episode of the series along with her husband, a child therapist. And if that weren't enough, she's also a professional artist on the side.
The world of Phineas and Ferb is definitely a colorful one in more ways than one, and we have Jill Daniels to thank for that in the more literal sense. Ms. Daniels will receive her second Emmy during the Creative Arts ceremony on September 15, where we'll also find out whether or not Phineas and Ferb may pick up an additional award or two as well (it's nominated for Outstanding Short-Format Animated Program and Dan Povenmire is nominated for Outstanding Voice-Over Performance). Congratulations to Jill and the entire Phineas and Ferb team for adding a lot more color to all of our lives.
Ad blocker interference detected!
Wikia is a free-to-use site that makes money from advertising. We have a modified experience for viewers using ad blockers

Wikia is not accessible if you've made further modifications. Remove the custom ad blocker rule(s) and the page will load as expected.