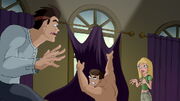 Courtesy TV Guide by way of Disney Channel (and also by way of Danny Jacob, who posted this on Twitter where I first saw it), here are two preview clips from Phineas and Ferb's upcoming Halloween special. Well, not here, in the link that will show up when you click on these differently-colored words.
In the first, we get to see Phineas and Ferb's take on Twilight- with a bit of True Blood and Teen Wolf mixed in, as guest voices Anna Paquin, Stephen Moyer, and Michael J. Fox play parts similar to ones they've played in the past, while poking fun at the popular franchise and one of its character's preferences in clothing (or perhaps that should be lack of clothing?). And in the second, the gang ventures through a haunted house, encountering some bizarrely self-aware creeps, at least one of which has the voice of Michael Douglas.
Halloween may technically not be part of the summer, but leave it to Phineas and Ferb to make it fun with their signature blend of humor and whimsy. See how it all comes together this Friday at 7pm Eastern on Disney Channel.
Ad blocker interference detected!
Wikia is a free-to-use site that makes money from advertising. We have a modified experience for viewers using ad blockers

Wikia is not accessible if you've made further modifications. Remove the custom ad blocker rule(s) and the page will load as expected.