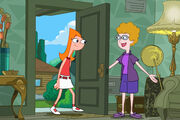 Entertainment Weekly has an exclusive look at the multitude of guest stars that will grace our TV screens when Phineas and Ferb returns for its third season next month...or, at least, their voices will grace our speakers. It is a cartoon, after all. (Carl, what did I tell you about breaking the fourth wall?) One of those guest stars, Jane Lynch says she's done voiceover work in the past and loves it: "Providing the voice for a character created and written by such geniuses as the Phineas guys was an honor and delight." And is she a fan of the show? Yes. Yes she is. "I laugh as much as my daughter when we watch. That is not the case with other kids shows. I fear they are teaching her bad comedy! Phineas is clever and delightful, with just enough cynicism to keep me coming back."
And if there's one thing Ms. Lynch knows, it's cynicism. But unlike most of her curmudgeonly roles- most famously Glee's psychotic cheerleading coach Sue Sylvester, her animated alter ego seems a kinder soul, as we can see in one of the four video clips that accompanies the article- although, as Ms. Lynch herself says, "like Sue, she speaks confidently of things she barely understands." You'll also get to see Tina Fey as a woman seeking a familiar-looking new dig, Vicki Lawrence as a rather gruff (and possibly deceased) member of the Johnson family, and Joan Cusack, who encourages Candace to never give up. Although the "never" part may have been lost in the communication. Hopefully, she and the rest of the guest stars get their message through loud and clear next month!
Ad blocker interference detected!
Wikia is a free-to-use site that makes money from advertising. We have a modified experience for viewers using ad blockers

Wikia is not accessible if you've made further modifications. Remove the custom ad blocker rule(s) and the page will load as expected.