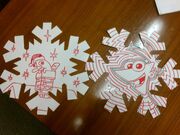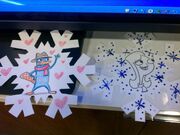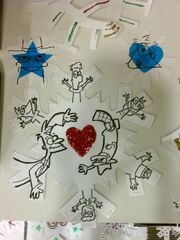 With the holiday season upon us and a new year on the horizon (unless the Mayans or Dr. Doofenshmirtz do something about it), this is usually the time of year where we reflect on the 12 months that have passed and prepare for a new year filled with opportunities and plans that will ultimately fail (of course, some of us will have more of the latter than others). Sadly, it's somewhat more difficult to do so than it has been in previous years due to the recent tragedy at Sandy Hook Elementary in Newtown, Connecticut that left 26 dead, 20 of whom were students aged 6 and 7. Perhaps those most affected were the over 400 students of the school. In January, school will reconvene for them in a different building 8 miles away.
Today, the staff of Phineas and Ferb joined an initiative put forth by the Connecticut PTSA and the National PTA to bring a bit of winter joy to the students when they enter their new school. As the National PTA puts it: "When school resumes for Sandy Hook, it will be in a new building. Parent-volunteers are working to ensure that the students are welcomed back by a winter wonderland with the entire school decorated with as many unique snowflakes as possible. We encourage senders to be as creative as possible, remembering that no two snowflakes are alike."
Here are some samples of the Phineas and Ferb team's contributions to this effort, as posted by Aliki Theofilopoulos Grafft on Twitter. She also provided this information on how to contribute:
Ask your friends and family to make and decorate snowflakes (any size). They will be be hung throughout the hallways to create a happy and cheerful environment. NO WORDS PLEASE! ONLY SNOWFLAKES WITH SPARKLES AND GLITTER OR IF YOU ARE AN ARTIST, A DRAWING OR PAINTING WOULD BE MUCH APPRECIATED (Disney artists will be drawing favorite cartoon characters for the kids— favorite Nickelodeon, Dreamworks, Cartoon Network, or your own characters would be appreciated too!)...Include a note telling where you are from, to display along with your snowflakes.
If you wish to create a snowflake or two of your own to help bring a touch of winter joy to the children of Sandy Hook, be it with a Phineas and Ferb character, a character of your own design, or whatever you feel will make a child happy, mail your snowflakes by January 12, 2013 to:
Connecticut PTSA
60 Connolly Parkway
Building 12, Suite 103
Hamden, CT 06514
Images originally posted by Aliki Theofilopoulos Grafft on Twitter.
Ad blocker interference detected!
Wikia is a free-to-use site that makes money from advertising. We have a modified experience for viewers using ad blockers

Wikia is not accessible if you've made further modifications. Remove the custom ad blocker rule(s) and the page will load as expected.