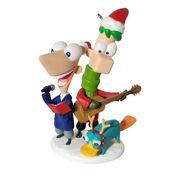 So it's still July... However, the good people of Hallmark has come out with their Christmas Ornament Dreambook, and lookie what's inside.
It's the 2012 Phineas and Ferb Christmas Ornament titled "Perry Christmas". Note the antlers on the mindless domestic animal mode platypus. The ornament was designed by Cullen Brown, and costs US $17.95. The bad news is that we'll have to wait until October 6th to get our hands on this, but will be well worth it.
Ad blocker interference detected!
Wikia is a free-to-use site that makes money from advertising. We have a modified experience for viewers using ad blockers

Wikia is not accessible if you've made further modifications. Remove the custom ad blocker rule(s) and the page will load as expected.