All good things, sadly, must come to and end, and after two years, Disney's Phineas and Ferb: The Best LIVE Tour Ever! has made it's way into the sunset. The powers that be at Feld Entertainment have decided to move on to a couple new shows, one this summer starring Disney Junior stars Jake and the Never Land Pirates and Sofia the First; the other, debuting next year, featuring live-action versions of the Marvel super heroes.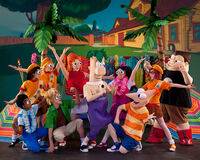 How did this happen? First, before Memorial Day this year of 2013 in the States, if you typed in your Firefox, Chrome or other type of internet browser the address "phineasandferblive.com", you were redirected to another Disney Live show called "Three Classic Fairy Tales". Long before that, the site had posted some early dates for what looked like a third year of the tour. Mysteriously, they were removed in April. As I have stated, I've seen the show twice, the first on Easter Week of March 2012 at The Theatre at Madison Square Garden in New York City, the other at the Sun National Bank Center in Trenton the following November. As you might guess, the differences between a live show in a theatre setting and in an multi-purpose arena are as different as night, day and even eclipses, especially in audio. At a theatre, it's crystal clear and crisp, while in multi-purpose facilities, echoing is a major factor. And the sight lines were different as well. At MSG, I had a clear view of the entire stage, while in Trenton, the slide where the animated characters became real live 3-D performers was unseen from where we sat.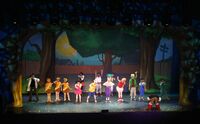 And I'd like to give a personal thank you to the cast members from both seasons, namely Adrian Baez (Phineas), Nick Bouthilette (Ferb), Nicole Dalton, and Emily Derrick, plus Tiffany Westfall and Hilary Kadoya, the two women who wore the Agent P costume. It was fun meeting all of you in NYC and Trenton, and for signing my Perry T-shirt. I missed Ms. Westfall as she left the tour to become a dental hygienist and gymnastics coach in her hometown outside Toledo, Ohio. Bartley Mullin, the first Dr. Doofenshmirtz, even signed my shirt in character using "Heinz" instead of his name. And an additional thank you to tour director James Shea, who also signed my shirt as well, and I gave the past season's cast a pepper-minty candy cane treat in the Capital of the Garden State. Trust me kid, you'll make it big in the biz someday.
If you went to see the show during its' two season run, please post your favorite memories about them, or share a story if you met anyone in the cast outside the show you went to. Hopefully, we'll print them in a future issue of the Tri-State Gazettte newsletter.
Ad blocker interference detected!
Wikia is a free-to-use site that makes money from advertising. We have a modified experience for viewers using ad blockers

Wikia is not accessible if you've made further modifications. Remove the custom ad blocker rule(s) and the page will load as expected.