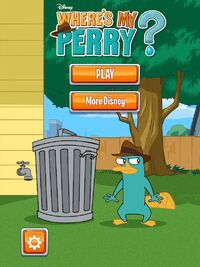 HAPPY SUMMER EVERYBODY!
Anyway, you've all heard that today Where's My Perry came out for Androids and stuff like that. Today, I bought it for my Ipod. I already completed two boxes. It's REALLY FUN! I enjoy it better than playing Where's My Water (Even though it's the same thing).
After competing a box, you get to see a video with Perry coming in for his mission featuring Major Monogram and Carl (They look a little weird though)
THIS GAME IS REALLY FUN AND I HIGHLY RECCOMEND THIS TO ANYONE WHO LOVES PHINEAS AND FERB AND WHERE"S MY WATER!
Also, I can't wait to see next weeks episode of Phineas and Ferb. It's going to be AWESOME
Ad blocker interference detected!
Wikia is a free-to-use site that makes money from advertising. We have a modified experience for viewers using ad blockers

Wikia is not accessible if you've made further modifications. Remove the custom ad blocker rule(s) and the page will load as expected.