(subscribe)

               
The Official Phineas and Ferb Wiki Newsletter, Issue 102: October 23, 2013
 


Crat Corner

by RRabbit42

This dude voiced our childhood
Crat Corners are usually about events and issues concerning the wiki, but I am going to make a side trip. KinHikari has been very good at keeping me up to date on I Know That Voice. On November 6, 2013 at 7:00 pm, the documentary will have its world premiere in the American Cinematheque at The Egyptian Theater in Hollywood, California. If you're in that area, don't miss it.
As part of the premiere, they are helping to raise money for charity: water, a non-profit group dedicated to help people in developing nations get clean drinking water. The Indegogo page for the premiere (located here, or you can use the shortcut of http://igg.me/at/iknowthatvoice) has various perks that you can get for a donation. Some of these are for items you would pick up at the event, but they still encourage you to donate even if you can't attend. Right now, they have raised just under $17,000 of the $25,000 goal. If you're under age, talk it over with your parents or guardians to see if this is something you'd like to take part in.
I have been interested in the technical aspects of TV and movies for quite a long time. I would often sit through the credits in a movie theater just to hear the music that plays, and this was before it became more popular to include scenes during or after the credits. Voice acting is a natural fit with that interest, and given the fact that several of the Phineas and Ferb cast are going to be in there, too, hopefully it will be for you as well.
There's an interview with John DiMaggio on ComicMix that discusses his need to give us proof that the documentary would actually be completed and the special version they made for this year's San Diego Comic-Con. And if you're interested to know where the title of this column came from, check out this graphic on the "Geek Universe" section of I Can Haz Cheezburger to see nearly 100 different TV series, films and games that Dee Bradley Baker has been involved in.
Odds 'n' Ends
The Numbers Game: A Terrific Tetralogy
by Ryan Stoppable
Amidst the candy and costumes flying off the shelves, the kids getting more excited by the day, and the parents getting their rest now (because they won't once their kids get all the sugar), this is The Numbers Game! Welcome to the newsletter section that breaks down the numbers of our favorite show.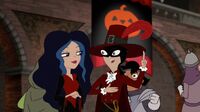 "Druselsteinoween" kicked off the show's 2013 Halloween offerings on Friday, October 4. 2.645 million viewers packed into the castle, a 4 percent increase from two weeks prior behind a 1.6 household rating, good for 8th among Disney Channel programming on the week. Phineas and Ferb found its way back into the Top 10 among Kids 2-11, as it ranked No. 7 on a 4.2 rating in the age group. Among Kids 6-11, this episode was No. 8 behind a 5.6 age group rating. And finally, among Adults 18-49, viewership rose by 8 percent to a 0.31 rating.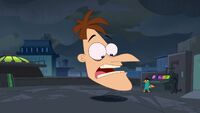 It was followed the next night by the "Terrifying Tri-State Trilogy of Terror". Despite the unusual timeslot and the ominous title, 3.022 million viewers summoned the courage to watch it, a 14 percent increase over the previous night. Accordingly, the household rating went up a tick to 1.7, and it was Disney's top animated program of the week in the 6th spot. Viewership among Kids 6-11 rose by 2 percent to 5.7, good for No. 7 on the week, while Kids 2-11 viewing fell by 1 percent to 4.1 and the No. 10 ranking. Much of the overall difference came from Adults 18-49, whose viewership shot up a whopping 53 percent (!) to a 0.48 rating.

As for "Face Your Fear", The Numbers Game needs to face its fear of that scary performance, so that one will have to wait until next issue. Until then, leave your thoughts in the Comments, stay safe out there on Halloween night, and remember...that the numbers never lie.
Halloween Costumes

by Mouseinphilly and RRabbit42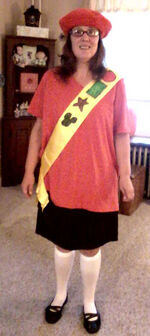 We managed to find lots of Halloween costumes you made, and even Mouse's sister-in-law, April, got a bit of help from him for a Fireside Girls costume as you can see.
The first costume was actually from four years ago, but we somehow missed it until now. A website called "Dabbled: experiments in art, craft & food" has directions on how to make a homemade Agent P costume. It looks like you might need to alter the costume slightly for the tail because Perry's tail is orange all the way through and the directions show it being made with brown fleece on the upper side.
Next up isn't a Halloween costume, but if you've ever had the desire to dress your child (or your baby brother/baby sister) as Agent P, and really, who hasn't, there's some directions on Babble on what you can assemble to create the outfit.
While official Phineas and Ferb costumes are still hard to come by, it does seem to be getting slowly better. There's a few masks that actually look like the characters. Those three are already sold out, but you can see them on the HalloweenCostumes.com website here for Phineas, here for Ferb and here for Agent P.
For girls, there's two "Sassy Agent P" costumes, which are basically just a teal dress with Perry's face on it and a tail on the back, but both come with a fedora. The one for girls is for ages 3 to 10 and the other is for teens. Both are available on other websites like Spirit Halloween, Costume Discounters, Anytime Costumes and Costume Craze.
As reported in previous newsletters, Party City has a pretty good selection of P&F party supplies. They recently have added an Accessory Set for $15. You get an OWCA-style agent's jacket for kids 4-6, a "Birthday Agent" badge similar to the one Agent P uses and a set of glasses that makes your eyes look like Perry's. This could easily be used if you want to go as an O.W.C.A. agent for Halloween.
Now, if you're interested in recreating the famous "There's a Platypus Controlling Me" scene, you could find a white motorcycle helmet, paint it and stick antennas on it, but why not put a platypus on your head? Rubber headpiece, but with foam on the interior where you wear it. You can get this at the Spirit Halloween website, but Halloween Costumes currently has the better price.
But now we get to the good stuff: actual Perry costumes. One appears to have been sold in various Disney parks and you can see them on eBay and Amazon. But another comes from a different source. If you were to do a search for "Platypus costume", you would see a fuzzy jumpsuit costume that looks just like Perry. If you were to then look at the description for the one for kids and one for adults, you'd think they're talking about Perry. In fact, there's a few familiar phrases that lead you to think that. But look at the name: Parker the Platypus.
Though there is a line of children's books about a platypus named Parker, I think this is a case of a company made a P&F-like costume without it being an official product. I don't know if the descriptions came from the manufacturer or the stores that are selling them, but honestly, this is the kind of costume I would want to buy. This is the kind of costume I have been waiting for Disney to sell. It looks like it will keep you warm on a cold Halloween night. Add an adventure hat or an archaeologist hat, and you're ready to go face LOVEMUFFIN or whatever you might meet on All Hallows Eve.
When you're going Trick-or-Treating, you will need a bag to carry the loot in. To the right is the "drawstring backpack" from last year. The Spirit Halloween store had an updated version with Perry looking to the left with one eyebrow raised, kind of like Spock does. They have also added a tail to the back. The bag is about 14" wide by 18" deep, so it should hold quite a bit. It's $13, but only appears to be available in stores.
Coming in two weeks:
Hands-on with the New Merchandise
Recent episodes review
Other articles to be determined (submissions wanted - send to RRabbit42 or use the Newsletter submissions page)
Got a question or comment about this issue? Leave them below.
Ad blocker interference detected!
Wikia is a free-to-use site that makes money from advertising. We have a modified experience for viewers using ad blockers

Wikia is not accessible if you've made further modifications. Remove the custom ad blocker rule(s) and the page will load as expected.