(subscribe)

               
The Official Phineas and Ferb Wiki Newsletter, Issue 103: November 7, 2013
 


Crat Corner
by RRabbit42
A few upcoming changes
A few issues ago, I think I had talked about the fact that people come and go from a wiki as their interests change or events in their life change. Some leave for a while and others leave permanently. When the person that leaves is an admin, it does help to know which one it will be.
We are going to leave messages for all admins, chat moderators and rollback users who have not been here in several months. If it's only been a few months since they were last here, the message will be an invitation to come back and start editing and being in the chat room again. If it's been about a year, then the message will be a request to let us know if they are still interested in keeping those rights. The ones that aren't or don't respond will be dropped down a level and we'll begin looking for replacements.
But even before we find out what replacements we might need, I think we're at a point where we could use another admin. Nominations will be opened shortly. Start thinking of who you'd like to nominate.
Looking ahead to Christmas
It's not going to be that long before everyone's thinking about Christmas, and for us, that means a change to a holiday theme for the wiki. Last year, I had discovered a way to manually select the background picture, getting around the file size limitation of the Theme Designer tool available to admins. And now, having reminded myself about that trick, I can't remember how I did that. Fortunately, the picture we used last year fit, so we may just use that again.
This will be the last year we can do a background image like this. Wikia is working on an update that will change how background images are displayed and the result is that there will be a fixed amount of space assigned for the images on the left and right of the content area (the part of the screen you're looking at right now). Our future background images will have to be designed with that width in mind.
On a different note, the amount of P&F merchandise has been tapering off recently, but there will be a few Christmas-related items that can go in the next issue. There may also be some things relating to Disney Infinity. We haven't hit the point where it officially becomes relevant to this wiki, but we're getting close. There are also many "Black Friday deals" for Thanksgiving, so if you're planning, like I am, on getting Infinity specifically because it will have P&F content, then knowing about what those deals are will help you plan out your purchases.
Odds 'n' Ends
Speaking of Christmas, if you plan to visit or live in Florida, why not say "Happy Holidays" to Phineas and Ferb at Walt Disney World's "Mickey's Very Merry Christmas Party"? They'll be at Tomorrowland, just look for the Santa's Rest Stop-come-clubhouse display where Buzz Lightyear usually hangs out in the Magic Kingdom for selected November and December dates starting November 8th until December 20th.
Congratulations are in order to "A Phineas and Ferb Family Christmas" guest star Kelly Clarkson, who recently tied the knot with her beau, Brandon Blackstock, last month. Sorry we couldn't get them a wedding gift, but Mrs. Blackstock's brand new Christmas album, "Wrapped in Red" is now available on iTunes. We hear she does a mean cover of Run Rudolph Run, but we kinda like Phineas' version better around here, no offense taken, Kelly.
The Numbers Game: Facing Our Fear

by Ryan Stoppable
The baseball season may be over (NOOOOOOOOO!!!) (and congratulations to the World Champion Boston Red Sox; it's their 3rd in the last 10 years), but the Boys of Summer Vacation keep rolling along. And thus, so do we at The Numbers Game! Welcome to the newsletter section that breaks down the numbers of our favorite show.
Phineas and Ferb presented its third Halloween episode of 2013, "Face Your Fear", on Friday, October 11. 2.143 million viewers summoned the courage to see it, a 29 percent decrease from the previous week's "Terrifying Tri-State Trilogy of Terror". Checking in with a 1.3 household rating, down four tenths from the last episode, it was only good for 26th among Disney Channel programming on the week. As a matter of fact, it wasn't even the top Phineas and Ferb airing on the week; that honor goes to a Saturday night episode (a rerun of this one?) that draw 2.243 million viewers (19th on the week).
Unsurprisingly, with the lower total viewership figures, the episode failed to crack the Top 10 in any of its target age groups, and thus those numbers are not available. Facing competition from the baseball playoffs along with the usual suspects, viewing among Adults 18-49 dropped by 43 percent to a 0.28 rating.

Next issue, The Numbers Game will celebrate the Gazette's important milestone with coverage of November 1's "Cheers for Fears". Hopefully, we'll have bigger numbers to report at that point. Until then, hit up the Comments with your thoughts, make it the best day ever, and remember...that the numbers never lie.
Retro Review: Watch, Wait and Eat

by P&F fan92
I have picked two episodes to review that come from early in the second season,
In "Don't Even Blink" it starts with Stacy suggesting that Candace should find out where Phineas and Ferb's inventions go, which leads to them asking the boys to build a big obvious ride so the girls can keep watch on the invention. Candace at first does not let the boys and their friends ride on the big obvious ride but she realizes that Mom comes home after the boys are finished with the invention after which it disappears. After the boys and their friends finish playing on the invention they go back to watching the invention.
Meanwhile, Perry gets his assignment and goes to stop Doofenshmirtz, whose plan includes an ray which he wants to shoot the Fireside Girls with to make them invisible because there big pleading eyes force him into buying cupcakes. Perry eventually escapes and they fight around the invisibility ray turning themselves either partially or fully invisible at times.
Returning to the gang, when Linda gets home it causes them to look that direction and at the moment Doofenshmirtz's invisibility ray hits the invention causing it to turn invisible. The ray keeps turn it from visible to invisible, until Doofenshmirtz turns the ray into a destruction ray and it hits the boys' invention and destroys it, causing Candace once again to fail to bust Phineas and Ferb.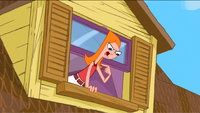 In the second half of the episode called "Chez Platypus", the boys decide to build a trendy restaurant that is fun to go to and has good food after they are unsatisfied with a trendy restaurant. Meanwhile, Candace gets a call from Stacy, who tells her that she heard from the grapevine that Jeremy was going to call her and ask her out on a very special evening that night. Candace and Stacy joke around about Jeremy being the doctor of love before she gets another call which turns out to be her mom which leaves her disappointed. The gang comes by and everyone is given a job that they will do at the restaurant, and back in Candace's room, her phone rings with a special ringtone that makes it easy to tell it is Jeremy calling her. Jeremy ends up asking her out for a very special evening, to which Candace says yes to. Candace then hears Phineas and Ferb working on the restaurant and tells them not to interfere with her stuff.
At Doofenshmirtz Evil Incorporated, Perry tries to break in and gets his foot stuck in the door, Dr. Doofenshmirtz explains his plan that he is going to use his De-Love-inator satellite to get rid of the feeling of love in the Tri-State area. He says he will active the satellite if he does not pull it off tonight with his date.
Jeremy picks Candace up and they end up going to Chez Platypus, but are prevented from going in to the restaurant. Doofenshmirtz and his date go in and several times he gets close to hitting the button on his remote but ends up never doing so as he ends up handing it to Perry because he does not need it anymore which Perry goes and smashes causing the satellite to fall. Later everyone leaves the restaurant and a guy comes up and asks for the restaurant which Phineas and Ferb end up giving him. At that point Jeremy asks Isabella if she has a table for two, which she ends up taking Candace and Jeremy to. Soon after they get seated, Candace's parents come and her mom questions her if she wanted to bust Phineas and Ferb for this. Candace tells her parents to go away and gets back to her date with Jeremy. After that Doofenshmirtz and his date end up singing the "Happy Evil Love Song", but at the end Doofenshmirtz's date gets hit with a beam from the De-Love-inator satellite.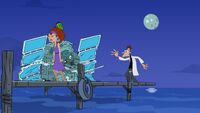 The first episode was a good episode and fun to watch but the second episode for me was better, except for the song at the end which I was okay with, because Candace did not really try that hard to bust Phineas and Ferb and when it ended up benefiting her, she had no intention to bust them. Also, that it continued to expand on Candace and Jeremy's relationship, and at the end it was interesting to see Doofenshmirtz's own invention backfire on him and make his date feel nothing for him. That being said both episodes were enjoyable to watch.
Got a question or comment about this issue? Leave them below.