(subscribe)

               
The Official Phineas and Ferb Wiki Newsletter, Issue 104: November 19, 2013
 


Crat Corner

by RRabbit42
Expanding waistlines, expanding wikis
For several months, Wikia has been working on some major updates to how their wikis function. They're just about finished and have made the announcements this week before we get into the official start of the holiday season.
One of those changes is a new editor that does a better job with WYSIWYG than the Visual Mode Editor does. You've heard me say before there have been many times where I've had to go in and fix the code that the Visual Editor tried to make "right" or just plain scrambled, so this will be a welcome update. If I read the information right, this was co-developed with Wikipedia and will be also be used there. This new editor, called VisualEditor, will eventually replace the current Visual Mode Editor, but Source mode will still be available for those of us who like to see the code of a page.
Related to that is what is going to affect our wiki. Three years ago, Wikia changed their primary interface, the Wikia skin (formerly "Oasis"), so that it stays at a fixed width. Since then, more people have bought large monitors and more people have tablet computers like an iPad or a Kindle.
So how do you make a wiki fit a tablet without having a lot of unusable space when viewed on a big monitor? Answer: change the skin back similar to how it used to work, which is to make the page width fit however wide your screen is. That's how the Monobook skin still works if you use that.
Because the width of the page is going to vary, the way the content of the page is arranged is going to vary. The new Fluid Editor will have a way to switch page sizes when you do a Preview of your edit so that you can see how everything sits at the minimum and maximum widths, as well as whatever size your web browser currently is at.
The Fluid Editor will become active on Wednesday, December 4th. Here's the list of what it affects:
The page content, such as tables, pictures and the paragraphs will flow differently, based on monitor width.
The fixed size of the right "rail" of the Main page is going to shrink slightly to 300px, and the left side that contains the bulk of the info will change width as needed.
The slider we use on the Main page will become auto-centering, so there will be gaps along the left and right side unless we do something like wrap it in a table so we can put something alongside it. I'm not sure how practical it will be to do that because we have to keep in mind small screen sizes for tablets.
The background image is going to shrink to a narrow strip on the left and right side of your monitor.
Having a content area that changes widths means we will have to do a little bit of adjusting and rearranging, but we have to remember that we won't be able to keep everything positioned as precisely as we can right now. It's a matter of getting used again to how it used to be a few years ago. Or, how Wikipedia still does it, if you want to look at it that way.
The background images are my bigger concern. Those narrow strips will be about 170px wide. You can see this right now if you go over to the Muppet Wiki. Unless you have something like a 25" or larger monitor running at least 2400x1080 resolution, you'll never know that Oscar, Grover and Big Bird are in the picture on the left and Bert is in the picture on the right. You can see part of Fozzie and Dr. Bunsen Honeydew, but you don't see their full face most of the time.
So, to keep things simple, starting on December 4th, all of our backgrounds are just going to be designed to show 170px on the left and right side. There won't be anything across the top because whether or not it's covered up depends on whether you see an ad there or whether the web browser you're using leaves it exposed. As one last hurrah, I'll put up last year's Christmas background early so we can enjoy while we can. Then we start work on new backgrounds for our special events. We'll need help with that from any artists or graphic designers we have. All you have to do is check out Mouseinphilly's latest blog for more information on what we may need in the coming year, plus suggestions for our Twitter page and Facebook covers as well.
If you want to read up on all the details of what Wikia is changing, read these pages:
There is one last change that is coming up. Sometime in the next few days, we won't be able to upload any pictures for a couple of hours. Wikia will be copying the pictures from all wikis over to a new file storage system, starting with smaller/olders wikis and working their way up. So if you can't upload a picture, you will know they've started here and you just need to wait a few hours and try again.
We're number 154
Wikia has several Hubs that show the biggest wikis in various categories. Ours is listed as a "silver" wiki in Wikia Entertainment because we have over 1,000 pages (2,158 as of right now). But I just found out that they have a separate score that shows the wiki's "health and vitality". It changes each day and shows the top 5,000 wikis.
As of today, we're ranked #154 out of those 5,000 with a WAM score of 96.27 out of 100. You can see the stats on the WAM Score page for the various Phineas and Ferb wikis. I don't know what "Vertical Rank" means, but it does show that at one time, we had 57th place out of all wikis.
Odds 'n' Ends
The first seasonal airing of "A Phineas and Ferb Family Christmas" will be on Disney XD Friday, November 29th at 12:30 PM ET/PT in the USA, and the first airing this holiday season of "Phineas and Ferb Christmas Vacation!" is set for 9:00 AM ET/PT November 30th on Disney Channel.
If you're interested in buying Disney Infinity in preparation for when Phineas, Agent P and the related power discs become available, check out the Black Friday deals over on the Disney Infinity Wiki.
The notifications discussed in the last issue will go out within the next few days so we can get started on updating our staff.
The Numbers Game: "Cheers" for Bigger Numbers
by Ryan Stoppable
As we all know, there's a hundred and four days of summer vacation. And now, there's also a hundred and four (official) issues of the Tri-State Gazette! A hearty congratulations is in order to everyone who has worked on it, contributed, or even read it and made it worth our time. To celebrate, this is The Numbers Game, the newsletter section that breaks down the numbers of our favorite show.

"Cheers for Fears" hit the new airwaves on Friday, November 1. 2.413 million viewers added this one to their scrapbooks of memories, a 13 percent increase from "Face Your Fear" three weeks prior. Its 1.4 household rating was also higher than the previous episode, increasing by a tenth. Trailing behind Disney Channel's three other premieres, it was good for 13th on the channel this week.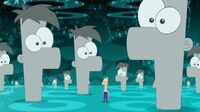 Despite the increase in total viewership, the new episode once again failed to crack the Top 10 in any of its target demographics. As a result, those numbers are once again not available. Among Aduts 18-49, viewership rebounded with a 21 percent increase, checking in at a 0.33 rating.

Another new episode aired on November 15, and The Numbers Game will fire up its manual typewriter to cover the splendid "Steampunx" next issue. Until then, add your thoughts in the Comments section, let's go Packers!, and remember...that the numbers never lie.
Review: Mission Marvel
by FerbFlecher151
What a long wait it has been. Ever since it was announced last year at Comic-Con 2012, Mission Marvel has been highly anticipated from both P&F and Marvel fans. But does it live up to the massive hype? In some ways it exceeds it, while in other ways it falls somewhat below expectations.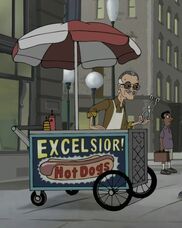 The story is that Doof has built a Power-Drain-Inator, which will drain the power away from anything it hits. Perry stops him, but a beam bounces of Phineas and Ferb's satellite and hits the Marvel heroes, draining their powers away. Because of this, super villains, realizing their chance, team up with Doof to destroy the world. Basic enough.
One of the major concerns going into this episode is whether the Marvel heroes would transfer well into the world of Phineas and Ferb. While it is initially somewhat distracting, after a few minutes they fit so well into the P&F universe that it feels like they were always there.
I was also surprised at how many references there were to Marvel. Some of them are so obscure that you have to be a hardcore Marvel fanatic like myself to understand them. I mean, what other cartoon would feature would reference Howard The Duck?
Most the songs in this episode are in the background with the exception of Only Trying To Help (thankfully, the Marvel heroes do not sing), with the standouts being the aforementioned and My Evil Buddies and Me, with the latter being one of the funniest sequences P&F has put out in a while. All the songs that play while the Marvel heroes are fighting are good, but nothing special. It doesn't help that most of other songs besides Only Trying To Help and My Evil Buddies and Me were strangely absent from the original U.S. broadcast (here in Canada, however, they were in it).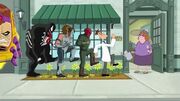 Halfway through the episode, however, the special tries throw some development for Candace and Phineas' relationship, and also Candace and Isabella's relationship. While the latter's development is appreciated as we rarely get to see them together, it builds up to a cliche and overused plot device in how "girls can be awesome too!" and all that jazz. It's pointless and all it really does delay the action.

Mission Marvel is everything we wanted it to be: funny, action-packed and a great crossover in general, even if it bogged down by some rather cliche and pointless plot devices. I give Phineas and Ferb: Mission Marvel an A-.
Hands On With The New Merchandise, Part 66
by RRabbit42 It's been several issues since I did an official "Hands on" merchandise review, but since there were a couple of issues where we had special reviews on different themes, I have bumped up the numbering a couple of places to take those into account. Let's take a look at what I found during the past few months.
While I was in search of Halloween costumes this years, I stopped in at both Spencer Gifts and their seasonal Spirit Halloween Store. I wound up buying the same hat at both stores, but as it turns out, the hats turned out to be a little different from each other.
Both use two or three shades of teal yarn. On the hat shown the right, one is noticably lighter than the other, so it gives the hat a kind of mottled appearance. On the other, the both yarns were closer together. It makes the hat look smoother. The second hat also had a tag sewn into it with "Agent P" on it, which you can see on the Spirit Halloween website just underneath Perry's chin. (Quite note: if you look at the hat on the Spencer's website, it looks more blue than teal.)
These are called "laplander" hats, which means you can tie the cords underneath your chin to keep it on your head even in high winds and keep warm. It was $17 and has the Teal of Approval seal.
Spencer Gifts also had a couple other items and the first of those was some socks. Previously, they were "no show" socks that only cover your feet. They still have those, but now they have socks that go the other way, long enough to reach your knees. They're size 9-11 for kids with size 4-10 shoes and are $6 for a pair.
The next two items are a couple pieces of jewelry. While there had been some rubber bands shaped like the P&F characters similar to those "Silly Bandz" a year or two ago, you couldn't tell what they were while you were wearing them.
But if you wear the Agent P rubber bracelet, people will instantly know that you support Agent P's fight against evil. You can match that with a necklace showing him swinging into action. Those are $5 and $8 and both also have the Teal of Approval mark.
Some of the Phineas and Ferb merchandise can show up in some unexpected places. I don't remember Kmart ever having any P&F toys, but occasionally they do have P&F clothing.
For young kids, they have a winter cap and gloves set for $11. I don't see any kind of size indicator on it other than "one size fits most", but to give you a sense of scale, the hat is about two-thirds the size of the adult laplander hat, and the second picture shows the gloves that come with it. Naturally, it's in the boys clothing area.
Over in the men's clothing, Kmart has pajamas with the many faces of Agent P and one large picture of him on the right leg. They're 100% cotton and come in sizes of up to 2XL. It's a nice set and is only $17.

Time to wrap up this review. Next issue, we'll take a look at some Christmas items.
Coming in two weeks:
Hands-on with the New Merchandise, Christmas edition
Recent episodes review
Other articles to be determined (submissions wanted - send to RRabbit42 or use the Newsletter submissions page)
Got a question or comment about this issue? Leave them below.
Ad blocker interference detected!
Wikia is a free-to-use site that makes money from advertising. We have a modified experience for viewers using ad blockers

Wikia is not accessible if you've made further modifications. Remove the custom ad blocker rule(s) and the page will load as expected.