(subscribe)

               
The Official Phineas and Ferb Wiki Newsletter, Issue 106: December 24, 2013
 


Crat Corner

by RRabbit42

Looking ahead to the new year
We're just about a week away from the start of the new year, the traditional time for people to make resolutions. Some are fanciful or optimistic. Some are made knowing that they won't keep them. The resolutions that have the best chance of being completed are the ones where people work on them together.
So let's think about what we want to see happen on this wiki in 2014. What are we missing? What could we do better? What special events would you like to have take place beyond the occasional theme update or when the Star Wars crossover happens?
I'll get a couple of the obvious ones out of the way:
RRabbit42 gets off his platy-posterior and answers his messages quicker, and wraps up all previous messages and promises.
The newsletter returns to a regular publishing schedule.
Reviving the chat room.
One thing I would like to see is other people helping out with the merchandise reviews. As much as I love the show, I can't afford to buy one of everything that they make. At times it seems like I'm trying to do exactly that, but I've come to realize that's not a good path to follow, especially considering that I have been buying two of most of them: one to review, one to keep.
Did anyone over in the UK buy the "Ferb-zooka" from a year or so ago? Or what about the P&F edition of Uno? Any of the wall art or bedding for your room? Or the Agent P coin bank, 8GB USB flash drive, cake and cupcake toppers, the "Awake-Inator" alarm clock, or the Christmas edition of the Agent P Vinylmation figure?
I've appreciated the help with extra people writing articles for the newsletter. Now let's extend that to the merchandise reviews, and use the comments below to say what you're looking for in the wiki.
Odds 'n' Ends
The Numbers Game: A Brave New World
by Ryan Stoppable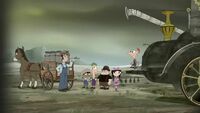 Welcome to the last The Numbers Game of 2013! With just a few days remaining until we'll all be busy with roast beast, frim franglers and zoob zooblers - sorry, I've stopped using words - let's get right to the newsletter section that breaks down the numbers of our favorite show.
"Steampunx" premiered on Disney Channel back on Friday, November 15. A measly 1.703 million viewers entered its brave new world, a 29 percent decrease from the previous new episode "Cheers for Fears". It did so behind a 1.2 household rating, down two ticks from two weeks prior. (As for everyone else, they missed what The Numbers Game thought was a fun episode.) While it was the top Phineas and Ferb airing on the big channel, the viewership ranked only 100th (!) among all Disney Channel programming on the week.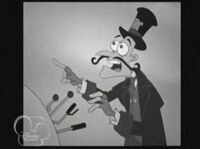 With total viewership numbers like that, Phineas and Ferb was unsurprisingly unable to crack the Top 10 in any of its target age groups, and thus the demographic information is not available. Viewership among Adults 18-49 is also not available, although based on its lead-in Wander Over Yander, they can be estimated around 0.21 or so, which would be a drop of over 30 percent from the previous episode.
Next issue, The Numbers Game is set for a proud New Year's tradition, as we fire up The Year-In-Review-Inator for the fifth time. Until then, I would like to thank the creators and crew of Phineas and Ferb for another year of great episodes, and my loyal readers for giving me a reason to put fingers to keys every two weeks. Also, leave your thoughts in the Comments section down there, and remember...that the numbers never lie.
Christmas presents
by RRabbit42
Though much of Christmas is spent with family, there are occasions where some of that time is spent watching television. Here's the run-down of the Phineas and Ferb-related shows taking place this year. All times listed are for the United States on December 25, and should be valid for the Eastern and Pacific time zones.
Here's some other fun things to watch:
One final present. There is a website called WorldCat, run by the Online Computer Library Center, that ties into the inventories of over 10,000 libraries across the world. On it you can do a search for a book, DVD/Blu-ray disc, CD or article, and it will tell you the libraries near you that have it in their inventory.
For example, if you do a search for "The Hobbit", it will first show the matches for that title. In this case, as you go through the list, it also turned up the Spanish edition ("El Hobbit"), a book on the artwork inspired by the book ("The Art of the Hobbit"), and the Cliffs Notes for the book. Select one of them and it will then display the libraries with that item that are close to you, based on the IP address of your computer or mobile device. You have the option to manually enter what city you want to search in.
It does a good job of searching across editions of a book, so it doesn't matter if you selected the 1996 edition that was shown first (the green cover) or the 2013 edition that was shown third (the black cover). But it's not infallible, since the fifth result with the cover with a scene from the first movie shows it's available in New Zealand rather than where I'm at here in the United States. So you might have to try more than one result to find a local source.
WorldCat is only going to tell you if the libraries have it in their inventory. You'll have to check with each library themselves to find out if it's available, or whether it's checked out, reserved, being repaired, in storage, or available at a different branch. You can also check to see if your library has online reservations or "bookmobile" delivery.
You can find WorldCat at http://www.worldcat.org/ and the version or mobile devices is at http://www.worldcat.org/m/ .
Coming in two weeks:
Hands-on with the New Merchandise
The 2013 Year-in-Review-inator is delivered to us by Ryan Stoppable in "The Numbers Game".
Recent episodes review
Other articles to be determined (submissions wanted - send to RRabbit42 or use the Newsletter submissions page)
Got a question or comment about this issue? Leave them below.
Ad blocker interference detected!
Wikia is a free-to-use site that makes money from advertising. We have a modified experience for viewers using ad blockers

Wikia is not accessible if you've made further modifications. Remove the custom ad blocker rule(s) and the page will load as expected.