(subscribe)

               
The Official Phineas and Ferb Wiki Newsletter, Issue 107: January 9, 2014
 


Crat Corner
by RRabbit42
Where have you been
When you're a fan of a show or a show, it's common to dig deep into the show and come up with the details or "Easter eggs" that might be missed. This does two things. First, it helps record the history of the show. You never know now what will be important or lost years down the road. Second, with a show like Gravity Falls, those small details can help piece together a mystery that is at the show's heart.
On the other side, I have seen people who are fixated on adding one kind of information. It's some small detail that they lock onto and they spend hours on that one thing. Unfortunately, they keep changing that one detail over and over again, changing it from one version to another and sometimes back again, and that's all they ever do on a wiki. That's not a healthy way to spend your time and doesn't help make a wiki better.
And then there's specialization. This is deciding to work on one area of information because you have a particular knowledge or expertise in that area. It's different than that fixation because it involves research and you can see that area improve over time. It becomes better and more useful to more people than just one person.
On our wiki, we have one such specialist who has been helping to build the list of countries that have been visited by Phineas and Ferb or have been mentioned in the show. FlagFreak started the page last January and has been updating the world map ever since then.
So what else do we have lurking in the background that people have been quietly working on? Check out the Lists category and find out.
Kelly Hu at Seattle's Emerald City Comicon
As KinHikari pointed out in the comments of the last newsletter, Kelly Hu will be in Seattle at the end of March. The Emerald City Comicon is a Pacific Northwest comic book and sci-fi convention. It has a name similar to the San Diego ComiCon, but it's not a part of those shows.
The schedule has not been posted yet, but you can see who will be there in the "Guests" section of their website. At least two of the members of the wiki will be there. If you want to coordinate meeting at the convention, go to the ECCC blog.
Odds 'n' Ends
Ashley Tisdale, who provides the voice of the ever trying-to-bust-her-brothers Candace, is one of the executive producers on the new Disney Channel Original Movie Cloud 9, which premieres on January (or "Jan-NEW-ary") 17th at 8 PM ET/PT on Disney Channel.
A correction from our Christmas Eve issue. J.K. Simmons performs as the good professor for Farmers' Insurance, not State Farm. Our apologies to those that were confused. (This has now been fixed.)
The Numbers Game: Behold, The 2013 Year-In-Review-Inator!

by Ryan Stoppable
We all know it's gonna be a happy new year. But before we say goodbye to the year that is quickly receding, let's take a look back at it. Welcome to the Tri-State Gazette's proud New Year's tradition - behold, the fifth annual The Numbers Game Year-In-Review-Inator!
A pair of events highlighted 2013 in the world of Phineas and Ferb. The show's second hour-long special, "Phineas and Ferb: Mission Marvel", premiered on August 16 to an audience of 3.76 million viewers. The crossover was the No. 1 broadcast for the week among both Kids 2-11 (scoring the year's highest rating of 5.7) and Kids 6-11, as well as being Disney Channel's No. 1 show for the week (the only time Phineas and Ferb accomplished that feat in 2013). Additionally, it led the pack with a 0.6 rating among Adults 18-49. On the other hand, the "Phineas and Ferb Musical Cliptastic Countdown Hosted by Kelly Osbourne" was not as successful; the 45 minute episode could only muster 3.12 million viewers on June 28.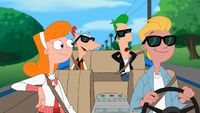 However, neither of those specials was the most-watched episode of 2013. That honor goes instead to "My Sweet Ride", which picked up 3.77 million viewers back on Ferb-ruary 1. That episode was also the No. 1 program of its week among Kids 6-11, hitting the show's high point for the year at 7.6, and also topped the year's new episodes with a 5.7 rating among Tweens 9-14. In addition, it scored the show's highest finish in the Cable Top 25 for the year, checking in at No. 14. Trailing it among regular episodes were "Fly On the Wall", which kicked off the year with 3.39 million viewers on January 11, and "One Good Turn" which scored 3.31 million viewers on August 9.

A variety of additional merchandise also debuted in 2013. The show's fourth soundtrack album, Phineas and Ferb: Rockin' and Rollin' was released on September 10. Two DVDs came out during the year, "Animal Agents" on February 26 and the "Mission Marvel" DVD on October 1. Majesco released the series' fourth retail video game, Phineas and Ferb: Quest for Cool Stuff on August 12, and a mobile game Agent P DoofenDASH on November 14, which has been downloaded over 100,000 times on Android devices alone. Furthermore, the 2012 mobile game Where's My Perry continued its incredible success into 2013, now having gotten over 10 million downloads of the free version and over 1 million purchases of the paid version just on Android devices.

Phineas and Ferb is set to go to some very exciting places in 2014. Not to mention a few other as yet unrevealed hour-long specials, among them are the Himalayas, the cores of many fans' hearts (apparently), one click over on the dimensional continuum, and even to a summer vacation far, far away. With all of those exciting things coming this year, it's "Just Our Luck" that the 2014 programming slate kicks off on Friday, January 10 at 9:15 PM Eastern (8:15 Central). Until next time, tell us which 2014 Phineas and Ferb episode you're most looking forward to in the Comments, have a happy New Year, and remember...that the numbers never lie.
Review: Where's Perry?  (For Realzies, This Time)

by P&F fan92
I have chosen this episode to review this time and I will review the other part of this cliffhanger episode next time.
It starts at the airport where the Flynn-Fletchers are at the airport and getting ready to get on a plane to head to Africa.  Perry who is with them gets paged by Major Monogram that they needed him and that he would need to miss his family's vacation.  Perry than ends up faking he is sick to get left behind.  Meanwhile Candace is waiting for Jeremy to show up to the airport and see her off.  Soon they have to board the airplane.  Once on the airplane Candace gets a call from Jeremy but gets cut off as the plane is leaving the airport and then has to go eighteen hours with no phone.

Back at the Flynn-Fletcher house Betty Jo and Clyde put Perry in his bed, and once they are gone Perry disguises a tissue box and heads off to his lair.  Once in his lair he learns from Monogram that the text they got from Doofenshmirtz did not warrant him missing his family's vacation and then sends Perry off to check on Doofenshmirtz.  When Perry gets to Doofenshmirtz's lair, Doofenshmirtz tells Perry his fake plan and shows him his fake inator called the fitness equipment lock inator and ends up self-destructing it.  Perry then leaves and Doofenshmirtz reveals his Ultimate Evil-inator and plan for the day to Norm now that Perry is out of the way.  He ends up firing the beam and it hits Carl instead of Monogram. 
Meanwhile the Flynn-Fletchers have arrived in Africa and are now at the research base.  They then go a tour of the savannah and at the end they are shown the uncharted gorge and Phineas and Ferb come with the idea to build a highly unconventional vehicle.  Then everyone heads back to station and go their own ways doing what they want to do.   Back at O.W.C.A., Doofenshmirtz arrives with his belongings and Monogram asks him what he is doing there.  They soon head inside and are trapped by Carl, and Doofenshmirtz realizes Carl was the one hit by his inator.

In Africa, Isabella finishes up learning and teaching things with a family and heads to find what Phineas and Ferb are doing.  Phineas says they are building a highly unconventional vehicle which is then described by the song of the same name.  Again returning to the OWCA HQ, Monogram and Doofenshmirtz are now in cells where Carl then sings Evil for Extra Credit to them.  Then, Doofenshmirtz is let out by Carl to help with the inators, while Monogram soon comes up with an idea.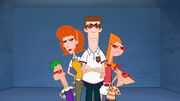 Back in Africa Candace is frantically searching for a phone so she can call Jeremy.  She finds a weird windup telephone and takes it up a tree so she can call Jeremy.  Back at the OWCA Doofenshmirtz shows Carl his inators while Monogram calls in Perry to the OWCA because of an emergency.  Perry soon arrives but is soon captured by Carl.  Then Doofenshmirtz is sent out by Carl and Doofenshmirtz stops and hits a button accidentally to release Perry.  Carl then releases the robots to go after Perry.

Back in Africa, Phineas explains how they are going to get down into the uncharted gorge explaining any other way would result in instant death.  Meanwhile Candace calls Jeremy but the signal is faint.  At OWCA, Doofenshmirtz now prepares the inators to fire.   Then in Africa, Candace finally reaches Jeremy and talks to him but Candace through the signal breaking up thinks she hears him say he is breaking up with her causing her to say "What? Are you breaking up with me?"   Suddenly, by the unchartered gorge the gang gets ready to go down but Buford pulls too hard and sends them plummeting to their instant death. Then back at the OWCA the inators fire and suddenly Perry has disappeared. Meanwhile, at the restaurant in Africa, Linda and Lawrence find out they have no reservation and as they gasp the words to be continued… pop up on the screen leaving four different things hanging that will need to be solved in the second part.

I enjoyed this episode because it did something different with the plot and in the end left four things hanging that made me want to watch the second part when it came out.  This episode did its job as the first part of a two parter and left the viewers wanting to see what happened.  This is one of the best cliffhangers I have seen in a show and first one to have four different things that were left hanging at the end.  Of the four cliffhangers the one that left Candace and Jeremy's relationship status in a limbo was the one that most interested me and got me to worry a little bit.  I give part one of the episode an A overall.
You Don't Know The Power...
Of a storyboard meeting. With about eight months or less until Phineas and Ferb: Star Wars comes to a Disney Channel-equipped TV set near you, Dan Povenmire sent out via his YouTube account the start of the pitch meeting for this epic crossover episode. Perhaps, at last, Stormtroopers will have a "Disney Side" after all and if not, ask Neil Patrick Harris and Darth Vader about that.
Got a question or comment about this issue? Leave them below.