(subscribe)

               
The Official Phineas and Ferb Wiki Newsletter, Issue 109: February 7, 2014
 


Crat Corner
by RRabbit42
Looking towards the mini-holidays
The major winter holidays have now passed here in the United States and we're coming up quickly on a couple of mini-holidays. The first is Valentine's Day, so I have a spotlight on some of the Valentine's Day card sets at the end of this newsletter. It's also the time when we will shed the winter coat on the wiki and switch to a new background. We're collaborating that background and should have it done in a few days.
Not long after that will be Platypus Day. Neither the Disney Channel or Disney XD websites have re-opened their Platypus Day sections, but I would expect them to sometime in the next week or two and start advertising it on both channels. The background I came up with for last year's Platypus Day will have to be adjusted if we're going to re-use it due to the changes Wikia put in place to make the wiki fit whatever monitor you're using. That would be fairly easy to do, but it might be nice to have a brand new design for this year.
Sixth annual Itty Bitty Art Sale
While looking for some other information, I came across an old blog about the Itty Bitty Art Sale that Jeff "Swampy" Marsh and his wife started in 2009 to help support PS1, the Pluralistic School One. I think we missed it last year, but this year's event will be held this Sunday at 6am in Santa Monica, CA.
For those who haven't heard of it before, it's an art sale where you don't find out who made the picture until after you buy it. I don't see Dan or Swampy in the list this time, but Alyson Stoner and Jack McBrayer have both submitted pictures. You can see previews of all the pictures on the IBAS website.
Questions for Kelly Hu
Kelly Hu is scheduled to be at the Emerald City Comic Con in Seattle at the end of March. KinHikari and I will be going. We won't know what Kelly's schedule for the convention will be until March 3rd, but if she will be participating in a Q&A panel, we'd like to have at least two questions prepared to ask her if we get the chance. Head on over to the appropriately-named Questions for Kelly Hu blog to post them.
Note from KinHikari: Regarding Ms. Hu's schedule for the aforementioned convention, it'll be posted on the Emerald City Comic-Con 2014 blog after the over-all schedule is revealed on the ECCC website.
Odds 'n' Ends
The Numbers Game: A 'Return' To Normal

by Ryan Stoppable
While it may lack the grandeur and pageantry of football's 81st championship game, just held in New York's Entire Tri-State Area, one column can always be counted on to bring the substance. This is The Numbers Game, the newsletter column that breaks down the numbers of our favorite show.
"Return Policy" hit the new airwaves of Disney Channel on Friday, January 24. 2.229 million viewers were extremely extreme enough to handle it, a 27 percent increase over the previous episode. Oddly, this was not enough to move the household rating, which held steady at 1.3. For the week, it ranked 24th among all Disney Channel programming, trailing No. 1 Dog With a Blog which topped the chart at 2.895 million. This episode did a much better job of holding onto viewers from its lead-in, dropping only 2 percent from the preceding Wander Over Yonder.
Despite the solid viewership increase, Phineas and Ferb did not reach the Top 10 in any of its target age groups. They were led on the week by a Saturday morning airing of SpongeBob among Kids 2-11, and the aforementioned Dog With a Blog in the 6-11 set. The only age group data available this week is for Adults 18-49, where viewership among my brethren increased by 18 percent to a 0.33 rating.
It appears that Phineas and Ferb is celebrating the sixth anniversary of the original Ferb-ruary by taking the month off. For the next episode, we have to go to Platypus Day, Saturday, March 1 for "Live and Let Drive". Looks like The Numbers Game will have a chance to dip into the archives before then. Until we see you again, leave your comments down below, and remember...that the numbers never lie.
Review: Scrapbooks and Luck

by P&F fan92
This time I have decided to review a pair of recent episodes from the fourth season.
In the first episode in this pair called "Cheers for Fears", involved Candace wanting to have a gift that would exceed all expectations to be able to give to Jeremy for his birthday. She has a scrapbook that she has been working on that has many of the memorable moments she has had with Jeremy including their first kiss. She ends up asking Phineas and Ferb for help and they end up, with her help, creating a giant 3-D scrapbook. Candace then takes a test run and at the end gives her review of it saying it is perfect. She then at that moment gets struck by a beam from Doofenshmirtz's Worst fear-inator causing her to say that her biggest fear is that the giant scrapbook will fly away. At that moment Jeremy arrives and Candace runs to get him and show him the giant scrapbook but as she does so the book ends up flying away just as she feared. Then when she sees it is gone she thinks she has totally blown it but Jeremy says that he gets what happened and accepts the regular sized scrapbook that she created for him.
All while that is happening Perry is sent to Doofenshmirtz's place and is trapped hanging upside down. Heinz Doofenshmirtz shows Perry is new invention the Worst Fear-inator. Perry gets hit by the inator but nothing happens because he is fearless. After Perry escapes Doofenshmirtz is hit by the Worst Fear-inator and shortly thereafter vending machines show up and force feed him. Perry who was leaving ends up coming back and hitting the vending machines with the worst fear-inator. The vending machines are chased by a huge coin out of the building. After that Doofenshmirtz hits the wrong button and sends off a ray that hits Candace. Doofenshmirtz then hit the self-destruct button to destroy his inator and then Perry leaves.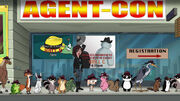 In the second episode called "Just Our Luck", Doofenshmirtz tells Perry who is sleeping about his Stinkelkrampen-inator and how it uses energy fields that create either good luck or bad luck. He shoots a ray to show Perry how it works and it ends up hitting Phineas and the gang who end up having bad luck. He then shows how the good luck setting works and ends up hitting Candace who gets good luck. Candace tries a few things and ends up realizing she is finally having good luck. Meanwhile Doofenshmirtz heads off to city hall and hit his brother Roger with a beam to give him bad luck. At this point Phineas and the gang have trouble with finishing creating sky tennis and Baljeet says they are having bad luck so Phineas decides they need to account for it and prepare for it so they can still have a good game of sky tennis.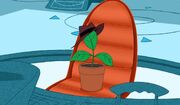 Doofenshmirtz shoots himself with a beam from the inator to give himself good luck. He then sees a penny which is tails up and flips it over to heads. A random person comes up and picks up the heads up penny and hands Doofenshmirtz 1000 dollars. Meanwhile back with the gang the game of sky tennis starts and everyone is having a good time until Baljeet's zip line breaks but he deploys an airbag which gets him back up and allows him to reconnect his zip line. Then after Doofenshmirtz turns on the radio in his car the song Dancing in the Sunshine starts playing and Candace and Doofenshmirtz are shown with their good luck while Phineas and the gang are shown with bad luck. The song ends as Doofenshmirtz arrives at city hall and soon prepares to shoot his brother with some bad luck. Later just as Doofenshmirtz is about to zap Roger with bad luck, Roger gets up and heads over to see Perry who is still sleeping and ends up stepping on a creaky board and wakes Perry up who attacks Doofenshmirtz and breaks the inator which sets the bad luck and good luck back to normal. Candace ends up failing to bust Phineas and Ferb again as the game of sky tennis is sucked into a crack in the earth that suddenly appears and disappears. At the end Doofenshmirtz finds out that his cans of free almond brittle he got were gag cans and therefore he did not have any almond brittle.
The first episode in this pair "Cheers for Fears" was a fun episode and one I had been waiting for once it was announced there was such an episode happening. I liked seeing some of the Candace and Jeremy moments from earlier episodes in the series. I also liked seeing Jeremy getting what happened and accepting the regular sized scrapbook for him. I give "Cheers for Fears" an A. The second episode in the pair was good too. It had funny moments in it with Phineas and the gang having bad luck and all the bad things happening to them being funny to see. The other parts of the episode "Just Our Luck" were fine and were enjoyable. Overall I would give "Just Our Luck" an A-.
Merchandise spotlight
by RRabbit42
We have just a week to go before Valentine's Day, so let's take a quick look the card sets that are available. There's quite a bit of overlap between the packages since they are all made by Paper Magic Group.
at Walmart
4 sets of 8 cards
sheet of temporary tattoos (3 sets of 10 tattoos)
heart-shaped stickers to seal the cards
bonus sheet of stickers
       
at Walmart
2 sets of 8 cards
16 pencils
at Target
4 sets of 8 cards
sheet of temporary tattoos (3 sets of 10 tattoos)
heart-shaped stickers to seal the cards
       
back of the first Walmart set, showing the cards, stickers and tattoos
I picked these up at the end of January, but hopefully both stores will still have some in stock. The Walmart packages are $2.47 each and the Target package is $2.50.
I haven't noticed if there are any new Valentine's Day cards for this year. If we do find some, we'll add them to the Celebrations section of our Merchandise Portal.
Coming in two weeks:
Hands-on with Phineas and Ferb Merchandise
Recent episode reviews
Other articles to be determined (submissions wanted - send to RRabbit42 or use the Newsletter submissions page)
Got a question or comment about this issue? Leave them below.