(subscribe)

               
The Official Phineas and Ferb Wiki Newsletter, Issue 111: March 5, 2014
 


Crat Corner

by RRabbit42
A call for cleanup
The weather in my area has started warming up. Some flowers have started to bloom and others are beginning to wake back up. It will soon be spring.
There's a few traditions for springtime. One is Easter. Another is spring cleaning. Cleaning up the clutter that's accumulated as you've been confined indoors during the cold winter months.
We have cleanup that needs to be done on the wiki, so we are looking for help with that cleanup in the following areas: current forum discussions, transcripts and trivia.
The current forum discussions are the ones you see right above this column. They're supposed to list the newest or most-active forums we have, but they've been the same for a few months. Part of that is my fault for not updating them when the newsletter is finalized. What we need is someone to go to the Downtown Danville and The Backyard forums and mark as them as being resolved if no one has made any edits to a forum in over six months. You do that by commenting out the Forumheader template at the top and changing the category at the bottom. Look at Forum:Fake clips to see how that's done.
The next item are the transcripts. There's been a few questions about exactly what format we want them in, so a Manual of Style for transcripts will be forthcoming. KinHikari has started the PF-Project Transcripts to round up people who are willing to work on transcripts to get them into shape.
There is also a change we can make to the Lyrics section on song pages that will help with the transcripts. In short, that Lyrics section can be automatically inserted into the transcript page. This will mean doing a little bit of formatting on the song pages before we update the transcripts page to link to them. I just found my notes on this process, so that will go in the Transcript MoS.
The last item is trivia items. I've talked about this before, so here's a recap. We made a decision about two years ago to get rid of the Trivia section on the episode pages. They were full of minor details and many of them were really trivial trivia. Since that time, they've crept back in, going into the Background Information section.
We need to move all of the trivia items to a Trivia section. If an episode doesn't have one, add it below Allusions. Then take a look in the Background Information, Production Information and Continuity sections to see if any of those can be moved to Trivia. Use these guidelines:
Background Information: information that helps you understand what happened in the episode. Example: providing a link to the definition of "mensch". If it's specifically referenced in the episode, like that joke about William Hull and the War of 1812 in "Sidetracked", that goes in Allusions.
Production Information: information specifically about how the episode was made or its broadcast schedule.
Continuity: when and episode specifically references an event in a previous episode.
Trivia: everything else, including when we as the viewers make a connection between episodes. Example: fourth time Isabella is shown without her beret.
If you go to the Episodes category via this link, it will display the episodes in alphabetical order. We can then work on them one at a time and get them into shape. I think I got all of the episodes done that start with A and B, plus a few others at random before I figured out how to switch the category to alphabetical display.
Odds 'n' Ends
Remember Mouseinphilly's article last August about possible tie-ins with the summer's big crossover with the Star Wars universe? He pointed out that a ideal bit would involve the voice cast in a panel about that episode, and the possibility of Jedi costumes for the Phineas and Ferb walkabout characters. Well, Disney's Hollywood Studios has announced the annual love-fest for Empire and Rebel fans, known as Star Wars Weekends, are planned on Fridays, Saturdays and Sundays from May 16th through June 8th. Stay tuned for more information as it becomes available.
The Numbers Game Looks Back: Happy Platypus Day!
by Ryan Stoppable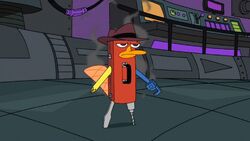 It's one of the most important holidays on the entire calendar, a sure sign that the 104 days of summer vacation draw ever closer. It is, of course, Platypus Day - and only one newsletter column knows what all that chatter's about: The Numbers Game! This issue, we take a look back to a couple episodes celebrating this momentous occasion.
Phineas and Ferb celebrated the inaugural Platypus Day weekend with the Season 3 premiere "The Great Indoors / Canderemy" on Friday, March 4, 2011. 3.306 million viewers set their records straight, good for No. 2 among cable programming on the evening behind a 1.9 household rating. While its 4.7 rating in Kids 2-11 was not good enough for a SpongeBob-dominated Top 10, Phineas and Ferb did crack the rankings among Kids 6-11, checking in at No. 6. The new episode also drew age group ratings of 1.7 among Teens 12-17, and 0.5 in Adults 18-49.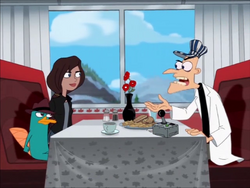 Unfortunately, ratings for the 2012 Platypus Day episode "Perry The Actorpus" are nowhere to be found, but they definitely are available for last year's "Sidetracked". On Friday, March 1, 2013, 2.980 million viewers hopped onboard, pulling in a 1.9 household rating. The total viewership was good for 5th among all Disney Channel programming on the week, with a Sunday night double feature of The Lion King and Tangled snagging the top two spots. Among Kids 6-11, "Sidetracked" checked in at No. 4 on the week with a 5.8 age group rating, while among Kids 2-11 it was No. 9 with a 4.4 rating. And finally, it also scored a 0.5 in Adults 18-49.
The 2014 Platypus Day episode "Live and Let Drive" premiered last weekend on Emoticon. The Numbers Game will see what it can dig up, although it can be rather difficult to find ratings information on the smaller networks. Until then, leave your comments down below, and remember...that the numbers never lie.
Phineas and Agent P and Disney Infinity, part 1
by RRabbit42
As noted above, we're just over a week from when the Phineas and Ferb Toy Box Pack will be available to buy. And if you know anything about how Disney is releasing Disney Infinity products, you know they usually don't make it simple or straightforward to buy them.
For example, if you had gone into a Target store last year, you could buy the package to the right that gives you all 20 of the Series 2 Power Discs and an exclusive album to put them in. This was only sold in stores but you could look at it on their website, though that page is no longer available.
In this package, you got the "Chill in the Air" and the "Frozen Flourish" power discs, from the movie Frozen. Alternatively, if you were buying the Series 2 "blind bags", you might eventually get those same two discs. These two also come in the Frozen Toy Box Pack, and since having two of these kinds of Power Discs doesn't add any extra abilities when you play, you could save $4 by just buying the Anna and Elsa figures in their individual packages.
The two discs that come in the Phineas and Ferb Toy Box Pack are called "Danville Sky" and "Tri-State Area Terrain". They will be a part of Series 3, but there's no word yet on when Series 3 will be available, and no word on any exclusive packages like Target had. If it was going to be released soon, it would make deciding how to buy the P&F Toy Box Pack a little complicated due to the retailer exclusivity.
In the United States, there's five major retailers that carry Disney Infinity: Best Buy, GameStop, Target, Toys R Us and Walmart. Each one of these gets a certain window of time that they can exclusively sell an item. This time around, it's GameStop's turn for the Toy Box Pack and Best Buy's turn for Phineas. For some reason, Agent P won't have an exclusive retailer. It's easier to see in the following table for the release dates and prices:
| | | | | | |
| --- | --- | --- | --- | --- | --- |
|   | Best Buy | GameStop | Target | Toys R Us | Walmart |
| Toy Box Pack | 4/1/2014, $30 | 3/15/2014, $30 | 4/1/2014, $30 | 4/1/2014, $31 | 4/1/2014, $30 |
| Phineas | 4/15/2014, $13 | 4/29/2014, $14 | 4/29/2014, $13 | 4/29/2014, $14 | 4/29/2014, $13 |
| Agent P | 4/29/2014, $13 | 4/29/2014, $14 | 4/29/2014, $13 | 4/29/2014, $14 | 4/29/2014, $13 |
Since the Power Discs aren't a factor and you're almost guaranteed to wind up with duplicates of them later on, your decision is simpler: how quickly do you want to buy this set? Do you want it on March 15th? If so, go to your local GameStop or their website. Otherwise, wait until April 1st and buy it at any of the other four. The price will initially be the same, but keep in mind the Best Buy and GameStop tend to be a little higher-priced on their items as time goes on.

If there's any more news in the next few days, I'll include it in the next newsletter. Otherwise, look forward to a review of the actual gameplay along with the "Dr. Doofenshmirtz Damage-Inator!" Power Disc in either the first or second issue next month.
Coming in two weeks:
Hands-on with the New Merchandise
Recent Reviews
Other articles to be determined (submissions wanted - send to RRabbit42 or use the Newsletter submissions page)
Got a question or comment about this issue? Leave them below.
Ad blocker interference detected!
Wikia is a free-to-use site that makes money from advertising. We have a modified experience for viewers using ad blockers

Wikia is not accessible if you've made further modifications. Remove the custom ad blocker rule(s) and the page will load as expected.