(subscribe)

               
The Official Phineas and Ferb Wiki Newsletter, Issue 112: March 19, 2014
 


Crat Corner

by RRabbit42
Last-minute items
We have two items coming up at the end of this month, so there's stil time for you to get involved. First is the Nickelodeon Kids Choice Awards. The show will be on Saturday, March 29. Head over to the Kids Choice Awards 2014 blog for information about it and how to cast your votes. I've fixed the link that will take you to the page on the Nickelodeon Productions Wiki.
The second is that Kelly Hu's panel at the Emerald City Comic Con will be on Sunday, March 30th. It's listed as "ECCC presents Kelly Hu" and appears to be a general-purpose panel where she will talk about a variety of things. Details are in KinHikari's Emerald City Comic-Con 2014 blog.
If you're going to ECCC, let us know. Also, be sure to stop by table #2702. John DiMaggio will be there. Voice of Bender, Dr. Drakken, Jake the Dog, Rico the penguin, and numerous others, as well as the creative force behind I Know That Voice. That just came out on iTunes and Amazon video, but I'm hoping he'll have news about the DVD release.
Good starts, no starts
We're off to a good start with migrating information to the new Trivia sections. There's quite a bit more to go. As long as we keep at it, we'll eventually get it finished.
But what we're not doing such a good job on is the Featured Article nominations. The requirements are a lot less strict than they used to be, but very few articles are being nominated. We had to keep the last one since there were no new nominations this month. Let's see if we can get two nominated before the first of April. You can make your nominations on the Featured Article voting talk page.
Odds 'n' Ends
To see which actors were nominated in the 3rd Annual Behind The Voice Actors Awards, check out KinHikari's blog, then come back the following day to find out who won.
The Numbers Game: Something To :) About
by Ryan Stoppable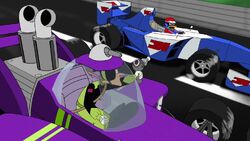 The sun may not be shining, and it may not be noticeably warmer. But the days are longer, (and) the nights are shorter. Welcome to The Numbers Game, the column that breaks down the numbers of our favorite show, no matter what it's doin' out there.
Emoticon honored the 4th annual Platypus Day with a brand new episode, "Live and Let Drive" on Saturday, March 1. 407 thousand viewers pulled in for the 8:00AM Eastern premiere, good for a 0.3 household rating. That ranked 31st among all Emoticon programming on the week, and second behind Sunday's Marvel's Avengers Assemble among the 8:00AM shows. The rebroadcast at 11:30AM picked up a swankier audience of 522 thousand, which ranked 10th for the week. It also owned a 0.3 household rating.
In between, the Platypus Day marathon dominated the top of Disney XD's weekly charts, earning four of the top six spots. "Where's Perry?" at 10:30AM paced the morning at 706 thousand viewers on a 0.4 household rating, the 2nd ranked program on the week behind a Saturday afternoon showing of Bolt. It was followed by "Agent Doof / Minor Monogram" at 10:00AM, in the 4th spot with 614 thousand on a 0.3; "Where's Perry? (Part Two)" at 11:00AM was 5th with 605 thousand and a 0.4; and "Meapless in Seattle" claimed the 6th spot with 558 thousand and a 0.3 household rating. Rounding out the marathon, "It's About Time!" at 8:30AM and "Day of the Living Gelatin / Elementary My Dear Stacy" at 9:00AM tied for 12th on the week, matching up with 511 thousand viewers and a 0.3 household rating each.
There do not appear to be any new Phineas and Ferb episodes scheduled for Disney Channel this month. (Maybe they're saving them all for the eagerly-awaited return of Gravity Falls this summer?) The Numbers Game is headed off to watch some spring training baseball, recharge, and be ready to deliver another exciting column next issue. Until then, leave your comments down below, and remember...that the numbers never lie.
The Easter with no eggs
by RRabbit42
And by "eggs", I mean Easter egg decorating kits and Easter baskets. None of the Target, Walmart or Toys R Us stores I've checked have any Phineas and Ferb items this year. In fact, the selection of licensed decorating kits was really small. Plenty of the general decorating kits by Paas, but very few of Dora the Explorer, Marvel superheroes and the like. I think this happened once before.
In case you didn't buy extras last year or the year before, you can still get the P&F decorating kit by Dudley on Amazon. While I was looking around there, I did find some candy-filled Easter Eggs. Click on the link below the bullet point that says "2 1/2 inch eggs, with approximately 5 pieces of candy inside each" to see which other places have this for sale. (At the moment, that link says "26 new from $8.99", but this will change over time.)
The last Easter item I found is one we already knew about: The Easter Eggs-travaganza 8x8 book. To my surprise, I don't think I've bought this book yet. I will have to remember to get it the next time I place an order through Amazon or Barnes & Noble.
Now, taking a step sideways, there's a different piece of merchandise I want to bring to your attention that's not P&F-related, other than being from the same parent company (Disney). Frozen was just released on home video. If you're also playing Disney Infinity and haven't bought the Anna or Elsa figures yet, Walmart has two exclusive gift sets that you should check out. You get the movie on DVD and Blu-ray, a digital download copy, plus your choice of the two figures, for $30. You wind up saving about three or four dollars over buying them separately and you get a nice-looking box.
If you already did buy both figures, but were planning on giving one of them as a gift to a person, it's still worth buying either of these sets, since the Anna and Elsa gift sets are simply larger cardboard boxes that allow the standard Disney Infinity figure package to slide inside. Take the figure out, give that as your gift and keep the movie for yourself.
Walmart did the same thing when Monsters University came out. It looks like you can still get the Mike and Randy gift sets. You can order these two to be shipped to your local store, but right now, you can only get the Frozen gift sets by going to your local store. The one I happened to go to today didn't have them on display yet. They probably will shortly.
In either the next issue or the mid-April issue, I'm planning on having a review of the Phineas and Ferb Toy Box Pack for Disney Infinity. I just got that a couple of days ago, so I'll need to squeeze in some time to see what these can do in the Toy Box.
Coming in two weeks:
Hands-on with the New Merchandise
Recent Reviews
Other articles to be determined (submissions wanted - send to RRabbit42 or use the Newsletter submissions page)
Got a question or comment about this issue? Leave them below.
Ad blocker interference detected!
Wikia is a free-to-use site that makes money from advertising. We have a modified experience for viewers using ad blockers

Wikia is not accessible if you've made further modifications. Remove the custom ad blocker rule(s) and the page will load as expected.