The Official Phineas and Ferb Wiki Newsletter, Issue 118: June 24, 2014
 


Crat Corner

by RRabbit42
Never stop learning was the theme of one my recent articles. Since I'm in the middle of doing some major work on my house, I'd like to share some of the things I've learned that also can apply to other situations.
No matter how much you plan, it will probably take longer than you thought.
Once you get started, you may see other things that need to be taken care of at the same time because doing them separately later will be harder.
If you look past the surface, you may uncover the truth that changes your point of view.
That last one's pretty important. In my case, "why in the world did they do that?" turned into "Okay, I understand now. Still could have been done better, but at least I see why they did what they did." It's easy to take a look at a situation and think you know everything about it. But if you keep looking, keep learning and don't be stubborn and refuse to change, you're doin' better than a lot of people in this world.
Now, something a bit more fun I learned a week ago is how clever comic books can be. Another article I wrote recently talked about My Little Pony. I decided to pick up some of the comics and was rather pleased at the things they snuck in. In just a couple of issues, I spotted references to Huey Lewis and the News, Invasion of the Body Snatchers, several for the various versions of Star Trek, the Golden Gun from the James Bond movie, the game Mousetrap, Batman, The Shawhank Redemption, The Fugitive, Indiana Jones and the Last Crusade, Moses' famous speech, and characters that looked remarkably like Bail Organa and the Fourth Doctor. They even threw in a message directly for the readers, telling them not to over-analyze what was going on in the comic in the same scene where one of the characters is over-analyzing what is going on. And who is the one who makes the most sense? Pinkie Pie when she points out that it shouldn't make sense.
These are published by IDW Publishing, so maybe they've got a little more freedom to put those sort of things in than a bigger company like Marvel or DC. If you're a fan of the allusions and references you see in Phineas and Ferb, check out what they have to offer. They also have a deal with Cartoon Network to publish new stories and reprint older stories for series like The Powerpuff Girls, Dexter's Laboratory and Samurai Jack. Pick up "Super Secret Crisis War!" and you'll see those teamed up with Ben 10 and Ed, Edd 'n Eddy.
Their website is at https://read.idwpublishing.com/, or better yet, visit your local comic shop and see what's available.
And that's all for my little diversion out of Phineasland. We'll be back to wiki business next time.
Odds 'n' Ends
You still have one last chance to contribute to the What is a bully article.
The Numbers Game Looks Back: The Longest Days
by Ryan Stoppable
Welcome once again! This is The Numbers Game, the newsletter column that breaks down the numbers of our favorite show. And while Phineas and Ferb has returned to the new airwaves for the first time in over three months, numbers for the recent episodes on Emoticon are not forthcoming. So this issue, with the summer solstice fast approaching, we look back at a memorable journey from summer's longest days.
At one time, there were questions as to how the Phineas and Ferb format would hold up in a longer episode. They were laid to rest on August 6, 2010 with the show's first ever hour-long special, "Summer Belongs to You!". 3.862 million viewers bounced around the world with the boys and their friends behind a strong 2.3 household rating. This was good for 5th on the week among Disney Channel programming, behind the Sunday night lineup of Hannah Montana Forever, Sonny with a Chance and JONAS L.A., and a Thursday night airing of Ice Age which edged Phineas and Ferb for the final line on the Cable Top 25. It was more successful against its direct competition, topping offerings from ABC, NBC and FOX to finish 2nd in the hour for total viewership.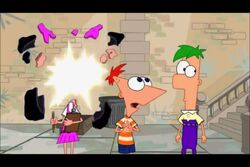 Somewhat surprisingly, the special did not perform especially well in the target age groups. It only managed to crack the top 10 among Kids 6-11, where it placed No. 6 with a 6.5 age group rating. (For comparison, "Mission Marvel" had a 7.1 with lower total viewership.) Age group ratings of 5.0 among Kids 2-11 and 2.7 in Teens 12-17 were not good enough to make those lists. Instead, Phineas and Ferb shined among Adults 18-49, where a strong 0.8 rating tied for the top spot among all cable on the night.
Phineas and Ferb makes its long-awaited return to Disney Channel with its first premiere since January, "Phineas and Ferb Save Summer", on Friday, June 20 at 9:00PM Eastern (8:00 Central), and The Numbers Game will have a full breakdown of its ratings next issue. Also be sure not to miss "It's No Picnic", premiering on Emoticon Monday, June 23 at 10:00AM Eastern (9:00AM Central). Until then, leave your comments down below, and remember that revenge is a dish best served in the 86th minute. Or that the numbers never lie. Either one.
Phineas and Ferb Save Summer episode review

by P&F fan92
In this episode Candace tries to conquer her fear of spiders, and by the end successfully does so with the help of Phineas.  However, besides doing this Candace has to help out with saving the world and saving summer.  The first time they try to move the world back they are initially successful until Rodney sets the inator off upon the demands not being met.  When they try it again they are initially not able to move the planet until the inator is destroyed.   Through the battle against evil where L.O.V.E.M.U.F.F.I.N. tries to set the world into a new ice age, the gang with help from others prevents that from happening and saves summer. 
This episode is a great episode with a great song to start out the episode, called Summer All Over the World.  I never thought it possible that a song could be as good as Summer Belongs to You (song), and parallel it and Summer (Where Do We Begin?) as a good summer anthem. The plot was good and was completely original. It was interesting to find out how terrified of spiders Candace was.  It was well worth the wait for this episode.  This episode was vastly different than previous special episodes which is what made it very fun to watch.  I believe it was the best episode for season 4 so far and I have watched it multiple times already and will continue to re-watch it in the future.  All in all this was a great episode and I give it an A+.
Coming in two weeks:
Hands-on with the New Merchandise
Recent Reviews
Other articles to be determined (submissions wanted - send to RRabbit42 or use the Newsletter submissions page)
Got a question or comment about this issue? Leave them below.
Ad blocker interference detected!
Wikia is a free-to-use site that makes money from advertising. We have a modified experience for viewers using ad blockers

Wikia is not accessible if you've made further modifications. Remove the custom ad blocker rule(s) and the page will load as expected.