(subscribe)

               
The Official Phineas and Ferb Wiki Newsletter, Issue 119: July 12, 2014
 


Crat Corner

by RRabbit42
Better late than never, but on time would be better
I really need to apologize for how late this issue is. I am still doing work on my house and the hot weather we've been having lately saps enthusiasm for doing anything when I get home from work.
Another factor of the delay was self-inflicted. There is a wiki that was being misused and messes were being created almost daily. I was working on adopting it, so I waited on handling other issues. That was approved a few days ago. Once the cleanup's done, I can put up a "here's what needs to be worked on" list and just monitor it a couple times a week to make sure problems don't crop up.
But some good did come out of this. I found out something important about how the Message Wall works that I can pass on to fellow admins. I also saw on a different wiki that they might have a way to leave automated messages on everyone's Message Wall. If they can tell me how they did that, we can go back to notifying everyone individually that there's a new issue of the Gazette, rather than only using the Sitenotice and Community Messages. It's how we used to do it when we had User Talk pages, and if we can do it again, we can actually make use of our subscribers list for the newsletter. I'll keep you posted.
Back to wiki business
My plan for the second half of the month is to get the Star Wars theme put in place, answer any messages that have been pending and get that article written I was looking for help on. Plus a new help page I have been contemplating for a while that's going to help everyone out.
I am also entering into a long-term commitment at work to do extra projects so I have to do a lot better with scheduling my time. It's something I've talked about before, but now I have to do it because once I agreed to start, I can't simply drop back out because I don't wanna do it any more. Not exactly the "work smarter, not harder" cliche, but rather being more disciplined in making sure I attend to each thing I'm involved in.
One final bit of wiki business is the announcement last month that Wikia has released a feature called Lua that is used to make templates. Sometimes templates like Infoboxes get really complex. If they aren't documented well, they can be hard to make, use and update.
I haven't dug into our templates recently, but seeing what it would take to switch to Lua-built templates is something we should look at. If they can make a page load 35-50% faster like the blog is reporting, then that's a real benefit to our wiki and makes it different than some of the other changes Wikia has introduced that we didn't have a use for.
There's some other advantages that can help us in the future. We're already having to start breaking things up by season, such as the Errors pages and Galleries. Imagine if we could do something like only specify a start point and the number of episodes and have the page build itself without having to manually update it every time a new episode is released or the episode order gets shuffled around. We would just make small changes and the page or template would still auto-update itself.
That's something I had been experimenting with on the Simpsons Wiki since it's about to head into its 26th season and has over 550 episodes. We don't have nearly that many episodes, but we're starting to get there since we usually get two episodes per half hour and sometimes there's more than one song per episode.
Let's keep this in mind to look into in the near future.
Odds 'n' Ends
The Numbers Game: Feeling The Deep Freeze
by Ryan Stoppable
There's plenty of things to celebrate this time of year - whether it be a unanimous Declaration of thirteen united States, the unification of the Entire Tri-Province Area into one Dominion, or even your local baseball team's latest victory. We here at The Numbers Game have something to celebrate as well. So without any further ado, let's get right to the brand new numbers of our favorite show.
For the first time in nearly five months, Phineas and Ferb hit the new Disney Channel airwaves with "Phineas and Ferb Save Summer". Somewhat surprisingly, only 2.332 million viewers checked this one off their lists, although that is a 5 percent increase from the previous episode "Return Policy" back in January. On the other hand, it marks a 38 percent drop from the previous hour-long special, last year's "Mission Marvel". That number was nowhere near good enough to crack a Cable Top 25 which featured nine World Cup games, including the USA-Portugal clash that led all television for the week.
To be fair, the target age groups didn't really watch much of anything that week. A measly 4.0 age group rating allowed "Save Summer" to place No. 9 among Kids 6-11 for the week, finishing right behind a Sunday night rebroadcast that claimed the No. 8 spot. The low overall Kids 6-11 viewership allowed several preschool shows to find the Kids 2-11 rankings, keeping the Boys of Summer Vacation out of that list. Phineas and Ferb had its strongest performance among Adults 18-49, where a 0.5 demographic rating topped Disney Channel programming for the day.
Phineas and Ferb continues its road to its next hour-long, one which is not so far, far away anymore. Emoticon has premieres the next two weeks, with "The Klimpaloon Ultimatum" on Monday, July 7 at 10:30AM Eastern (9:30AM Central), and "Operation Crumb Cake / Mandace" the following week, Monday, July 14 at 10:30AM Eastern (9:30AM Central). In between them, "The Return of the Rogue Rabbit / Live and Let Drive" premieres on Disney Channel on Friday, July 11 at 9:00PM Eastern (8:00 Central). The Numbers Game will be watching them all, and will be back to cover them next issue. Until then, leave your comments down below, go Brewers!, and remember...that the numbers never lie.
It's Comic-Con Time Once Again...

by Mouseinphilly
The sun always rises in the east, WrestleMania matches are scripted, and Brazil always finds a way to choke in soccer's World Cup when it's at home.

Those are certainties in life, just like San Diego's annual geek-a-thon called Comic-Con international and the fact that a certain show that this here wiki is all about will have a presence, especially on the same weekend as a major television event debuts. Dan, Swampy, Vince and Alyson among others are planning a little panel chat at the event that day at 10 AM in Room 6A of the San Diego Convention Center.

They'll also preview some new shows coming to Disney XD (a/k/a "The Emoticon" as per Ryan Stoppable) so all in all, it'll be fun. We'll let you know what happens.
Return Policy and Imperfect Storm episode review

by P&F fan92
The episode I am reviewing this time are recent episodes from Season 4.
In the first half of the episode called "Return Policy" involves Phineas and Ferb building an extreme baseball challenge that is won by Buford with help from Baljeet. Also in the episode Candace lies to Jeremy about liking extreme water sports to cover up the fact she is buying a whole bunch of embarrassing hygiene stuff for herself. They are then at the Aqua Maximus which happens to have been built by Phineas and Ferb. After one time through the ride Candace has to go home because she is in trouble with her mother whom she left back at the store. When Candace gets back home she sees the extreme batting cage and tries to bust Phineas and Ferb but ends up failing when her mom leaves to go back to the store to get the bag of groceries that were sent back by a beam from Doofenshmirtz's return-inator. Meanwhile Doofenshmirtz has created an inator that returns his unwanted items to the store and gives him the money right away although in the form of pennies. He ends up being foiled and is transported to Drusselstein after being hit by his own ray. Back at Phineas and Ferb's house, the extreme batting cage explodes into fireworks after Buford hit the final target. Candace ends up admitting to Jeremy that she lied about liking water sports because she was covering up the fact she buying all the hygiene stuff for herself, and Jeremy said nothing she does could be that embarrassing and they share a hug.
In the second half of the episode called "Imperfect Storm", Phineas and Ferb create a wind amplification device to help fly their kites which Candace never sees. Candace who is at the mall with Stacy tells her mom she is going to be at the mall for a little while longer. Soon the Du Bois Landscape Artists come and she takes them to the backyard. Later when Linda sees the Landscape artists first invention she gets angry and calls Candace and tells her she can not talk right now and Candace hears her say something about "the boys", and thinks her brothers are busted and that it is a Straight-up Bust. Meanwhile Doofenshmirtz explains to Perry his plan to soak Grulinda with a large bucket of water in revenge for her soaking him many times with a small bucket of water. Doofenshmirtz ends up failing in soaking Grulinda with water but learns from her that she dumped water on him because she loved him and gets water dumped on him by an angry Grulinda when she learned he was holding a petty grudge. Back in the backyard, Linda starts to warm up to the Landscape artists' ideas and tells Candace that she now liked what the Landscape artists had done but when she tries to show Candace, the landscape artists and the things they created are gone.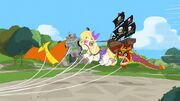 Return Policy was a good episode that was written well with good humor. I really liked how Jeremy and Candace got to share a hug again, but was upset that the moment was ruined with the use of the fart gag. Other than the fart gag at the end, the episode was good and I give it an A. The other episode "Imperfect Storm" was good and I liked how they switched things up and sort of reversed Candace and Linda's roles in the episode. Overall, it was a good episode and I give it an A as well.
Got a question or comment about this issue? Leave them below.
Ad blocker interference detected!
Wikia is a free-to-use site that makes money from advertising. We have a modified experience for viewers using ad blockers

Wikia is not accessible if you've made further modifications. Remove the custom ad blocker rule(s) and the page will load as expected.