(subscribe)

               
The Official Phineas and Ferb Wiki Newsletter, Issue 120: July 28, 2014
 


Crat Corner

by RRabbit42
I'm keeping this issue short so we can get it published and get ready for the next one, which should be in about 5 to 7 days from now.
Did you enjoy Phineas and Ferb: Star Wars?? I'd say I enjoyed about 70-80% of it. Not because there were parts I didn't like, but because my TV signal started cutting in and out. Naturally, it got really bad just as the episode got really good, which was when Phineas had to fight Ferb. There was a great disturbance in the (cable TV) Force, as if a single voice cried out, "Nooooooooo!"
The repeat the following day wasn't much better. Though my season pass on iTunes picked up the episode, it isn't quite the same watching it on a computer monitor as it is on a big TV. So I'll give it another try on August 4th.
The current background for the wiki was provided by Andre drago, one of two people who responded to our blog asking for help with designs for this episode. The previous design came from one of our newer members, Nutta of da Buttas. He first stopped by last November, but came back last month and this month, just in time to help out.
A big thanks to both Andre and Nutta for helping us celebrate this special occasion. Our next one will probably be for Halloween, so start thinking about what kind of background image you'd like to see. We also accept general ideas, which we can turn into a full picture.
Odds 'n' Ends
The Numbers Game: Pulling The Strings
by Ryan Stoppable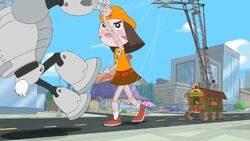 You can feel the anticipation building once again. Later this week, Dan, Swampy and their merry crew are set to talk about several of the most anticipated episodes on the upcoming radar - and answer some always-interesting fan questions - down in San Diego. Not to mention that one of those episodes premieres this very weekend. But those can all wait. This is The Numbers Game, the newsletter column that breaks down the numbers of our favorite show, and we've got some work to do.
Phineas and Ferb returned to the new airwaves on Disney Channel with "The Return of the Rogue Rabbit / Live and Let Drive" on Candace's birthday, Friday, July 11. 2.032 million viewers pulled in to watch it, a 13 percent decrease from "Phineas and Ferb Save Summer" three weeks prior. It also marked a drop of 37 percent from its lead-in Girl Meets World, Disney's only entry on the Cable Top 25 this week at No. 18. (Apparently, those two shows don't have the same audience. Who knew?) Additionally, the new episode was unable to reach the Top 10 in any of its target age groups, although even the same figures that "Save Summer" cracked the Top 10 with would not have been able to do so on this occasion.
The time has come for, perhaps, the most highly anticipated Phineas and Ferb premiere this year. Phineas and Ferb: Star Wars makes its debut on Disney Channel Saturday, July 26 at 9:00PM Eastern (8:00 Central). "Imperfect Storm" follows on Friday, August 1 at 9:30PM Eastern (8:30 Central), right after the season premiere of Gravity Falls. The Numbers Game will be back with numbers for the hour-long special, as well as hopefully having figures for "The Klimpaloon Ultimatum" which premiered last weekend, next issue. Until then, leave your comments down below, have fun and stay safe if you're going to Comic Con, and remember...that the numbers never lie.
Got a question or comment about this issue? Leave them below.
Ad blocker interference detected!
Wikia is a free-to-use site that makes money from advertising. We have a modified experience for viewers using ad blockers

Wikia is not accessible if you've made further modifications. Remove the custom ad blocker rule(s) and the page will load as expected.