(subscribe)

               
The Official Phineas and Ferb Wiki Newsletter, Issue 121: August 9, 2014
 


Crat Corner

by RRabbit42
Talk is talk, but Forums are talk, too
A couple of years ago, we made the decision not to enable article comments for the wiki. They're great for encouraging people to discuss a given subject, but the drawbacks are that people start spending more time leaving article comments than they do working on improving the page, and the comments they do leave... well, they leave a lot to be desired.
I know, we've got the whole range of ages on the wiki. This matches the audience of the show itself. It's not just for young kids, it's not dumbed-down to that age group, and it knows that kids are often smarter than most people might give them credit for. But we're not always going to have formal conversations, either.
So where can we go when we want to talk about an episode, song or a character? Well, we have two places.
The first is the Talk pages. We typically use them to talk about changes to what's on the page and how to make it better. Things like, "should item X be included?" or "I think item B is a reference to (other show/movie/book), can anyone confirm that?"
The second is the Forums. Don't let that name intimidate you. We have used them for serious subjects like admin elections and the monthly voting. But they also can be used to talk about the fun things in episodes and stories. The Backyard is the area of the Forums where you can ask questions like, "Dan tweeted that Phineas is building another rollercoaster. How are they going to top the musical?" or "How do we convince them to make specials out of the other eight movies?"
On one of our highly-anticipated upcoming episodes, the talk page has had a lot of activity relating to what people think will be in the episode. That part is going to get moved over to the appropriately-named Building up the hype for Act Your Age. It would be a good idea for us to take a look through the other upcoming episodes to see what could be shifted to a forum so that the Talk pages can be kept for working on improvements for the pages.
Speaking of...
Speaking of "Act Your Age", we're still eight months away from the premiere of this episode, but at the San Diego Comic Con last month, it was confirmed that a well-known artist on deviantArt worked on the episode. Ashley "KicsterAsh" Simpson had been featured in our year-end fan art issues, and at some point, her artwork caught the attention of Dan Povenmire.
This is a remarkable feat. Anyone who's involved with a TV show or movie has to deliberately avoid fan fiction and fan art because of the problems that arise over exactly where a particular idea came from. As in lawsuits and huge amounts of money.
When I first heard that KicsterAsh was going to be doing something for Phineas and Ferb, I also read a bit about the flack she had received for her artwork and fan fiction. It really hurt her. But she didn't give up, and now her perseverance has paid off and been vindicated. It's going to be great to see that episode even though I only know about just a fraction of the effort it took for her to get to that point.
If you'd like to see more of her artwork, check out her deviantArt account. Some of the animation work she did for her classes is available on her YouTube account. I especially recommend the storyboard she did for part of the P&F panel at the 2011 Comic Con.
Best food in Danville
Wikia is holding another round of the Battle of the Fantasy Foods. Does Phineas and Ferb have a food that it's particularly famous for? If anyone can think of any, head over to that blog before August 18th and get it entered.
Odds 'n' Ends
The calendar says August, closing in on the back-to-school season, and also something called Halloween, and that means the boys' visiting Mickey's Halloween Parties at Disneyland in California (along with the rarely-seen Agent P character) and Disney World's Magic Kingdom in Florida, where they'll lead the Creepa Crew dance ream in the pre-parade dance. Check out the disneyland.com and waltdisneyworld.com websites for ticket availability.
Speaking of October, Mouseinphilly has a reminder for you concerning the Halloween backgrounds for this year in this new blog item he posted.
Greg Guler, a character designer on Phineas and Ferb, will be at the Rose City Comic Con on September 20th and 21st as a special guest.
The other wiki that was posting announcements to Message Walls was doing it by hand. So, there isn't an automatic way at this time to send alerts to individuals and we'll keep using the Community Messages.
The Numbers Game: Far, Far Away
by Ryan Stoppable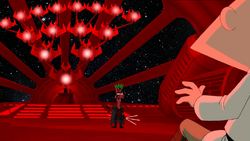 Welcome to The Numbers Game! And we know why you're all here - it is, of course, because of all the other great articles in this issue, and you're reading the whole thing in order. But in case that isn't it, let's spare any further ado, grab our Sith Roast brand decaf, and break down the numbers of our favorite show.
"Phineas and Ferb: Star Wars" emanated from the distant reaches of outer space on Saturday, July 26. 2.479 million viewers felt the force of the new episode, a welcome 25 percent increase over the previous week (spoiler alert) and 6 percent higher than the previous hour-long episode "Phineas and Ferb Save Summer". Honestly, though, The Numbers Game was hoping for/expecting to see an even bigger jump than that. The special shined brightest within Adults 18-49, where a 0.5 demographic rating made it Saturday night's top cable original in the age group. It did not fare as well among its target age groups, failing to crack the Top 10 for the week in any of them.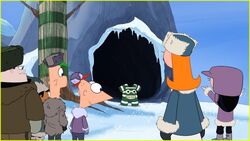 Before that, Phineas and Ferb brought another new episode to Disney Channel, with "The Klimpaloon Ultimatum" premiering there on Friday, July 18. 1.991 million viewers had proof that they watched it, a 2 percent decrease from the previous week's "The Return of the Rogue Rabbit / Live and Let Drive". That number also marks a 24 percent decrease from its lead-in Girl Meets World, further proving that those two shows don't have the same audience. Much like the Star Wars special, this new episode failed to find the Top 10 in any of its target age groups; unlike it, it only scored a 0.3 among Adults 18-49.
"Phineas and Ferb: Star Wars" made its Emoticon premiere on Monday, August 4 at 7:30PM Eastern (6:30 Central). If you haven't seen it yet, or even if you have, you really ought to check it out either as a verified user of Watch Disney Channel or check out Disney XD On Demand where it's available. On Disney Channel, Phineas and Ferb returns to the new airwaves next Friday, August 8 at 9:30PM Eastern (8:30 Central) with "It's No Picnic". The Numbers Game will have ratings for it, and last Friday's "Imperfect Storm", in the next issue. Until then, leave your comments down below, don't be part of the 14 percent more scum and villainy, and remember...that the numbers never lie.
More than not nice
by RRabbit42
At the beginning of this year, Sannse posted a blog on Community Central called "Stand Up and Speak Out" that helped show the difference between normal disagreements and when it changes into harassment and bullying. At the Emerald City Comic Con this year, I attended a panel where fans of My Little Pony: Friendship is Magic told stories about how their life can be difficult because they like something they're "not supposed to" like.

The idea of "what is a bully?" has been mulling around in my head for a while now, especially since I have had to deal with vandals and other disruptive users, and because of how I was treated by an administrator two years ago. In that case, a suggestion I made about fixing something that was confusing on a wiki was blown up into a false accusation of harassment. When I looked into it, I found that that she had a history of such behavior towards others. Fortunately, another admin also looked into the situation a few months later and counteracted her decision. She's not an admin on that wiki any more.

I had plans to rent a couple of documentaries to see what a more formal definition might be, but I think I'm just going to go with personal observations. This is going to cover both Phineas and Ferb and real life.




The resident bullies

Most people consider Buford to be the resident bully in Phineas' neighborhood. He started out with the traditional methods of bullying, such as wedgies and being physically aggressive. Buford is slowly changing, as he begins to see the people around him more as friends than targets. He's shown on a few occasions that he does care about people and he has a soft side, but right now he's still quick to deny both.

Jasonbres reminded me on the blog I wrote to get ideas for this article that Suzy is also a bully. She definitely fits that definition of deliberate and repeated behavior. She has a specific reason why she acts that way, which is to control Jeremy. It isn't a good reason, so it may be a case of "the end justifies the means".




Online is real life

When it comes to life, many people still think that what happens online isn't real or doesn't matter. They don't directly see the other person so they think that it's okay to behave differently than they would if they were standing next to that person.

It's time to put that idea behind us. You spend time online, put effort into what you do online, you make friends online. The method may vary, but you are still interacting with other people. It's real life. Period.

At its heart, being a bully is more than being "not nice" to other people. Everyone has been not nice at least once in their life, even if it's something really minor. It's when "not nice" becomes deliberate and repeated behavior, usually towards a specific person, that it becomes bullying.




Why it happens

Rather than list what happens, let's look at why it happens and what you can do about it. Firesideboy pointed out that sometimes it's done because the person being bullied might not do anything about it or the bully sees they can get away with it. Lord O' Darkness said it can be to soothe their own insecurities. In my view, it's because they don't know or have chosen to ignore Wheaton's Law, which I'm going to paraphrase as "don't be a jerk" so that I don't have to block myself from the wiki since it technically has profanity in it.

Wil Wheaton played a character on the second Star Trek TV series that some people didn't like and they let him know about it in some very cruel ways. He has since come to realize that they are a small number compared to the people who enjoyed the show and what he did, and they are the kind of people who don't understand that actors are not the characters they play.

When asked about if he was called a nerd when he was younger, Wil said he was and it hurt. But he also said the following:

 

| | | |
| --- | --- | --- |
| " | When a person makes fun of you, when a person is cruel to you, it has nothing to do with you. It's not about what you said. It's not about what you did. It's not about what you love. It's about them feeling bad about themselves. | " |

A bully may feel powerless about something that's going on in their lives that they can't change, so they try to take it out on someone else.




What to do

So what can you do if you're in this situation or you see someone else who is? Wil has some more advice:

"I know that this is hard, but honestly the kind and best reaction is to pity them."
"[D]on't let them make you feel bad because you love a thing."
"Maybe find out what they love and talk about how they love it." (Meaning, you might be interested in different things than they are, but you share a similar enthusiasm, passion and love for those different things.)
Know that "it absolutely gets better as you get older". At the convention where Wil answered this question, he pointed out that there were 50,000 people there "who went through the exact same thing—and we're all doing really well."
"[D]on't you ever let a person make you feel bad because you love something they decided is only for nerds."

I'll add in to talk to other people about what's going on and if you see someone being bullied, try to be a friend and help them out. As Callahan's Law says, "Shared pain is lessened; shared joy, increased."




For the administrators

If you're an administrator on a wiki, you're going to deal with vandals and disruptive and obsessive users. Two common characteristics with all of them is that they'll keep at it and they typically don't stay on one wiki. It requires a lot of perseverance to clean up the messes they make because many of them don't give up for quite a while.

While you're doing this, it can look like bullying to that person or to other people because you are focusing on what one person is doing. Here's my recommendations to keep your actions above-board and proper:

Be careful not to let it become personal for you or an obsession. Ask yourself, "Am I starting to enjoy sparring with this person?" If so, take a step back and look at what you're doing and why you're doing it. If you start liking this, you might be on your way towards bullying.
Keep all edit summaries of your fixes factual and leave out personal opinion.
If someone questions what you're doing, answer them honestly. Provide as many facts as you can.
If you're cleaning up a wiki where you're not an admin, remember that you're on an equal footing with that person and that everything you do also represents the wiki where you are an admin.
Know when to back off and be willing to admit you could be wrong. You may think something is vandalism but other people might not agree.

That last point is an important one for me to keep in mind because I have seen many people do something that gets them blocked on one wiki, so they just go over to another wiki and do the same thing there. However, that behavior might actually be acceptable on that other wiki. The original block could be a simple matter of a personality conflict. And the behavior you think you're trying to curb may actually be a personality conflict between you and that person.

It can be hard to admit you might be wrong. But pride and stubbornness are two more characteristics of the kind of people you're dealing with. As the joke goes, "admitting it is the first step to recovery".
---

The video where Wil answers how to deal with being called a nerd (and bullying) can be found on his website. He will be appearing at the Rose City Comic Con in Portland, Oregon on September 20-21, 2014.
Coming in two weeks:
Hands On With The New Merchandise
Recent Reviews
Other articles to be determined (submissions wanted - send to RRabbit42 or use the Newsletter submissions page)
Got a question or comment about this issue? Leave them below.
Ad blocker interference detected!
Wikia is a free-to-use site that makes money from advertising. We have a modified experience for viewers using ad blockers

Wikia is not accessible if you've made further modifications. Remove the custom ad blocker rule(s) and the page will load as expected.