(subscribe)

               
The Official Phineas and Ferb Wiki Newsletter, Issue 122: August 22, 2014
 


Crat Corner

by RRabbit42

Though we have two months to go until Halloween, it's time to start thinking ahead to this event. I know that the time is going to go quickly for me, so this is as much a reminder for myself as for everyone else.
Our main way of celebrating this will be with a Halloween background and theme for the wiki. Mouseinphilly has set up a blog where you can submit your designs or ideas. If you can't make the design yourself, don't worry. Just describe what you're thinking of and we'll work together to make it.
For Halloween itself, Party City has a few costumes that were also available last year. But the Spirit Halloween Store has four exclusive, officially licensed costumes for Phineas, Ferb, Agent P, and a spy costume for girls that at first glance looked like a Fireside Girls costume. It took Disney a half decade longer than it should have to get around to making these, but now we have them! After we get closer to the end of September, we'll put together a buyer's guide of what else is available.
In the meantime, we have a major update to Disney Infinity, the video game that added a Phineas and an Agent P figure earlier this year that you can play as in the Toy Box. Details are in my article below.
Odds 'n' Ends
Radio Disney, which has hosted a few events involving Phineas and Ferb, has decided to switch to an all-digital broadcast except for one radio station, KDIS. So if there is another P&F-related show in the future, you'll need to go straight to http://RadioDisney.com and listen online. Click on the rounded red "Radio D" button that floats at the bottom of the page to start the music player.
Remembering An Inspiration

Our old friend Jeremy Creek dropped this off after the recent death of Robin Williams, who will forever be considered a Disney Legend for his work in "Aladdin" and "Good Morning Vietnam", following his passing August 11th at the age of 63. It was in the film "Dead Poets Society" where Willams' character gave Phineas and Ferb their motto Carpe Diem, which is Latin for "Seize The Day".
The Numbers Game
by Ryan Stoppable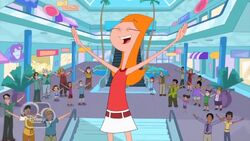 As of this week, our favorite show has now been on the air for over seven years. Just sit back and think about that for a minute, think about all the shows that have come and gone since the Boys of Summer Vacation first knew what they were gonna do today. I believe that speaks more to this show's enduring popularity than all the pixels I have ever spilled talking about it. Nonetheless, this is The Numbers Game, and we've got a job to do: breaking down the numbers of Phineas and Ferb.
"Imperfect Storm" hit the new airwaves of Disney Channel on Friday, August 1. 2.103 million viewers were straight-up busted watching it, a 15 percent drop from Phineas and Ferb: Star Wars the previous week, as well as an 11 percent decrease from its lead-in, the season premiere of Gravity Falls. However, that figure does mark a 6 percent increase over the previous "regular" episode. Phineas and Ferb did not reach the Top 10 in any of its target age groups for the week. Ratings for Adults 18-49 are also unavailable, although 0.3 would be a reasonable estimate based on the surrounding programs.
It was followed up by "It's No Picnic" on Friday, August 8. And its ratings were, in fact, no picnic - on a night of sharp declines across the Disney Channel board (with only Girl Meets World cracking the 2 million mark), a mere 1.512 million viewers got a hold of themselves long enough to tune in. This marks a decrease of 28 percent from the previous week. With total viewership being low, Phineas and Ferb was once again unable to reach the Top 10 in its target demographics. Among Adults 18-49, the new episode posted a second straight 0.3, good for second out of Disney Channel's five new episodes on the night.
Phineas and Ferb starts its eighth year off on Friday, August 22 at 9:30PM Eastern (8:30 Central), when "Father's Day" hits the Disney Channel airwaves for the first time. The Numbers Game will be back to cover that next issue. Until then, leave your comments down below, here's to many more days of summer vacation yet to come, and remember...that the numbers never lie.
Release, Rotation, Splash!

by Mouseinphilly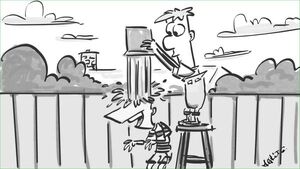 It seems that sometimes, we have an illustration-filled issue not unlike our annual Fan Art Issue, but this is an exception. Tons of money has been donated to ALS (Lou Gehrig's Disease) research this summer through something called the Ice Bucket Challenge where ordinary people and celebrities pouring a bucket of water over their heads and challenging other people to do so or make a donation to ALS research on various social media platforms. Aliki Theofilopoulos Grafft tweeted out this illustration of the boys doing said challenge, and they challenged Popeye, Droopy and Bugs Bunny to do the same on her Twitter account.
Although it wasn't Disney's official challenge, according to Aliki, Ming-Na Wen (voice of Stacy's mom) did manage to get the ball rolling by challenging Dan and Swampy to do so. The funny thing was, Dan was out to challenge Ming-Na, too. Dan also challenged Vince Martella (Phineas' voice) and all the fans to do the same, while Swampy also challenged Martella, along with Alyson Stoner (Isabella's voice actress) and Adrian Pasar (who voiced Iron Man in "Mission Marvel") to be part of the challenge. The videos are up on our Facebook pages.
If you wish to donate, log onto the ALS Association web site and contribute.
Merchandise Review: Cheez-Its, It's Not The Cops!

By Mouseinphilly


So, we've talked a lot about foodstuffs in past articles here in the Gazette, but a new one has come out as of late. Thanks to the master license holders at Kellogg's, their Keebler/Sunshine division have recently come out with Phineas and Ferb Cheez-It crackers. Yup, cheddar cheese flavored crackers. What makes this different from the other Cheez-It crackers is there are six different characters embossed onto the crackers.

Phineas, Ferb, Candace, Doof and two of Perry in his Agent P personna are those six. You can buy them at your local megamart for about three bucks a box.
Disney Infinity 2.0: almost here and vastly improved
by RRabbit42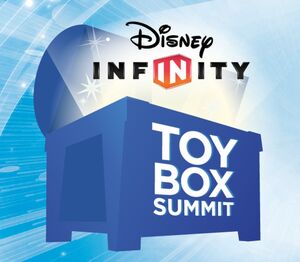 Last Friday, a message showed up in my e-mail, giving me less than a day's notice about a major announcement regarding the 2.0 Edition of Disney Infinity. The following morning was spent watching a live presentation of the first ever Toy Box Summit, with another presentation on Sunday morning to show off what had been done the night before. We're a month away from the release, so let's take a look at what you can expect from the new version.
If you don't know what Disney Infinity is, there's a wiki dedicated to it, and you can read more in issues 101, 111 and 116 of the Gazette about how to make smart buying decisions and about the Phineas and Agent P playset.
Now back to the presentation. The 2.0 Edition has a lot of improvements over the original version launched last year. That's what the Toy Box Summit was about. Saturday's session described what was new and improved and introduced the Toy Box designers that had been invited to participate. The Sunday broadcast showed what those designers came up with in the 18 hours since they were turned loose with the system. Some of them used pretty much every one of those 18 hours, while designers that came as a team worked together or took turns and got some rest.
Here's the list of most of what you can expect in the new 2.0 Toy Box:
The 1.0 figures and power discs will work in 2.0, but not the play sets. Naturally, 2.0 items will not work in 1.0.
Characters have skill trees where you pick a skill and that has a set amount of related skills you can learn.

It's deliberately made so you can't learn all of the skills so that your character will be unique for you, rather than maxed out on everything.
The skill trees will be available to the 1.0 figures.

More interaction between characters and they can team up, such as Rocket and Groot from Guardians of the Galaxy.
You can download up to 300 toyboxes. It was 100, since they were thinking "100 should be enough", but 13 million toyboxes later....

The toyboxes that are featured every week are first run through a program that evaluates how long they took to make and how much is in there, and the finalists are playtested by the staff.

You can now share toyboxes with friends, rather than just upload them to the DI server.
More toys, weapons and vehicles, with 79 "Creativi-toys".
New templates and creators that will automatically make cities, castles and the like. One of the playtesters said he was skeptical, but when he tried them, they worked well.
There will be 80 power discs and about 40 of them will be costume discs like the Black Symbiote costume for Spider-Man.

This idea came from Marvel and is mainly for the Marvel characters, but will work with 1.0 and 2.0 Disney characters when a costume would make sense. Example: Jack Skellington will have a Santa Claus suit.

Some of the favorite toys and buildings have been updated. For Scrooge's Money Bin, you can now swim around in the money like he does.
Helicopter controls have been improved, partly because John Vignocchi kept complaining about them.
Many of the characters have a "wall crawl" mode, but each one does it differently, in keeping with their character.
You can add filters while you're sorting through the toys you want to select.
You now have a "are you sure" confirmation when you want to use the "Theme All" function, and there is an Undo to quickly fix major changes that don't work.
Better camera angles and a few more choices like "Glow-through" so an object doesn't obscure your view of your character.

These allow for more cinematic/storytelling toyboxes. There are plans to release "episodic" toyboxes, one chapter at a time.

Five dials are displayed that show you how the toybox is going to perform when it's played, so you can make choices about what to include.

One of the teams used this feature to create a toybox where you just explore Disneyland since adding puzzles would have caused the performance to bog down.

Up to 10 Doors can be used to link different toyboxes together. This allows you to divide your toybox into different sections.
They fixed the cheat where you could jump in and out of a collection point while holding the same Townsperson and finish the challenge.
New feature for creating interior rooms, not just outside areas. Gives you more capabilities like what The Sims has.
As more characters and franchises are added to the game, more textures and artwork become available that will work together and not clash in their designs.
The new Text Creator allows you to put text wherever you want: banners, subtitles, text above Townspeople. Add a trigger and you can script out conversations, or use "proposal text" to give the player a choice, which can lead to "Choose-your-own" adventures.
More control over the Enemy Generators: how many to spawn, how fast and what the enemies do when they appear.
There are a few items that were designated as "game changers", major improvements or things to be aware of when making a Toy Box:
Many of the characters fly, so when designing a toy box, you need to put in a flying vehicle in case a character can't fly.
Barrier blocks are now scalable so you can drag one to the size you need instead of putting a bunch down to do the same job.
The barrier blocks are also collision free, which means they will pass through objects.
The Sky Changer allows you to change the appearance of the sky, based on how high your character is inside the Toy Box.
Texture maps and skins are available for toys and rails.
Rails can now incorporate switches.
You can now use logic programming with the Townspeople to trigger things, assign behaviors, group them into teams and create dialog pop-ups (like "mission givers" use).

Many more areas of the game also have logic programming, such as programming turrets to only fire on player 3.

There are quite a few more improvements and I've already listed way too many. If I decide to post the full list, it will be over at the Disney Infinity Wiki.
A lot of the presentation is currently available at Twitch TV, but segments from only four of the designers showing off their toyboxes are there. I'm guessing they are the finalists. The winner(s) will be added to Infinity as Townspeople.
Disney Infinity 2.0: Marvel Super Heroes will be available September 23rd or a few days earlier in the EU, UK and Australia. They will not be offering a Nintendo DS or Wii version this time, but Wii U will be available. If you have a PlayStation 3 or 4, you can get a special collector's edition. At $180, it's more than twice the cost of the regular starter pack, but you get twice as many characters, including one that won't be available separately for a month afterwards (Hulk) and a special display stand.
From what I can see, this is just the beginning of another round of having to plan out purchases because some items will undoubtedly be exclusive to different retailers. Even so, 2.0 is also a major step towards a game construction set where players can make their own adventures, RPGs and stories.
Coming in two weeks:
Hands-On With The New Merchandise
Recent Reviews
Other articles to be determined (submissions wanted - send to RRabbit42 or use the Newsletter submissions page)
Got a question or comment about this issue? Leave them below.
Ad blocker interference detected!
Wikia is a free-to-use site that makes money from advertising. We have a modified experience for viewers using ad blockers

Wikia is not accessible if you've made further modifications. Remove the custom ad blocker rule(s) and the page will load as expected.