(subscribe)

               
The Official Phineas and Ferb Wiki Newsletter, Issue 123: September 10, 2014
 


Crat Corner

by RRabbit42
Am I the only one in the northern hemisphere who didn't notice it's getting darker sooner? I knew that it's September and school has started again, but it somehow didn't sink in that Autumn is almost here until I looked out a window and thought, "Why is it so dark when it's only 8:30?" I think the last time I paid attention to this sort of thing was back in July and I could still see daylight as the sun was just setting at 10 p.m.
Of course, I have had other things going on that have occupied my spare time. But it's a good reminder that we have some important things coming up that I and everyone else need to pay attention to.
The first, but second chronologically, is coming up with a new background image for Halloween. We've used the one that Topher208 created a few times. There are more episodes to choose from now when selecting pictures, seven in all. Mouseinphilly got us started last month with his Trick.... Treat... Halloween Backgrounds, Please! blog. There's still time to add your ideas or full designs if you are able.
The second item is a pair of changes that we need people to vote on. One is to switch how song titles are formatted so they're more consistent with how episode titles are formatted, and that's in the "Song punctuation" section of our Manual of Style talk page. The other is to address the fact that new episodes are sometimes available quite a bit ahead of time in other countries than in the United States. That's located in the "Video links to future/unreleased episodes?" section of our Phineas and Ferb Wiki talk:Video policy talk page.
We don't often have formal votes like this, but I think it's helped keep things fairly harmonious on the wiki. Everyone gets a say and no one runs roughshod over anyone else.
Voting ends on September 21st for the Manual of Style change and we'll have to set a date for the Video policy change.
Odds 'n' Ends
Needless to say, Phineas and Ferb's popularity is getting bigger within the theme parks.
Starting in October, they'll join Mickey, Minnie, Donald and Stitch in the revamped "Move It! Shake It! Dance and Play It!" street party parade at Walt Disney World's Magic Kingdom, and their "Creepa Crew" pre-Boo To You Halloween Parade during Mickey's Not-So-Scary Halloween Parties have expanded on the parade route. Needless to say, Candace was unavailable for comment on this, but a bust will be impossible.
This reminder: Dan Povenmire celebrates his birthday on the 18th of this month, so you can either tweet him or send a card the old-fashioned way (flashing back to postal forward as it were) to him c/o Disney Television Animation, 811 Sonora Ave., Glendale, CA 91201-2433.
If you are going to the Rose City Comic Con in Portland, Oregon on September 20th and 21st, stop by Table O-11 (the letter O instead of the number zero). Greg Guler will be there, one of the character designers on Phineas and Ferb.
As of September 9, 2014, Ashley Tisdale is now also known as Mrs. French. Congratulations to her and new hubby Christopher.
The Numbers Game Looks Back: Oh, There You Are
by Ryan Stoppable
This is the column that breaks down the numbers of our favorite show, but alas the newest numbers, for "Father's Day" which aired August 22nd on Disney Channel, are nowhere to be found. So instead, we dip into the archives. This issue, The Numbers Game remembers my family's beloved cat Newton (1996 - 2014) and looks back at a couple of episodes where Phineas and Ferb were without their cherished pet.
"Where's Perry?" kicked off 2012's Phineas and Ferb summer event on Thursday, July 26. (The opening ceremonies of the Olympics can be thanked for the unusual night.) 3.733 million viewers tuned in for extra credit, a 14 percent increase over the previous week that made it Disney Channel's most-watched program of the week, good for No. 15 on the Cable Top 25. It also fared well among the target age groups, checking in at No. 3 among Kids 2-11, where it was the top cable show on the chart, and also Kids 6-11. The aforementioned Opening Ceremonies claimed the rare clean sweep of all four youth age groups (Kids 2-11, Kids 6-11, Tweens 9-14 and Teens 12-17), while Jessie took 2nd among the 6-11 set. Phineas and Ferb also ranked No. 8 among Tweens 9-14.
With so many questions left over, "Where's Perry? (Part Two)" came along to answer them on Friday, August 24. 4.293 million viewers found it, making this the most-watched Phineas and Ferb episode of 2012; it sits 5th among standard-length episodes in series history. For that week, it placed No. 12 on the Cable Top 25, although it was 2nd among Disney Channel programming for the week, 3 percent behind No. 9 Jessie. Phineas and Ferb scored a new series high among Tweens 9-14 viewers, good for No. 2 on the week. The new episode also checked in at No. 2 among Kids 2-11 and Kids 6-11, trailing only Jessie in all three age groups.
Phineas and Ferb returns to the new airwaves of Emoticon on Monday, September 29, when the fourth season continues with "Lost in Danville / The Inator Method". That means The Numbers Game will be headed back into the archives next issue. Until then, leave your comments down below, are you ready for some football?, and remember...that the numbers never lie.
Phineas and Ferb: Star Wars... The Sequel? Yes, Please!

by Mouseinphilly
Now that the hype for the most talked about special crossover episode in the history of special crossover episodes has been completed, the talk among the internet community is that these should be a crossover for Star Wars Episode V: The Empire Strikes Back for our two favorite junior imagineers and their crew.

I'm calling it Phineas and Ferb Star Wars Episode Va: The Darthenshmirtz Strikes Back. Considering how well the first one did, this should be a no-brainer for several reasons:
Irving and Albert would be in this episode. Irving would help our friends while Albert is a stormtrooper.
Of course, friend of the show Wayne Brady can put his Billy Dee Williams impression to work as Lando Carlissian.

The most famous scene of all time from this episode? You know, when Luke learns that Darth Vader is his dad? (SPOILER ALERT!) This can be only one way to parody this as stated in our Mega Major Double Barreled Twitter Discussion when the original P&F SW episode originally premiered:
  DARTHENSHMIRTZ: Vanessa, I am your father.
  VANESSA THE TWI'LEK:  Nooooooooooooooooo!

If you have any ideas, run it by us in the Comments section below.
A Big Idea I can relate to
by RRabbit42
I haven't done an episode review in a while and there's one episode I can definitely relate to right now: a building project that never seems to end. But since that's the second of the paired episodes, that will be discussed later.
What do you do if your mom is trying to get you to take things more seriously by going to a leadership seminar? Well, if you're lucky, your best friend will be bored enough to go along with you. Just in case that doesn't work, up the ante: suggest that there might be cute boys there. Thus, Candace and Stacy wind up at a seminar being hosted by someone who's very young in "The Secret of Success". Suprisingly, Baljeet is there, too, taking it easy for the weekend.
During this acronym-filled seminar, Candace learns how to BLARF and NARG, which has nothing to do with the sound dodos make. While Ted Shaw's methods inspire her to change how she busts her brothers and that will lead to success, that lasts all of about five seconds before she's chasing after them in the All Terrain Vehicle they built. Stacy is left behind to learn the rest of Ted's secrets, but the appearance of one of the aforementioned cute boys means she doesn't pay much attention, though she does manage to stay awake now.
While all this has been going on, Dr. Doofenshmirtz has been trying to hold a telethon to raise money. You know how it is. Prices go up and your alimony check from your ex-wife doesn't go as far as it used to. Even though he used a Pre-empt-inator to make sure everyone in Danville sees it, the telethon isn't a success and is itself pre-empted by a live news report. His attempt to drive away that distraction doesn't work, either. And Candace learns the hard way that she's not supposed to be driving, either, which leads to Phineas, Ferb, Buford and Isabella sitting and being bored as they wait for her to return.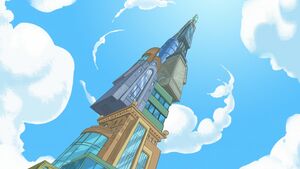 Ever seen something on TV and think, "I can do better than that"? Phineas and Ferb did after watching a pretty lame tourism commercial for their city. Their answer is the world's tallest building, the self-building building that is tall enough to reach the moon. Realizing the scale of this Big Idea early on, Candace sees she needs help with today's bust. She enlists Irving's brother, Albert, who generously offers the use of Irving's spy cameras.
Though Albert appreciates the effort Phineas and Ferb have put into making the building, his Nerd Word of honor that he gave to Candace means he still must go through with helping her bust them. On the way back down from touring the building, he's calculated that no force on Earth is going to move it. Candace is overjoyed. She's guaranteed to bust her brothers!
It literally is a force that is not on Earth that denies her that guaranteed bust, as Dr. Doofenshmirtz is convinced that rotating the moon to point the dark side at the Earth will guarantee he will be the most evil thing around. Unfortunately for her, the building and the moon were connected at the time, and Linda misses seeing the building.
I've mentioned in an earlier newsletter that I'm working on my house and it's taking longer to get done than I was counting on. I can definitely relate to a building-themed episode and it would be really handy if the work would complete itself like Phineas and Ferb's building did. But since I can't disregard the laws of physics, time and money like they can, I have to just keep plugging away at it.
At least I can appreciate some of the subtler aspects of the episodes, like when the ATV drives over the clouds just as if they were solid and the sub, plane and train that look like Ferb, Phineas and Isabella. Or a gift bag that's just a bag. Or how Albert has his own surveilance van. I wonder if he's named it.
Since a major theme of the second episode is the power of nerds, here's a few facts I just figured out:
Based on the Moon being at its closest distance to the Earth of 362,600 km, that's equal to 1,189,618,080 feet.
The floors on most houses are about ten feet tall, but commercial buildings are a little taller per floor. At a height of 12 feet per floor, there would be 99,134,840 floors in the building.
If it took four hours to finish construction and reach the moon, those 99 million floors would have been built at a rate of just under 7,000 per second.
Albert's equation for the guaranteed bust is below. Anyone want to take a shot at solving it?
 ____
√ 254		∑ •254²
   42           =======
   66           __________
   33	       √ 97 - 5w  
          ___    48    R²  
18ɚ x  16√2T          γӨ28
2ɚ∆     
             = 

BUSTED



Coming in two weeks:
Hands On With The New Merchandise: The 2014 Halloween Costume Edition (Yes, there are now costumes!)
Recent Reviews
Other articles to be determined (submissions wanted - send to RRabbit42 or use the Newsletter submissions page)
Got a question or comment about this issue? Leave them below.
Ad blocker interference detected!
Wikia is a free-to-use site that makes money from advertising. We have a modified experience for viewers using ad blockers

Wikia is not accessible if you've made further modifications. Remove the custom ad blocker rule(s) and the page will load as expected.