(subscribe)

               
The Official Phineas and Ferb Wiki Newsletter, Issue 126: October 22, 2014
 


Crat Corner

by RRabbit42
The theme for this newsletter continues on in the Halloween spirit, and our wiki's theme has just been updated. This should be the first of a couple of backgrounds that we'll use before the 31st. But Doofenshmirtz isn't the only one that's been having problems recently. Here I think I've got it pegged exactly what the dimensions need to be for the background image and suddenly it doesn't work right any more.
I will have to play around with the width until I get figured out again. I will try to do that on a different wiki so that I don't have to keep re-uploading the picture here to fine-tune it. In the meantime, I hope you enjoy this one. I've set it so you can see the entire background as you scroll down on a long page, like this newsletter.
You don't know what you've got 'till it's gone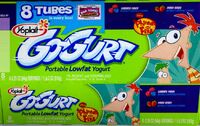 I noticed this last month, but was hoping to find a few more before giving up. Two years ago, Yoplait began selling Phineas and Ferb-branded Go-Gurt. They updated the box and the yogurt packages about three times since it was introduced and they offered a double-sized pack with one of the two yogurt flavors changed from "Summer Punch" to "Perry Cherry".
It's now time to bid farewell to this product. I saw limited-time packaging for How to Train Your Dragon 2 and Teenage Mutant Ninja Turtles earlier this summer, but it looks like either Avengers Assemble or Skylanders is going to take P&F's spot. It would be nice if they could keep it in the family with Disney Infinity instead of Skylanders, but Yoplait doesn't have an exclusive contract with Disney. I've seen a few SpongeBob packages every so often.
If I had been able to find a few more boxes, I would have put them in the freezer and rationed them. Go-Gurt's designed to be frozen, but only once. Don't try re-freezing them.
In a couple of months I will be able to sort through all the things I'm collecting and will try to get scans of the newer boxes so we can add them to the archive section of our Merchandise Portal.
Odds 'n' Ends
The Numbers Game: Lots of Us (Or Were There?)
by Ryan Stoppable
Welcome to The Numbers Game! You're reading the newsletter column that breaks down the numbers of our favorite show. This issue, we've got a brand new episode to break down, and we all know the mindless pharmacists wait for no man, so let's jump right to it.
"Night of the Living Pharmacists" premiered on Disney Channel back on Saturday, October 4. An army of 2.336 million viewers (on a 1.29 household rating) watched the new hour-long special, a 6 percent decrease from the previous special, July's Phineas and Ferb: Star Wars. It was cable's most-watched non-sports program on that Saturday night, trailing two college football games and a baseball playoff game but finishing ahead of fellow Disney offerings Gravity Falls and Wander Over Yonder. While those figures certainly represent lots of us, they were not enough to crack the Cable Top 25, which saw sports broadcasts and WWE account for 17 of the top 20 places; amongst the outliers was Wreck-It Ralph, which took Disney's top two shelves at Nos. 12 and 13.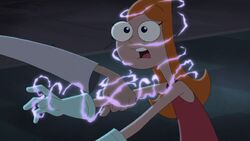 Phineas and Ferb was similarly unable to crack the Top 10 amongst its target age groups, although it appears to have been close, with Gravity Falls claiming the final spot on both lists despite lower total viewership. (Unsurprisingly, Ralph topped both of those charts, with the Friday night TV premiere leading among Kids 6-11 while the Saturday morning rebroadcast topped the Kids 2-11 chart.) Among Adults 18-49, Phineas and Ferb scored a 0.41 rating; among Adults 18-34 it earned a 0.43, beating out the other Disney shows it premiered with.
Phineas and Ferb is set to return to the new airwaves on Thanksgiving night, Thursday, November 27 at 8:30PM Eastern (7:30 Central) with "Doof 101" on Emoticon. With no new episodes scheduled in the short term, The Numbers Game will be headed back to the archives next issue. Until then, leave your comments down below, and remember...that- *transforms* LOTS OF ME.
Some Fans Show Off Their Halloween Finery

by Mouseinphilly
We here at the Tri-State Gazette two years ago went about and did an article on making your own Phineas and Ferb Halloween costumes, because at that time, there wasn't much costumes of the licensed variety going around. And thanks to the wonders that is the intertubes, we have some examples of these.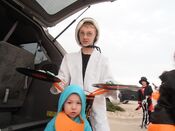 Our first example comes from these two kids who took our idea of doing "There's a Platypus Controlling Me" for Halloween. These kids live in Nebraska from what we understand, and you can't deny they're having fun.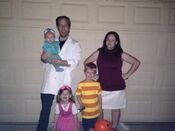 Mom as Candace, Dad as Dr. Doof, baby as Perry, youngest daughter as Isabella and oldest child as Phineas. No Ferb? Oh well, but they do get credit for doing a wonderful job.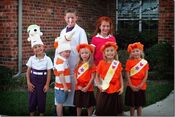 Here we have a group of quintuplets out for some trick-or-treating. The two boys are the titular characters, the girls are Fireside Girls. And look, their older siblings have joined in as Doof and Candace, presuming she's out to bust the boys.
This family went whole hog, even included Linda in the bunch. Fantastic job.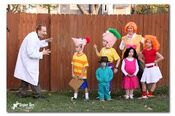 Self explanatory in the caption, another large family looking for pie or snacks...for trick or treating, obviously.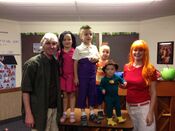 Here's a family with dad as Jeremy. Yes, a Canderemy moment for All Hallow's Eve. Mom picked Candace, bonus points for the execution of the costume idea.
This one takes the win in my book, it's a fan dressed as Ducky Momo. Are we really sure that's not Candace in that photo looking to settle disputes between Spacies and Finkies?

If you want to show us your costume after Halloween (and if you're under 18, get permission from your elders), drop it off on the Message Walls of me or RRabbit42 and we'll showcase them in the future.
The Teal Pumpkin Project
by RRabbit42
This issue and a couple of the past issues of the Gazette have helped us get ready for Halloween. Mostly, it's been for the costumes.
Let's take a look at the other part of that day, the trick-or-treating. Let's skip the traditional discussions about reflective material on costumes, flashlights, traveling in groups with adults, etc. I'm sure you've got that covered. But if you or someone in your family is allergic to things like peanuts or corn, what should be a fun evening isn't quite so fun when you have to sort through all of the candy and remove what you can't have.
Fortunately, there's a lot more information available now about food allergies, especially ones that were not as well known a few years ago like gluten allergies. Most of the food packaging list the allergens so it makes it easier to sort through them at the end of the night. But wouldn't it be better to get something that you can enjoy?
FARE, the Food Allergy Research & Education nonprofit organization has put together The Teal Pumpkin Project. A teal pumpkin on a porch and the matching poster signal that the house will have non-food treats available. Some of the treats they suggest are as follows:
Glow sticks, bracelets, or necklaces
Pencils, pens, crayons or markers
Bubbles
Halloween erasers or pencil toppers

Mini Slinkies
Whistles, kazoos, or noisemakers
Bouncy balls
Finger puppets or novelty toys

Coins
Spider rings
Vampire fangs
Mini notepads

Bookmarks
Playing cards
Stickers
Stencils
They also have links on their blog to the Oriental Trading Company and to Amazon where adults can buy toys to give out and a portion of the purchase will be donated to FARE. If you decide to go this route, you'll need to do it quick, and keep in mind that balloons are probably not a good idea if someone has an allergy to latex.
I was over at Home Depot this weekend and noticed that they have a 12" carvable foam pumpkin for $9. These are a good candidate for painting teal since you can re-use them in future years and they're a consistent shape. They're lightweight, so you might have to anchor them somehow if the wind picks up on Halloween night. Note that the color leans more towards orange-brown than the bright orange shown on the website.
I bought two of them to practice on. I don't plan on carving them, just painting them. Because as soon as I read the article that pointed me to the FARE website, I was thinking, "Hmmm... pumpkins are orange and you paint this teal. Who do I know that has that color combination?"
Yup, you got it. Perry the Platypus. And the "Perry face" to the right is a simple enough design to put on the pumpkin.
I will need to go back for some more paint because I just realized that I will probably have to paint the entire pumpkin white first before the other colors go on. When it's done, I'll post the picture in the comments.
Review: "Night of the Living Pharmacists"

by P&F fan92
This time I am reviewing the recently aired episode "Night of the Living Pharmacists".
What all started from Dr. Doofenshmirtz as an attempt to hit his brother Roger Doofenshmirtz with a beam from his repulse-inator turned into the start of a Doof zombie invasion. Everyone who was touched turned into one. Pretty soon most everyone in Danville was a Doof Zombie, except for Phineas, Isabella, Ferb, Vanessa, and Candace. As the plan to stop this zombie invasion was put into motion, Candace and Vanessa were turned into Doof Zombies. Eventually, Phineas and Ferb were turned into Doof Zombies and it was left up to Isabella to complete the plan and return everybody to normal. She ended up being able to hit the button of the vortex sprayer just before she was turned into a doof zombie. Soon after, water was sprayed throughout Danville and everybody was returned to normal. Everybody inside the walled city of Danville to be precise.
This special was an awesome special to watch. They were very unique and fresh in the ideas they used for this which made this episode very fun to watch. The intensity of this episode was great and the way they left us hanging at the end of an act was great. The songs in this episode were good, especially the song "Triangulation". One of my favorite parts of the episode had to be when after Buford was hit by a beam from the rubberization ray that he bounced over to a tree and then got stuck bouncing between a tree branch and the ground. Another funny moment was when Buford was freaking out and after they calmed him down Phineas started freaking out when he realized Isabella was not there. Filled with many funny moments and great humor this episode was a great episode that it is one of my favorite episodes. In my opinion this Halloween special is the best Phineas and Ferb Halloween special ever. I give this episode an A as it is a very good special episode.
Coming in two weeks:
Hands On With The New Merchandise
Recent Reviews
Other articles to be determined (submissions wanted - send to RRabbit42 or use the Newsletter submissions page)
Got a question or comment about this issue? Leave them below.
Ad blocker interference detected!
Wikia is a free-to-use site that makes money from advertising. We have a modified experience for viewers using ad blockers

Wikia is not accessible if you've made further modifications. Remove the custom ad blocker rule(s) and the page will load as expected.