(subscribe)

               
The Official Phineas and Ferb Wiki Newsletter, Issue 127: November 9, 2014


Crat Corner

by RRabbit42
Just about a month ago, Wikia announced a new feature that changes the way galleries look. The way it works is when a page is loading, galleries are not immediately displayed. The wiki scans through the page and finds the galleries and checks to see which ones do and do not have links included in with a picture. For example:
<gallery>
OWCA Agents 2.jpg|link=Organization Without a Cool Acronym
Afdfadsgfhh.png
</gallery>
The first picture has a link in it, so this gallery would not be shown in the new format. Any galleries without a link change to the new format. In the new format, only the first eight pictures are shown. If there's more than that, a "Show more" button is added at the bottom that you click on to have the rest appear. Those first eight pictures are shown in a square cropped style and arranged and resized so they fit the width of your web browser in an optimal pattern.
You can see what the new layout looks like by looking at one of the Phineas Flynn galleries. Here's the link to the regular gallery and a link to the same gallery with the new layout activated.
As of today, several of the galleries only have a few pictures:
"The Lake Nose Monster" has seven, so the layout is 3 on the top row, four on the bottom.
"Interview With a Platypus" just has one, so the picture is really big.
"Tip of the Day" has four, so it's one row of pictures.
The first one that has more than eight pictures is "Day of the Living Gelatin", so that's where the "Show more" button first appears.
Further on down, "Hide and Seek" has five pictures, which are arranged as one large picture on the left and four smaller pictures to the right of it.
It looks like there is a short delay before the first gallery is displayed because the wiki's doing a "read-ahead" of the page to find the galleries, but we gain time back because it doesn't actually load in the pictures for a gallery until you scroll down to where it is on the page. A regular gallery is loading the thumbnails of all the pictures for the entire page, even if you haven't seen them yet.
One of the things I see with the new layout is that it makes it immediately obvious which are the small and low-quality pictures because they usually have to be enlarged to fit next to another picture. Look at the second picture for "Undercover Carl" and you'll see what I mean. These are great candidates for having a better version uploaded to replace them, something we've needed to do for a while. Season 1 episodes especially, since many of them are from before the high-definition versions became available from iTunes and other placfes.
As of right now, this is an optional feature, so it's up to the members of each wiki to decide if they want to activate it. I'd like to see what you have to say on whether we should use it or not. Leave your comments in the comments.
Odds 'n' Ends
Mickey's Very Merry Christmas party is back again, and the boys will be at their usual spot in Tomorrowland with their Santa's Rest Stop/clubhouse backdrop. Visit their web site for more info.
And speaking of Magic Kingdom, the "Move It! Shake It! Dance and Play It!" street party is off and running, and thanks to laughingplace.com, here's the video.
The Numbers Game Looks Back: What's On Tonight?
by Ryan Stoppable
It's getting to be that time of year here in the North that everyone dreads - getting colder, the snowflakes have started to fly in many places, and the outdoor activities are wrapping up. (Although football teams of various levels would beg to differ on that last point - and hopefully, my alma mater will be celebrating a conference title by this time next issue.) So join The Numbers Game as it looks back, stays nice and warm, sits down, relaxes, and breaks down the numbers of our favorite show's favorite shows.
"Ferb TV" hit the new airwaves on Friday, September 7, 2012. 3.614 million viewers screened the new premiere, a 16 percent decrease from the previous episode "Where's Perry? (Part Two)", although its 4.3 million viewers remain unmatched by any new episode since. Going back to "Ferb TV", it topped all cable programming on its Friday night, edging its lead-in Jessie for the top spot. However, that figure was not good enough to crack the Cable Top 25 for the week, and in fact the list was void of all kid-targeted programming.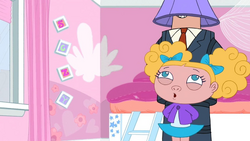 Phineas and Ferb achieved much greater success among its target age groups. Among Kids 2-11, the new episode checked in with the No. 2 spot at a 5.2 age group rating; a Saturday morning SpongeBob SquarePants rerun beat it out despite competition from a Phineas and Ferb rerun that itself claimed the No. 10 spot. In the Kids 6-11 group, a 7.2 rating saw the new episode secure the No. 2 position behind Jessie. Phineas and Ferb also claimed the No. 2 ranking among Tweens 9-14, finishing behind Jessie there as well.
Phineas and Ferb returns to the new airwaves of Emoticon on Tuesday, November 25 at 8:00PM Eastern (7:00 Central) with "Tales from the Resistance: Back to the 2nd Dimension". It will be quickly followed by "Doof 101" on Thanksgiving night, Thursday, November 27 at 8:30PM Eastern (7:30 Central). In the latter's honor, The Numbers Game will dive back into the archives next issue to break down the numbers that make Dr. Doofenshmirtz tick. Until then, leave your comments down below, stay warm out there, and remember...that the numbers never lie.
The good editor page
by RRabbit42
Last month I said that I wanted to come up with a help page that will offer ideas on what people can do to be a good editor, rather than just point to our policies and say "don't do those". That page is now available, located in a sandbox. Feel free to add new ideas that will help a wiki, and if you see something that can be worded better, go ahead. After a couple of months, we'll try to make this an official help page and I will use it on a couple other wikis.
In the middle of the list is "Don't be a jerk". That probably should be higher. While I have dealt with quite a bit of vandalism during the past few years, it occurred to me when I put that in that being a vandal is another way of being a jerk.
One of the vandals I've dealt with has been pretty persistent. I knew they had kept at it for a while, but I didn't realize exactly how much effort they are putting into being a vandal. I counted it up and found out that they are spending over 12 hours a day, every day, for several weeks at a time. During a recent three week period, they spent over 240 hours vandalizing a wiki. Guess how much time it took to fix it?
Four hours.
Think about that.
240 hours to vandalize a wiki. Fixed in less than a quarter of a day. It is sixty times easier to fix this vandalism than it is to do it in the first place. This person is wasting more time on something so pointless and so easily fixable than Doctor Doofensmirtz ever did. When they get to the end of their life, they won't get this wasted time back, nor will they be able to say, "I'm a better human being and made the world a better place because I spent all that time vandalizing wikis".
So, for people thinking of vandalizing wikis, don't bother. The amount of effort you put into it is going to be much larger than what you think you'd get out of it, especially since it's not permanent. But the damage you do to your own online repuation may be permanent.
A Halloween reunion
by RRabbit42
This year was the first in many, many years that I've been able to participate in Halloween. Previously, it was because I lived in an apartment that wasn't really condusive to trick-or-treating due to security doors and the like. But now that I'm in my own place, I can and did take part in the festivities.
I kept it simple with the decorations, with an inflatable decoration for the yard, and the Perry the pumpkin to the right and another all-teal pumpkin greeting people at the door. This was a signal that I was taking part in the Teal Pumpkin Project. I had also posted one of the flyers on my door which said that I had "non-food" treats available, which in this case was some toys. It turned out that no one this year needed these alternatives and I had just enough bags of candy prepared.
Now, one thing I did run into was the fact that because I think this is the first year the Project has been around, a few people were confused by the flyer. If I saw they were confused, I'd let them know that I had some toys available if they had any allergies. I could see a few were still unsure about why I was bringing it up. It's one of those things nobody has ever though of before, so it caught them off guard. I will be making recommendations to FARE about changing the flyers. Something like "If you have food allergies, please let us know. We have other treats available." is a clearer than "Non-food treats available here" or "We have candy and non-food treats". There's an explanation at the bottom, but they may not be reading that. Signs in other languages like Spanish would also help.
But other than hiccups with allergy issues, it was a pretty fun evening. I surprised quite a few people by greeting them as Doctor Doofenshmirtz. I forgot to check how the Pinnochio nose I bought was going to attach when I bought it. It immediately fell off because I happened to get one that had small strips of tape on the inside that didn't do anything for sticking to my nose. So, I did wind up putting a platypus on my head and even got to say the bit once about being controlled by it.
Two of the highlights during the evening were:
The boy who was so startled to see me and the Phineas and Ferb episodes playing on the TV behind me that he almost didn't know what to say. Then we talked a little bit about the show. He's pretty enthusiastic about it.
The teenager who was very happy to finally get the kind of candy bar she liked. I wonder how many houses her group had been to before random chance gave her what she wanted.
One final thing I wasn't expecting was a request a spare plastic bag to replace one that broke. Those are good to have on hand and easy enough to get ahead of time. I had thought afterwards that it would be nice to be able to hand out tote bags with our wiki's info on it, but that sort of thing costs at least $200 to have done, and you can buy a lot of candy, toys and extra plastic bags for that money. Topher208 had created some advertisements for our wiki a few years ago that can be printed onto business cards. Those are small enough that I can slip them into the bags. I hope I'll remember to get those made next year.
Coming in two weeks:
Hands On With The New Merchandise
Recent Reviews
Other articles to be determined (submissions wanted - send to RRabbit42 or use the Newsletter submissions page)
Got a question or comment about this issue? Leave them below.
Ad blocker interference detected!
Wikia is a free-to-use site that makes money from advertising. We have a modified experience for viewers using ad blockers

Wikia is not accessible if you've made further modifications. Remove the custom ad blocker rule(s) and the page will load as expected.