(subscribe)

               
The Official Phineas and Ferb Wiki Newsletter, Issue 128: November 25, 2014


Crat Corner

by RRabbit42
One of the message boards I used to be a regular part of has a topic called "What made you happy today?" It's a place to share the small and fun things that you find amusing. Recently, I got to share something that makes me happy.
I wear an Agent P lanyard at work. I bought it at F.Y.E. several years ago for about $6 and picked up a couple more on later visits so I could show my P&F pride well into the future. The original one is still in pretty good shape, so I haven't had to dip into my reserves yet.
Occasionally, people will notice what's on the lanyard and we'll talk about the show. I try to give them just enough of a description to pique their interest if they're not aware of the show already. The easiest way to do so is to tell them this: "You won't feel stupid watching it." That's a godsend for parents who endure TV shows and cartoons because they have to watch what their kids are watching.
The most recent person that noticed my lanyard agreed and told me he kind of dreaded having to watch shows like Caillou with his son. And that led me to the "what makes me happy" moment as I remembered one of the special panels that Dan and Swampy were on a few years ago where the host described trying to take an interest in what his son was watching (Caillou) and the kid summed it up as follows:
"What happened in the show?" It rained.
"And then what happened?" Caillou put on his boots.
In contrast, when his wife slipped up and let his son watch "the other show", he was suspicious (and the wife was acting a bit guilty), but asked his son about it. He was surprised to receive a scene-by-scene description of what Phineas and Ferb did. He wrapped up his introduction for the panel with, "That was the last day Caillou was watched in our household."
The person I shared that with also appreciated the difference between the two shows. A lot of credit goes to Dan and Swampy for knowing that kids are smart and you don't have to dumb things down for them. That makes me happy, and I hope it makes you happy, too.
Christmas theme
December is just about here and so it's time to start thinking about a new background picture to celebrate the season. We'll get a blog going shortly if there isn't one already that I've missed, so that people can pass on ideas about what should be in it. I think we can also add the snowfall effect pretty easily.
Odds 'n' Ends
The Numbers Game Looks Back: These Are Your Ratings
by Ryan Stoppable
Coming to you live from the snowy shores of Lake Michigan, welcome to The Numbers Game! This is the newsletter column that breaks down the numbers of our favorite show. And this week, in recognition of the forthcoming episode "Doof 101", premiering on Emoticon Thanksgiving night, Thursday, November 27 at 8:30PM Eastern (7:30 Central), we look back and say, Doctor Doofenshmirtz, these are your ratings.
"This Is Your Backstory" premiered on Friday, November 2, 2012. Although many people were out watching the adventures of another Bad Guy that opened that same day, 2.784 million viewers stayed in to learn about our lovable evil scientist, a 2 percent increase over the previous episode "Road to Danville". For the night, it finished 5th among all cable programming, checking in ahead of A.N.T. Farm but behind Jessie among Disney Channel's new episodes on the night.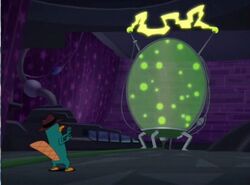 The new episode achieved mixed success among its target age groups. It fared best among kids 6-11, where a 5.9 age group rating saw it claim the No. 7 spot. Among Tweens 9-14, Phineas and Ferb scored a 4.7 rating which was good for the No. 9 position. In both categories, the show improved over the previous week but finished behind the leader Jessie. The new episode did not crack the Top 10 among kids 2-11, where SpongeBob found his way to the top of the list. And finally, a 17 percent decrease among Adults 18-49 offset some of the gains in younger views, with Phineas and Ferb finishing at 0.4 in that age bracket.
Phineas and Ferb is back new Tuesday, November 25 at 8:00PM Eastern (7:00 Central) on Emoticon with an episode that's kind of gotten lost in the hype for other episodes, "Tales from the Resistance: Back to the 2nd Dimension". The aforementioned "Doof 101" follows on Thanksgiving night. Hopefully, The Numbers Game will have some numbers for the new episodes to talk about next issue. Until then, leave your comments down below, have a happy Thanksgiving, and remember...that the numbers never lie.
Black Friday deals on Disney Infinity
by RRabbit42
The second edition of Disney Infinity was released a couple of months ago. The first edition included a few Phineas and Ferb items, with the Phineas and Agent P figures and Power Discs being the last ones released for that version. The second edition adds nine items that can be placed in the new Interiors sections, which are rooms inside of buildings that you can explore. The more significant additions are the Invisinator action toy and the Aerial Area Rug rare Power Disc that lets you fly around on the same TV-laden area rug that Lawrence and the kids did in "Magic Carpet Ride". It's good to see that Phineas and Ferb wasn't just a one-time addition to the Infinity game, and that gives us more reasons to buy the second edition.
In just a couple of days, the frenzy of Christmas present buying will begin. While many people find it a hassle and contrary to the spirit of the season that we really should be focusing on, others really enjoy it.
If you're planning on braving the crowds on Thursday and Friday, here's the Infinity deals that will be available. You can find the ads at places like BlackFriday.com, and you definitely need to read the fine print for limitations, store hours, etc. Most of these have limited quantities, don't offer rain checks and on the "BOGO" items, the discounted item has to be an equal or lesser value than the full-price item.
Best Buy
Thursday 5pm-1am, and Friday 8am onward
2.0 Starter Kit (all systems): $39.99
2.0 Toy Box Starter Kit: $39.99
Fred Meyer
Friday 5am-1pm only
2.0 Starter Kit (all systems): $59.99
Figures (1.0 and 2.0): buy one, get one for 50% (with in-store coupon)
GameStop
Some stores open at midnight on Friday, rest open at 5am
2.0 Starter Kit (all systems): $64.99
2.0 figures: $12.99
Power Disc Album for 2.0: $24.99 (GameStop exclusive)

customer artwork on cover, holds 40 discs, includes 5 Power Discs, mentions "2 Toy Box Game Discs" so these might also be included
Target
Thursday at 6pm (doorbusters, with limited quantities)
2.0 Starter Kit (all systems): $39.99
2.0 Toy Box Starter Kit: $39.99
2.0 Figures (possibly also including 1.0): $10.00
Toys R Us
Thursday 5pm-9pm
Starter Kits (all systems, 2.0, not sure about 1.0): $20 off (which makes the cost $39.99 to $54.99)
2.0 figures: buy 1, get 1 for 70% off

Note: the ad showed Sorcerer Mickey, so possibly this includes 1.0 figures
Firday 7am-close
All Infinity video games, figures, play sets and accessories: buy 1, get 1 for 40% off
Walmart
Thursday, 6pm (doorbusters, with limited quantities)
2.0 Starter Kits: $37.00
2.0 Toy Box Starter Kit: $37.00
2.0 figures: $9.00
Coming in two weeks:
Hands On With The New Merchandise
Recent Reviews
Other articles to be determined (submissions wanted - send to RRabbit42 or use the Newsletter submissions page)
Got a question or comment about this issue? Leave them below.
Ad blocker interference detected!
Wikia is a free-to-use site that makes money from advertising. We have a modified experience for viewers using ad blockers

Wikia is not accessible if you've made further modifications. Remove the custom ad blocker rule(s) and the page will load as expected.