(subscribe)

               
The Official Phineas and Ferb Wiki Newsletter, Issue 130: December 24, 2014


Crat Corner

by RRabbit42
Here we are at the last newsletter of the year and I really do have to apologize because you're going to get this issue after "Phineas and Ferb Christmas Vacation!" has aired today. Mouseinphilly was kind enough to put together a viewing guide for us and I didn't realize the issue needed to go out before a certain date. I need to pay more attention to the newsletter, even if I'm off elsewhere like I said I would be last issue.
Regarding that sojourn, in about ten days I will be in a position to start trying out features. I have a wiki lined up that's a really good candidate for doing this on. It's a blank slate, so I can look at each feature without bias. More news next issue.
We're number four!
Back on November 29th, our wiki's Facebook page had a link to the video by WatchMojo.com where they listed the top 10 Star Wars-themed TV episodes. Phineas and Ferb was #4, but while all the others did an homage to the movie or re-told the story with their own characters, Dan and Swampy's version was the only one that intertwined their characters with the existing story. Thirty-seven years after the movie first came out, and our favorite cartoon takes a top spot with a unique way of telling that story.
If you missed seeing it, here's the link to the top 10 list on YouTube. While you're there, be sure to watch Dan and Swampy's holiday greetings from the Disney D23 event.
Odds 'n' Ends
The Numbers Game Looks Back: It's Tradition
by Ryan Stoppable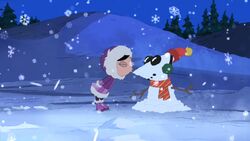 Happy holidays from all of us here at The Numbers Game! (By which of course, I mean me.) This is the newsletter column that breaks down the numbers of our favorite show, back for one final time in 2014. This issue, we look back to when the Boys of Summer Vacation took one of the 104 days to deliver an old-timey Christmas special that was, in fact, actually really sweet.
Season 3's "A Phineas and Ferb Family Christmas" hit the new airwaves on Friday, December 2, 2011. 4.224 million viewers cleared time off their holiday schedules to see it, making it the 8th most-watched regular episode in series history on the strength of a 2.9 household rating. The new episode checked in at No. 19 on the Cable Top 25, topping SpongeBob by 14 percent as the top animated broadcast on the chart. For the week, it finished 4th among Disney Channel programming behind the hugely successful Good Luck Charlie, It's Christmas!, its Sunday rerun, and the series premiere of Austin & Ally.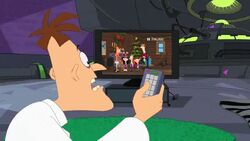 Phineas and Ferb's second Christmas special was a success throughout the age group charts. It posted the best showing among Kids 6-11, using a 8.8 rating to score the No. 4 spot behind the two movie airings and Austin & Ally, while "Phineas and Ferb Christmas Vacation!" claimed the No. 8 spot with a 6.9 age group rating. Among Kids 2-11, "Family Christmas" also took the No. 4 spot, posting a 6.3 rating in that age group. The new episode even checked in at No. 7 among Tweens 9-14 on the strength of a 5.9 rating. And finally, among Adults 18-49, the program scored a stronger-than-usual 0.7 demographic rating.
And we are only days away from the Tri-State Gazette's proud New Year's tradition. That's right; next issue, The Numbers Game looks back at the very best 2014 had to offer in the world of Phineas and Ferb in the sixth annual Year-In-Review-Inator! Until then, leave your comments down below, and stay safe out here this holiday season. Merry Christmas to all, and to all a good night...because the numbers never lie.
'Tis The Season... Well, We Know What We're Talking About
Well, time to bring out the holly again, but before we swing into the unknown that is 2015, here's a reminder of what will be airing on your local Disney Channel and Disney XD near you on the holiday season television viewing schedule, better than some Yule Log burning in a fireplace.
Wednesday, December 24

Phineas and Ferb Christmas Vacation! - Disney XD, 6 PM ET/PT.
Thursday, December 25 (Christmas Day)

Disney Parks Frozen Christmas Celebration - ABC, 10 AM ET/9 AM PT. The boys are appearing this year, but this year, it's all about Anna and Elsa.
Phineas and Ferb Christmas Vacation - Disney Channel, 2 PM ET/PT.
A Phineas and Ferb Family Christmas - Disney Channel, 2:45 PM ET/PT.
And from my residence to yours, Happy Holidays.
Coming in two weeks:
Hands On With The New Merchandise
Behold! Ryan Stoppable's 2014 Year-In-Review-Inator!
Other articles to be determined (submissions wanted - send to RRabbit42 or use the Newsletter submissions page)
Got a question or comment about this issue? Leave them below.
Ad blocker interference detected!
Wikia is a free-to-use site that makes money from advertising. We have a modified experience for viewers using ad blockers

Wikia is not accessible if you've made further modifications. Remove the custom ad blocker rule(s) and the page will load as expected.