(subscribe)

               
The Official Phineas and Ferb Wiki Newsletter, Issue 131: January 17, 2015


Crat Corner

by RRabbit42
We're getting a late start on this issue, so I think I'll just plunk in my bit and call it good. Try to pick back up in about a week.
My little project
I now have bureaucrat and admin rights on the wiki I was looking to adopt. The founder surprised me and actually stopped by again after having been gone for over a year. I'm still getting a handle on where to put everything, but it's in good enough shape that I can put in the request to get the advanced features turned on. Two of them will be the Infobox Builder and the Lua programming language.
Once it's a little further along and a few more people show up, I'll make the announcement and you can stop by if you're interested.
Emerald City Comic Con for 2015
The guest list for this year's ECCC in Seattle at the end of March is shaping up quite nicely. There's quite a few guests and celebrities I'm interested in seeing, and one artist I'm hoping will be attending.
More of both will be added in the next two months, but at the moment, we do have a guest star from Phineas and Ferb that will be there: Stan Lee. Obviously, he's most famous for creating so much of the Marvel Universe and being the "king of the cameos", though he seems to share that title with several other people like Christopher Walken.
This will be the first time in five years since he's been to ECCC. He's sure to draw a big crowd, so there may not be an opportunity to ask any questions, but we can try putting together a list and having it ready just in case.
Do I block myself?
One of the other P&F alumni that's been to ECCC recently was Kelly Hu. She was there last year, and I got to attend the Q&A panel. If you remember, we asked for questions to ask her and we lucked out that three of the things we wanted to know got asked in one form or another. That panel was recorded by a company called FlipOn.TV and they had a website where you could watch some of the events, or all of them if you got a subscription.
They sent out a message about two weeks ago saying that they were having to shut down due to lack of subscribers. The good news is that they are going to put the recordings up on YouTube, which you can see in their playlist for five conventions: ECCC in 2013 and 2014, the Calgary Comic and Entertainment Expo for 2013 and 2014, and Portland's Rose City Comicon in 2013.
The bad news is that Kelly's video is not in there. I don't know if it will be put up at a later time or if it was amongst the ones marked as "deleted" a few days ago.
The good news is that I made an audio recording from it last year. I wish I had saved the video, but at least I got the important part. I think it cuts off about five minutes short so most of it is there. There wasn't any movie clips or pictures shown during her panel, so it was just her sitting at the table, talking with the host and the fans. So you don't really lose anything by just listening to her.
I have the recording ready to upload here. It will have to be done in three parts and it will be in the OGG format since that's the only audio format Wikia supports. However, if I do that, technically, I have to block myself for two weeks since there's a little bit of profanity in it, and technically, we'd delete a file with profanity in it.
This is kind of a unique situation. Kelly apologizes part way through the panel for her "potty mouth" and what she says is more conversational and not the traditional attack use of profanity that we typically see and requires a block. It's an interview that will be lost if it never gets added to that company's YouTube channel. And since I'm off doing my own thing most of the time right now, blocking myself would be more symbolic than a penalty.
So I need to know the following:
Do you want me to upload the recording?
Do I adhere to our block policy or do I get an exemption for this circumstance?
Let me know in the comments.
Odds 'n' Ends
The Numbers Game: Behold, The 2014 Year-In-Review-Inator!
by Ryan Stoppable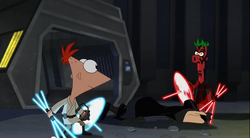 Welcome to the newsletter column that's been a New Year's traditions since the Tri-State Gazette first had New Years and traditions. This is The Numbers Game, and this week we welcome you to 2015 with a look back at the year that just wrapped up for the Disney channels' longest-running show of all time. So sit back, and behold the sixth annual The Numbers Game Year-In-Review-Inator!
Phineas and Ferb aired three new hour-long specials during 2014. Highlighting the year's programming slate was the middle one, Phineas and Ferb: Star Wars which aired on July 26. It premiered to much critical acclaim and an audience of 2.48 million viewers, making it the most-watched episode of a year where ratings were down throughout the world of kid-targeted television. It performed strongest among Adults 18-49, where a 0.5 rating topped the night among cable premieres and tied for the year's best among Phineas and Ferb episodes. However, it was unable to reach the top 10 in any of the kids age groups, which would prove to be a common theme in 2014.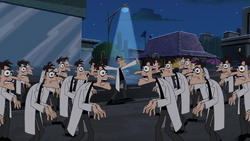 The other two hour-long specials did not disappoint either. "Night of the Living Pharmacists", which premiered on October 4, checked in with 2.34 million viewers to finish second on the year. It did so on the strength of a 1.29 household rating, and a 0.41 among Adults 18-49. "Phineas and Ferb Save Summer" was close behind on June 20, scoring 2.33 million viewers for its premiere. The year's first hour-long special was the only Phineas and Ferb episode to finish in the top 10 in a target age group, using a 4.0 rating to find the No. 9 spot for that week. It also tied for the year's highest rating among Adults 18-49 at 0.5. Finally, "Return Policy" topped the few "regular" episodes for the year, drawing in 2.23 million viewers back on January 24.
One ratings highlight for the year came courtesy of Emoticon. On Saturday, March 1, the Platypus Day marathon claimed four of Disney XD's top six spots for that week despite airing on a Saturday morning. "Where's Perry?" did the best, bringing over 700,000 viewers to the smiling channel for its 2nd biggest audience of the week, followed by "Agent Doof / Minor Monogram", "Where's Perry? (Part Two)" (I guess the cliffhanger drove people away?) and "Meapless in Seattle" in the numbers 4, 5 and 6 spots.
While the ratings have not been the same as they were in previous years, the newest episodes have perhaps been better than ever. Phineas and Ferb's adventures are set to continue in 2015 - episodes on the horizon include the long-awaited "Act Your Age" which is set to premiere in Ferb-ruary, the hour-long special "O.W.C.A." and the ominous "Last Day of Summer". Disney Channel's 2015 Phineas and Ferb slate kicked off last Friday with its premiere of "Tales from the Resistance: Back to the 2nd Dimension"; The Numbers Game will be back to cover it next issue. Until next time, leave your thoughts down below, go Pack go!, and remember...that the numbers never lie.
Coming in two weeks:
Hands On With The New Merchandise
Recent Reviews
Other articles to be determined (submissions wanted - send to RRabbit42 or use the Newsletter submissions page)
Got a question or comment about this issue? Leave them below.
Ad blocker interference detected!
Wikia is a free-to-use site that makes money from advertising. We have a modified experience for viewers using ad blockers

Wikia is not accessible if you've made further modifications. Remove the custom ad blocker rule(s) and the page will load as expected.