(subscribe)

               
The Official Phineas and Ferb Wiki Newsletter, Issue 133: February 11, 2015


Crat Corner

by RRabbit42
No real news on that other project (wiki) I had been working on for reasons that will be clear in a moment. If you look up at the top of the screen, you'll see the updated navigation bar. Wikia incorporated many of the changes people wanted and it's a lot less intrusive.
A new change that seems to be almost complete is a new background process for displaying pictures. It's called Vignette. Lots of technical details are available on the blog that won't affect what the average user does. I'm hoping that it will render the smaller versions of each picture a little better so that we don't have to through the process of selecting which have to be in PNG instead of JPG.
Wikia is also making a lot of changes to accommodate tablets and smart phones. Again, lots of info on the Mobile Forward in 2015. If I remember right, we never got around to working on the HTML5 updates, so maybe it's time to start working on that.
Very quick notes
To all of the My Little Pony fans who have been waiting for Season 5 to premiere, they just announced it for this Spring. But, however much the "waiting intensifies", they've had it easy. We had to wait two years, three months and two days from when we first found out "Act Your Age" was being worked on! Was it worth the wait. Yes, yes it was.
That's all for the Crat Corner because there's an article I need to write and it's not the one I thought it would be. It snuck up on me and would not let me go.
Odds 'n' Ends
The Numbers Game: "Lost" Along The Way
by Ryan Stoppable
Welcome back to The Numbers Game! As they say, absence makes the heart grow fonder, and we did miss last issue due to running off to warmer locations. (Which, coming from the frigid shores of Lake Michigan, could be pretty much anywhere.) As a result, I trust you're all really excited for the newsletter column that breaks down the numbers of our favorite show, so let's get right to it.
Season 4 continued with the Disney Channel premiere of "Lost in Danville / The Inator Method" on Friday, January 23. On a night where only reruns of K.C. Undercover and Liv and Maddie could reach the lofty heights of 2 million, Phineas and Ferb was not one of the top 20 cable programs of the evening, for a total audience of less than 1.676 million viewers. This marks at least a 20 percent drop from the latter show that was its lead-in, depending on how far the Boys of Summer Vacation were out of the 20th spot.
But the downward trend that Phineas and Ferb's ratings have been on since late in 2013 is far from unique to this show. For comparison purposes, here are Disney Channel's ratings for that week and the same week the four previous years. (In each case, Monday through the Sunday before the Super Bowl.)
| | | | |
| --- | --- | --- | --- |
| In Thousands | Primetime Total | Primetime A18-49 | Total Day |
| 2015 (Jan 19-25) | 1,832 | 397 | 1,299 |
| 2014 (Jan 20-26) | 1,452 | 409 | 1,568 |
| 2013 (Jan 21-27) | 2,514 | 475 | 1,767 |
| 2012 (Jan 23-29) | 2,305 | 461 | 1,610 |
| 2011 (Jan 24-30) | 2,655 | 573 | 1,737 |
That's a drop of over 25 percent in total viewership across the board from even two years ago. As you might suspect, that's a tall hurdle for any individual show to overcome.
And with that, The Numbers Game turns its attention to an episode that's ten of their years in the making, and over one and a half of ours: "Act Your Age". The highly anticipated episode made its debut Monday, Ferb-ruary 9 on Emoticon. But if you didn't see it there, or even if you did, it makes its Disney Channel premiere Friday, Ferb-ruary 20 at 9:00PM Eastern (8:00 Central). The Numbers Game will be back to break down its ratings next issue. Until then, I've got nothing else to put here, so leave your thoughts down below and remember...that the numbers never lie.
I hope it happens to you
by RRabbit42

I was in a class last month and as you know, I took I Know That Voice with me to watch so I could review it. You also know that turned out to be a failure because of where I was staying.
"No problem," I thought. "Once I get back home, I can start again." But when I got home, I couldn't start.
"Okay, it's getting close to time to do the newsletter. I need to get going on this." No dice.
"Alright, now it's past when the newsletter needs to go out. I'll just sit down and burn through the review."
Last night, I was still getting nowhere. But I knew why I couldn't write that review. Not yet, at least. There is something else I need to write first. This article.

I saw on our Main Page news feed that there were three articles about "Act Your Age" that were published the day of the premiere. The one from Geek Dad included a featurette about how the episode got made. If somehow you can't see the video there, here's the link to YouTube.
I read through it and decided I'd watch the featurette after the episode. I still wasn't getting anywhere with starting the review, so I rationalized the diversion by calling it "research". Wait. What's this? Dan and Swampy are introducing the episode? Now it's time to watch the featurette.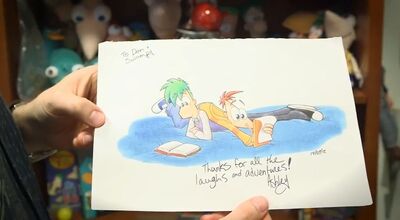 In the video, Dan and Swampy talk about how when they wanted to write an episode about Phineas and Ferb when they're older, they already had the answer to the character designs. It had come in the form of the drawing a fan gave to Dan at Comic-Con. On that day, she didn't know that she would be such an important part of the show. It was just a way of saying thanks.
I wrote an article quite a while ago for this newsletter about how Ashley Simpson had been told by people visiting her deviantArt page that she shouldn't be making her drawings. One day, I'll look up exactly what she had said about the experience, but it was along those lines and some of them were quite mean about it. In school, she used to get in trouble with her teachers for drawing in class.
Fast-forward to over two-and-a-half years later. Who's name is first in the credits under "Character Design"? Hers.
| | | |
| --- | --- | --- |
| " | It just feels magical when you have a dream that you're just striving for. It's a lot of work, but once you're done and you see your project on television or the web, it's the best feeling in the world. | " |
Yes, yes it is, Ashley.

There is a story I've been working on for quite a while and it reached a point where I was just not sure what I wanted to do with it any more. It was just kind of there, waiting. About five days ago, it shifted.
I'm not sure where it happened, at home or at work. But I found myself thinking about a new path the story could take. I began writing it because I had to. In a small way, I find myself in the company of much more famous people than I ever will be:
Billy Joel, who, while moving back to the east coast, was inspired to write "New York State of Mind". In his interview on Inside the Actors Studio, he talked about having to get to the piano the moment he got in the house so he could get the song into physical form. "Where's the piano? Where's the piano?"
J. Michael Straczynski, who was writing an episode of Babylon 5 that dealt with the overthrow of a corrupt emperor and experienced the wonder and fear of a character in the episode telling him what needed to happen. ("The Long Night")
Wil Wheaton, who wrote a short scary story with the ending that came out of nowhere. (The Monster in My Closet)
Any writer who has a story find them and they are compelled to write it.
I began thinking about the new path constantly. I wrote as much as I could each night. I read it over and over again, sometimes aloud to myself, sometimes silently. While working, I recited the lines. I find scraps of paper to scribble reminders of a point that presented itself.
There are numerous times where I've had to wipe tears out of my eyes. That's not hyperbole. Even now, just thinking about it. I've read it over two dozen times, sometimes back-to-back, and it's less than a handful of times I've been able to make it through without my voice breaking at least once.
The story is at a point where it's as fine-tuned as I can get it. Oh, I change a word here or there, but I try not to fiddle with it too much. A professional editor would probably dissect it neatly, pointing out many amateurish mistakes.
And yet, it's not complete.
The story spoke to me last night. "You have to share this. It's its own story."
"I can't. It's too personal and it's too tightly woven into what came before."
Today, the story spoke again, but in a different form. While I worked, my mind flitted from one point to another. Darting from the lines of the story to what I wanted to write for this article and back. Come on, brain. Stop that! Let me think it through, will ya?
"You say you can't make this its own story? Well, what about this? And this? Cut this, change that. Move this here. Flip that bit around."
The end of the day can't come fast enough. I have to make the changes so the story can be born.

As I write this, it is much later in the night than it should be. I had stopped yet again to re-read that story. The changes are almost done. It's in a separate file with a new title. I just have to figure out one plot point to tie it together. I am not worried. The story has not let me down yet.
Then maybe, maybe, I can share it. But something is telling me, "Let it sit. Come back to it later when you can look it objectively and not be caught in emotion. Or, let it make you sad so you can re-experience the joy that came at the end."
I know the answer now. It must wait because there is something else I must write besides the review I originally intended. I was asked four months ago to write a tribute to Robin Williams for the Moviepedia Wiki. I was afraid to because I was afraid to be sad. The way I reacted when he gave his goodbye speech in the last Night at the Museum movie and the girl crying for a moment at simply seeing "In memory of Mickey Rooney and for Robin Williams" in the credits confirmed it. Did he know at the time he performed that scene he would be saying goodbye to all of us?
And I am kicking myself because I cannot take the time to write that tribute until four weeks from now. I have to write this and I cannot. There is work on my house that has to be finished by then, no exceptions. That is the deadline of the permit.

Ashley Simpson has her Art and it happens to be art and drawing. I think I may have found mine. But whatever your Art may be, even if it's a casual interest at this point, be it drawing, painting, writing, music, sports, or whatever, and you experience a moment like this, get out of your own way and cherish it. Let it guide you.
I truly hope that it happens to each of you.
Coming in two weeks:
Hands On With The New Merchandise
Recent Reviews
Other articles to be determined (submissions wanted - send to RRabbit42 or use the Newsletter submissions page)
Got a question or comment about this issue? Leave them below.
Ad blocker interference detected!
Wikia is a free-to-use site that makes money from advertising. We have a modified experience for viewers using ad blockers

Wikia is not accessible if you've made further modifications. Remove the custom ad blocker rule(s) and the page will load as expected.