(subscribe)

               
The Official Phineas and Ferb Wiki Newsletter, Issue 69: June 2, 2012
 
News and information from the world of Phineas and Ferb.
 
Crat Corner

by RRabbit42
In just over two weeks, summer will officially arrive. But for us Phinatics, the 104 days of summer vacation have already started. Unlike last year, the three calendars available for sale this time around didn't indicate when this was supposed to have begun.
So, in lieu of an official date in a given year, I say we designate May 21st as the start of the "104 Daze of Summer", in honor of the Summer Belongs to You! soundtrack becoming available for sale on CD and no longer just as an electronic download. Thanks go to Knarrow02 for alerting us that the CD had been released.
Last year, I started a 104 activities for 104 days of summer forum to see if we could come up with as many things to do as the number of days in the theme song. We got about half-way there and many of the ideas had links to the things Phineas and Ferb have done, but there were some unique suggestions in there. I think numbers 7, 30 and 51 are my favorites. I do have a fondness for #50 because of the old Flight Simulator II game on the Commodore 64. When it went into demonstration mode, it would still pick up input from the joystick and you could fight with the computer about how to fly the plane. And then there was F-15 Strike Eagle, where you could complete the mission flying upside down at full throttle without landing.
But back here in the present, let's see if we can hit the 104th summer activity idea by September 1st. Maybe we can even go further than that. After all, Phineas recently noted that they seem to have had more than 104 days in their summer so far.
Chatmod status
In the past couple of months, we've had a few people request Chat moderator status. Two were successful and after I get this newsletter done, I'll tally up the votes for the other three.
Some of the current opposing votes are listing that we have enough chatmods. This was brought up previously, so I will take a look at who's got chatmod status right now. We may close the nominations/requests for a while if we do have enough.
Get involved with a project
A few days ago, a new project was started to get the pages for the Phineas and Ferb Magazine issues up to date. It already has four members, but could use more.
There are other projects that were started a while back. There's one for the songs, one for the books, one for the galleries, projects for Candace, Doofenshmirtz and a few others. You can see the full list in the Projects category.
If you signed up for one before, has it been a while since you've helped out on that project? If you haven't signed up, check to see if there's one that you're interested in. It's usually easier to make bigger progress if you focus on specific areas instead of trying to do a little bit of everything.
Odds 'n' Ends
Calendars.com has the three Phineas and Ferb calendars for 2012 on sale right now. The fun-shaped and the message board calendars are 75% off at $3.99 and the calendar with stickers is 50% off at $7.49. They already have a Perry-themed calendar for 2013, but if you wait a couple months, there might be one or two more for next year.
It's a new month, so a new round of voting for the featured items has started. The current Featured Article will probably be in place through the end of June, so check out the nominations and see which one(s) you want to vote for.
Hands On With the Merchandise: Special Platypus Theme Park Edition

by Mouseinphilly
Just as sure as Disney Theme Parks are celebrating a Summer to Remember and the 104 days within as we speak, they're rolling out new P&F Theme Park Merchandise in Florida and California... And maybe France, Japan and Hong Kong as well. And for certain fans of one teal and tangerine colored semi-aquatic egg laying mammal of action, of which there are many, this just may be your lucky summer to remember.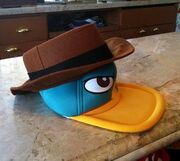 Our first example is this relatively new as seen on your right Agent P cap with a fedora atop it. Now we've seen Perry caps, but this looks like the coolest one because it looks like a fedora on top of a baseball cap and makes it a nice two-for-one, so if you're working on an Agent P costume for the next convention for cosplay or Halloween, this cap is perfect as the topper. Maybe the best US $30 you'll ever spend for a cosplay/Halloween costume accessory, and goes well with any Perry T-shirt. More about that part later on, so let's continue reading.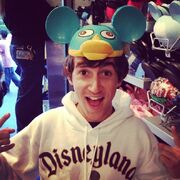 For our next picture, here's a Perry Mickey Mouse Ears hat, modeled by none other than Phineas Flynn's voice actor, Vincent Martella. (And some of us think Bob Iger is chairman of Disney, when everyone knows Mickey is really the big cheese.) No, I'm not making this up, nor was this a belated April Fools' Day joke, because if they can come out with one set of Mickey Mouse Ears celebrating the return of the Orange Bird to Walt Disney World, why not put out one with a pet monotreme that does absolutely nothing whatsoever...other than being a suave spy in a disguise of a mindless domestic animal, of course. This will go great with those Perry face T-shirts all over the known universe as we know of it, including my house. For an extra fee, they can embroider your name (or maybe put "Agent P" or "Perry") on the back of said ears.
Last but not least and staying on the subject of Perry T-shirts, theme park consumer guests who have younger children will look forward to this new Agent P T-shirt as he snorkels his way (away from sharks with laser beams on their heads, no doubt) on the front of this shirt with "Platybunga!" across the bottom, dudes. Maybe he's looking for Doofenshmirtz on some sort of a BO-AT or "boat" as it is noted. Or maybe he's taking a well-deserved vacation from fighting evil and chillaxing. I know, evil never rests at OWCA, but sometimes, it takes a day off.

Well, that's it for our merchandise review. Remember, if you want to be a guest columnist or submit a story, please contact RRabbit42.
---
Retro Review: Sometimes what you want isn't what you want
by RRabbit42
Every television show has a central plot point that drives the story forward. Many of these also provide continuity throughout the season by giving the characters a goal to work for. The trick is balancing making that goal achievable without causing the show to end or radically change the structure of the show if they meet that goal.
In Phineas and Ferb, that goal is "Will Candace bust her brothers?" Most of the time, the answer will be no. But sometimes it's "yes, but...". We've seen a few examples of the latter involving time travel ("Phineas and Ferb's Quantum Boogaloo") and time reversal ("She's the Mayor"). Let's take a look at the first "yes, but..." from back in Season 1, an episode that gives Candace what she thinks she wants and throws in the dreaded "it was all a dream".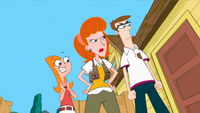 "Phineas and Ferb Get Busted!" started off with Candace considering that her attempts to get her mom to see what the boys are doing may have become routine. It's that moment of reflection that allows Linda to finally see what they built. She starts flipping out because of how dangerous it could have been, then apologizes to Candace and heaps praise on her.
Just as it's looking like everything's settling down, that one missing part turns out to be critical after all and the damage to the house is what convinces Lawrence and Linda that their kids need to be sent away to a reformatory. A Sergeant, played by the wonderful Clancy Brown in the first of several roles on Phineas and Ferb, takes them away, while Candace begins enjoying all the free time she suddenly has now that she no longer has to concentrate on busting her brothers.
But of course, this doesn't last long. Both Candace and her parents have second thoughts, and separately they go to get Phineas and Ferb. Candace gets a larger dose of regret when Stacy sings Little Brothers, but luckily, Jeremy is willing to go with her on a "prison break kind of date".
The Smile Away Reformatory is where all the action is. From Candace's very convincing impersonation of Morty Williams to Linda wondering why Morty Williams is running off with their children, some great lines are said there. But it is the Sergent gets the best lines: Isabella's "What'cha doin'?" catchphrase and the "Too Young" line, followed by singing "la-la-la" while putting his fingers in his ears.
The episode wraps up with things taking a turn for the strange and Candace realizes that it was all a dream. As she tells the family the story over breakfast, they figure out that Perry is a secret agent. Realizing that Perry's cover has been blown, Major Monogram calls in the soldiers from the SSSN, and then we learn who's dream this really was.
"Phineas and Ferb Gets Busted!" does a good job of getting the issue of "Will Candace bust the boys?" out of the way early so that we can go on with more important things, which is just enjoying the show.
Hands-on with the new merchandise, part 44
by RRabbit42
At the begining of this year in issue 60 of the Gazette, I reviewed three music headsets. The Agent P Earbuds had a custom shape but poor sound quality. The iHome Earphones were standard earbuds (but in Perry's colors) and good sound quality.
The Disney Store has come out with a new set of ear buds. These combine the best of those earlier offerings. This time, instead of megaphones for the ear buds with an Agent P figure holding onto the cords, it's the front and back half of Perry the Platypus.
The sound quality and comfort is comperable to the iHome Earphones. They come with large and small silcone tips, which will ensure they fit in your ears properly. This helps them channel the sound better, making it appear like the volume is up a little higher, the same as how the iHomes worked. And just like the iHome Earphones, they do lose a little bit of the low-end bass due to the size of the speakers.
One last feature is that the rubber moulding around the jack is in the shape of a skateboard. It's a nice touch that other companies might have skipped.
These Perry-shaped ear buds are $12.50 and only sold in Disney Stores. At the moment, they're not listed on the Disney Store website
Coming in two weeks:
Hands-on with the new merchandise
Recent episodes review
Other articles to be determined (submissions wanted - send to RRabbit42 or use the Newsletter submissions page)
Got a question or comment about this issue? Leave them below.
Ad blocker interference detected!
Wikia is a free-to-use site that makes money from advertising. We have a modified experience for viewers using ad blockers

Wikia is not accessible if you've made further modifications. Remove the custom ad blocker rule(s) and the page will load as expected.