(subscribe)

               
The Official Phineas and Ferb Wiki Newsletter, Issue 70: June 19, 2012
 
News and information from the world of Phineas and Ferb.
 
Crat Corner

by RRabbit42
Message Wall is coming
Right after it was introduced, Topher208, myself and a couple of other people in our IRC channel discussed for a while whether or not we wanted to have the Message Wall here. We held off using it because we wanted to make sure we didn't lose specific things that we need here.
Wikia has made several improvements and we've seen the Message Wall in use on other wikis. Topher made the announcement about a week ago that we'd like to start using it here. What helped make this possible was trying out using a blog for our newsletter and using our Sitenotice/Community Messages combo to announce when it's done. Getting the newsletters to you was the main thing we didn't want to lose.
Topher's blog has most of what will change, but here's a couple more important items:
Whatever is on your talk page at the moment the Message Wall is enabled becomes permanent when it's converted into the archive. You will not be able to edit it any more. You will have to ask an admin if there's something you need changed. So, take the time now to clean up your page if you don't want it part of the archive.
 

You can have a greeting at the top of your message wall. Only you can edit it (and admins, of course). You can't create it until the message wall is activated, but I have figured out a way for us to get a head start. I can type up a short tutorial and then let everyone know so they can begin working on what they want their greeting to say.
We don't have a specific changeover date, but it will likely be after the first July newsletter since that's also when we update our main page featured items.
Absent and late
The newsletter is late once again and you may have noticed I haven't been on the wiki or IRC very much lately. I am currently working on something to help me with my job. I hope to get it done in the next couple of weeks.
There is a group officially assigned to work on this kind of project, but I'm adapting it to be a bit more useful and to fill in some of the areas that are missing and need improvements. It's kind of like this wiki: sometimes when fans work together on something they like or love, the result can be better than what is made by the people who are paid to work on it. Some of my co-workers agree, so I'm also doing the updates for them.
I do want to let you know that I still check the Recent changes list each day to see how things are going. You guys are doing a good job with keeping things running smoothly. If there's an issue, you can still let me know and I'll take care of it.
Odds 'n' Ends
Redtutel found some info about a possible crossover between Phineas and Ferb and the Marvel universe. Check out his blog for more information.
Ryan Stoppable comes through with another edition of The Numbers Game.
Hands-on with the new merchandise, part 45
by RRabbit42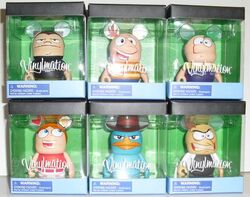 A couple of weeks ago I found something new and different at the Disney Store. At first glance, they appear to be action figures, but they're actually a different kind of collectable figure.
The Vinylmation figures (vinyl + animation) come in three sizes, along with keychains and pins , but the 3" version is the most common size for the figures. It's a figure that is in the basic shape of Mickey Mouse, complete with ears and some of them have Mickey's nose but others are flatter in that area. The challenge for the artists is to capture the essence of a character that isn't Mickey while still using that figure. There are some variations on those designs, such as the one for Tigger that comes with a tail or the Nerds series that added glasses, and the right hand is designed to hold an object, such as a wand for Tinkerbell or a sledge hammer for John Henry.
The ears are used to help convey special aspects of the character's character if they would otherwise go unused in the design. For the Phineas and Ferb set, the hair is painted onto clear ears for the boys and Doofenshmirtz, while Perry's fedora is molded into them. It's hard to see in the picture above, but Candace's figure really stands out because the ears are used to show her love for Jeremy and that she's thinking of him. You can see them better on their page on the Disney website.
Vinylmation figures are released at different times during the year and at different theme parks. Some are mystery figures that you can't see until you buy them. Others are blank so that you can create your own designs, such as this one for the Kim Possible main characters. (The official Kim Possible figure is in Animation Set #2 and you can see some of the reviews of that set here.)
From what I read, Vinylmation figures, pins and keychains are a pretty big collector's item for Disney and they encourage trading to get the one you want. Check out the main Vinylmation page and take a peak in the Vault to see the different sets that have been released.
Hey, Where's Swampy?

by Mouseinphilly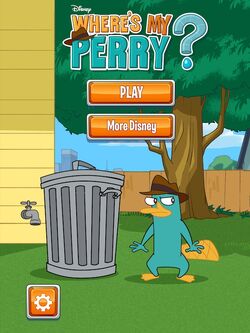 Nope, this is not a misprint. Disney Interactive has announced a spinoff of the popular "Where's My Water" game called - what else? - "Where's My Perry?" to be released on June 29th for Apple and Android systems featuring Phineas and Ferb characters. More information can be found in Mobo85's blog post.
---

As reported by Knarrow02, the Across 2nd Dimension video game is coming to the PlayStation Vita. Look for it later this year.
For more information, check out the blog: MOM! Phineas and Ferb are making a PSVita Version of Across the 2nd Dimension.
Not so Retro Review: A story told in reverse
by RRabbit42
One of the first special events of this year was a set of episodes advertised as the "Time Shift" episodes. A month later, another episode involving time premiered. Let's take a look at this story told in reverse.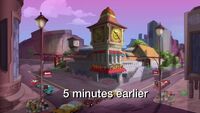 In "The Remains of the Platypus", Dr. Doofenshmirtz is celebrating being moments away from achieving full control of the Tri-State Area. Perry is now his butler and Carl is... in a cage, wearing a squirrel costume. How did we get to this state of affairs?
The episode answers this question by jumping backwards to earlier events in the day: Doofenshmirtz reveals how he's achieved clarity of thought, Major Monogram scares everyone away from a cheese-eating contest, Carl has to give up his day at Squirrel Con to help Agent P, and Buford has been making cheese-related puns.
Telling a story in reverse would be enough by itself to make this a good episode. But just as Phineas and Ferb do more than just build simple contraptions, this episode does more. It gives Major Monogram a chance to get out of the office and enjoy a passion of his, cheese, even though it's apparent its more of a guilty pleasure. Carl reveals one of his guilty pleasures, which involves squirrel-related activities. From the way he describes it, it's something he doesn't make widely known he's involved in, much like his Dr. Coconut dancing.
For Dr. Doofenshmirtz, this is another episode that shows us just how much of a genius he really is. We have seen indications of this and "what might have been" before, but not on this level. We now know the truth: it's the distractions that he allows into his life that keep him from reaching his full potential. For Buford, it gives him a chance to engage in some wordplay that he's been denied in earlier episodes such as "De Plane! De Plane!"
From an episode involving time in reverse, we have to back up four months earlier to get to the other half of this pair of episodes. "Escape from Phineas Tower" is amongst the episodes that Disney began premiering individually so they could also fit in premiere episodes from other series in the same time slot. It gives those episodes a little more exposure, but it stretches out how long a season lasts.
A trip to their dad's antique store gives Phineas the inspiration for today's Big Idea: build something that they can practice escaping from. He dons a barker's outfit and, as Isabella notes, really sells the capabilities of the tower he and Ferb have built. Baljeet quickly turns down a chance to join them, but surprisingly, so does Buford. Isabella wants to go with Phineas, but gives in to peer pressure and opts to wait outside.
The tower presents the boys with a series of physical challenges to escape from, but after a while, the computer starts being snarky and sarcastic, a sign that things are starting to go wrong. With nothing to do but wait, Baljeet and Isabella begin setting up pranks on Candace, who is napping in a hammock outside and is completely missing a chance to bust her brothers.
Dr. Doofenshmirtz reveals another of the distractions that have bothered him over the years: how much more better-behaved his brother Roger is. So, he decides to engage in another petty act of revenge by causing an international incident. It appears to be working, but this petty act is undone by a pre-arranged act between Roger and the English Ambassador.
I like this episode because it waits to show us how Doofenshmirtz's Inator doesn't work. I also like the disinterested way that Isabella and Baljeet go about setting up the pranks on the sleeping Candace, followed by Buford joining in when he finally notices what they are doing. It might have been fun to see the end result of those pranks, but it's a classic storytelling technique to let the audience fill in events. Once you show something actually happening, it takes away the chance for their imaginations to take flight.
---
Hands-on with the new merchandise, part 46
by RRabbit42
In a previous newsletter I showed the fruit punch drink that I found while looking for a different fruit punch drink. Let's take a look at the full range of what's currently available.
Langers has a large range of juices and blended drinks. As reported in that other issue, their Phineas and Ferb 100% Juice Fruit Punch isn't the same kind of flavor that you'd get with Crystal Light or Hawaiian Punch's Fruit Juicy Red drink. It's made with apples, oranges and pineapples, with apple being the more dominant flavor of the three.
The amount of calories seems to be on par with other fruit juices (120 for 8 ounces) and it has 120% of Vitamin C of what you need for the day. In comparison, the Hawaiian Punch has less calories, 100% Vitamin C, but only 5% fruit juice.
Langers also sells their Fruit Punch in pouches. If you want to see the box they come in to help you find them in the store, the picture is here. I did a taste test on each of these drinks and I think there might be a little more orange juice in the pouches than the half-gallon bottle. It's something I will need to check out a little further because I get the impression that it's actually the same recipe for both, so I'm not sure right now why they seem to be different.
The last fruit punch drink is made by Belly Washers. Still 100% juice, but this time it's apple, pear and grape, with grape being the primary flavor. Similar nutrition to what Langers makes. They're advertised as spill-proof. I was able to get a few drops to drip out by holding it upside down, but I didn't try knocking them over to see if they hold up to the "spill-proof" claim. (If you feel like testing this yourself, do it in a sink.)
Belly Washers come with collectable toppers. They have different series, like Hello Kitty, sports, Cars, the upcoming SpongeBob series and Batman. That last one is actually Justice League, but since there's four Batman designs and one of Superman, it might as well have been called the Batman series.
Earlier this year, they had a Platypus Day giveaway on their Facebook page. They are taking ideas for new designs with a chance to win Belly Washers for a year. Their "Fun Stuff" area of their website has a Character Poll where you can vote for your favorite Belly Washer character. There's Phineas, Ferb, Agent P and a few other choices that you don't really need to know about since you're all going to vote for one of those three, right?
I think I like the Belly Washers fruit punch a little more than the Langers. I don't drink grape juice as much as I do other juice, so it's kind of a nice change. But in terms of availability and being able to put more in the refrigerator at one time, the Langers pouches comes out ahead. (The box has a flap you can tear away so you can put the entire box in the refrigerator at one time and retrieve a pouch as you need them.)
I got all of these at Walmart. You may also find them in other grocery stores.
Coming in two weeks:
Hands-on with the new merchandise
Recent episodes review
Other articles to be determined (submissions wanted - send to RRabbit42 or use the Newsletter submissions page)
Got a question or comment about this issue? Leave them below.
Ad blocker interference detected!
Wikia is a free-to-use site that makes money from advertising. We have a modified experience for viewers using ad blockers

Wikia is not accessible if you've made further modifications. Remove the custom ad blocker rule(s) and the page will load as expected.