(subscribe)

               
The Official Phineas and Ferb Wiki Newsletter, Issue 73: August 3, 2012
 
News and information from the world of Phineas and Ferb.
 
Crat Corner
by Topher208
Upgrades for the chat
Have you used Chat? It's been around for awhile, but it doesn't have a lot of bells and whistles. It's also been lacking in personalization for our wiki, but that might change soon. We've been working behind the scenes to create some additional features that should help make the chat feature nicer to use.
New Features will include:
Custom chat description, heading, topic and other messages (quit, join, etc.) for the wiki
Automatic enforcement of spamming and line limits - redirecting users who send out more than five lines every five seconds.
Ability to refer to one's self as performing actions using the /me command (Ex. /me will be right back will replace /me with your username)
Button that will allow an individual to clear their own chat window
Light/Dark chat themes and the ability to switch between them
If you'd like to try out these features, you can try them out here. (Special thanks to PFMuffinStrike455)
Odds 'n' Ends
Bunny Bites
by RRabbit42

There has been a little bit of talk about whether or not "Where's Perry? Part 1" is or is not the actual end of Season 3. Calling it a cliffhanger implies that it is, but we know we're missing a couple of episodes that haven't been shown in the U.S. yet. Disney changes the order that they broadcast episodes in, depending on which part of the world they want to show them in. But for them to say "here's our end of Season 3 episode" without showing the rest of Season 3 first doesn't make a lot of sense.

For those of you who haven't seen it yet, something's happened to Perry and he's missing. Where did he go? We'll find out this month, but in the meantime, there's a Where IS Perry? forum where we can post our ideas and theories.

---

Did you know? Phineas and Ferb have come to the iPad and the iPhone. Over 25 of the 8x8 and the Chapter books have been added to the iTunes

 

Store. Titles like Freeze Frame, Lost at Sea, Perry Speaks!, Agent P's Top-Secret Joke Book and even the book of sheet music by Danny Jacob.

In general, they are about a dollar cheaper than the paperback versions. They will work with iBooks version 1.2 and iOS 4.2, which are available on the iPad, iPhone 3G (or newer) and the iPod touch (2nd generation).

You may also need to have version 10 of iTunes. I'm still on version 9 because it gives me more flexibility with screenshots, but when I tried to buy a different book a while back, it balked and said "you need version 10".

---


In case you skipped past it, take another look at the top of the newsletter. The Current forum discussions list is up-to-date this time. There may be some you're interested in participating in.
Not so Retro Review: Time Shift time again
by RRabbit42
It's time once again to look at the episodes that were a part of the Time Shift marathon.
The first half of the pair, "Agent Doof" is not a part of the marathon. As has been Disney's habit of late, this episode was shown separately. A gap of almost four months separated the two episodes and it premiered in the opposite order of how it's paired.
Dr. Doofenshmirtz has an epiphany when his latest Inator doesn't work and decides to give being good a try by going to work for the O.W.C.A. He tries so hard to fit into his new job but winds up alienating several of his coworkers. He also breaks that old rule of "loose lips sink ships" when he comes across a fascinating tidbit about one of the other Agents.
Agent P winds up shepherding him on a mission to rescue the now-endangered Agent and both wind up being captured by Dr. Diminutive. Dr. Diminutive turns out to be a little more straightforward about wrapping up loose ends than Heinz is. At the end of the day, Heinz learns that he actually is better at being evil than good.
While this has been going on, Candace gets a very pointed lesson about how hard it is to take care of babies when Norm gets the Inator working and her brothers are suddenly turned into babies. Despite their decreased age, their Big Ideas are just as big as ever and Candace winds up chasing them everywhere.
It took me a while, but I finally remembered why the song Great to Be a Baby sounded so familiar. It has a bit in common with the song Life of a Hollywood Stuntman from the Burt Reynolds film Hooper, at least in the cadence after the musical interlude.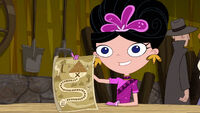 Now back to our Time Shift episode. "Phineas and Ferb and the Temple of Juatchadoon" is obviously inspired by Raiders of the Lost Ark and its prequel Indiana Jones and the Temple of Doom. After nearly losing out on a find to Doofenshmirtz, Ohio Flynn and Rhode Island Fletcher wind up in a trading post in Panama, looking for help in locating the namesake temple. Isabella, she of many job titles and business cards, offers her guide services while a series of other adventurers walk by in the background, some experiencing further mishaps.
As they depart, an ice cream foodfight breaks out. Like the song Baby in the other episode, this also reminded me of another great movie. If you haven't seen it, buy or rent The Great Race and watch one of the great pie fights of all time. (Available from Amazon and other retailers.)
For the rest of the episode, there's three jokes involving fezzes, which a certain time-traveler will tell you are cool should you ever be fortunate enough to meet him. And there is also a couple of gags involving finding a much simpler solution to a problem when similar movies would always make it so complex. Oh, and I just realized that Doofenshmirtz did the same thing when he became powerful via the amulet. He cut through the "I'm all powerful" speech and got to the really important part: aspirations to appear on Broadway.
Of the two episodes, I like "Juatchadoon" a bit better. Doofenshmirtz just isn't a team player. He seems to do better when he sticks to what he knows best: dramatic entrances, overly-complicated schemes and emotionally-scarring backstories.
---
The Funniest Card Game Ever!
(a.k.a. Hands-on with the new merchandise, part 48)
by RRabbit42
One of the best things a family can do together is having a family game night. The 104 Days of Summer! Game is a board game that requires a lot of room for the different kinds of actions you have to take as part of the game. For those of you who are looking for something that is a little more scaled down, the Funniest Card Game Ever! may be more to your liking.
This is a card game that is also made by Jakks Pacific. In the basic game, five types of cards are used: Character, Power, Challenge, Scene and the Special cards. The goal is to get the character pieces that will let you play a Scene card. For example, the "Brother Builders" card shows the "blowtorch and peanut butter" scene from "Rollercoaster" and requires that you have the Phineas and the Ferb pieces in order to play. Scenes with one character are worth 10 points, two characters are worth 20 points, those with three characters are worth 50 points. For some Scenes, you can't have a certain character in your possession.
For your turn, you pick a new card and then decide what to play. The game ends when you reach the last card in the deck and you see who has the most points.
To spice things up, the Character cards let you take or move the character pieces around between the different players. Power cards let you do things like play or get extra cards for your turn. Challenge cards lets you challenge another player to get character pieces or cards, doing things like rock-paper-scissors or seeing who can take their shoes and socks off and put them on the opposite feet the fastest. And finally, the Special cards will completely alter the balance of the game.
Once you're used to playing that way, the instructions recommend adding the Agent P/Doofenshmirtz cards. These are persistent cards that happen over more than one turn, such as the one that says if you have the Agent P character piece, you have to sing "Agent P!!!" before the start of your turn. Each one also has a bonus or penalty that comes with it.
If you're interested in getting this game, it can be ordered through Amazon.com for $12.99.
Coming in two weeks:
Hands-on with the new merchandise
Recent episodes review
Other articles to be determined (submissions wanted - send to RRabbit42 or use the Newsletter submissions page)
Got a question or comment about this issue? Leave them below.
Ad blocker interference detected!
Wikia is a free-to-use site that makes money from advertising. We have a modified experience for viewers using ad blockers

Wikia is not accessible if you've made further modifications. Remove the custom ad blocker rule(s) and the page will load as expected.