(subscribe)

               
The Official Phineas and Ferb Wiki Newsletter, Issue 76: September 16, 2012
 
News and information from the world of Phineas and Ferb.
 
Crat Corner

by RRabbit42
Fall cleanup
I have been away from the wiki for a while again, trying to get some other things done and generally trying to rest. Some of what I have been doing is cleanup on a couple of wikis that were hit pretty hard by people determined to add what they wanted to even though it didn't fit the wiki. I don't know if you could exactly call it vandalism, but it's close.
Back here, we have our own cleanup to do. It's time again to go through the forums and blogs and close the ones that have been answered or have become inactive. We're also behind on getting the behind-the-scenes parts of the wiki updated so that it will work with the upgrades that Wikia is putting into place for HTML5 compliance. And if I've remember right, there's a few things I've promised to do recently that I just didn't have the energy for. Time for me to get going on those.
A while back we were going to switch all of the separate templates that are at the top of the pages over to the Improve template. It's a template that can display more than one reason why a page needs to be improved and it takes up less space. Anyone want to head up the drive to get that taken care of?
Administration update
Last month, PFMuffinStrike455 was elected to become an administrator. She had been working hard to improve some of the areas of the wiki that needed it, so it's good to have another person on staff to handle issues.
Topher208 and I had discussed how the voting went and the concern that was raised by some of the voters that we had enough administrators. Several of the long-term admins have had to step back as real life issues have taken up their time, so we knew another admin would be beneficial to the wiki.
We do want to make sure, however, that we don't get too many people on staff before we actually need them. To that end, we are closing the nominations for chat moderators, rollback rights and administrators for a while.
At the moment, we don't have a specific amount of time for the closure. It will likely be a couple of months, which would put us around Christmas. Probably better for us to extend it to about mid-January, so everyone can get caught up from the holidays.
We're going to look at who has what rights right now and find out how active each person thinks they can be. Then if it looks like we will be a little short in an area, we'll open nominations back up ahead of time. For example, if a chatmod said, "We're going to be moving and I don't know when I'll have an Internet connection again", then we'd know that we could use another chatmod.
I think I should point out that we're not going to remove rights for the people that are inactive. Just see if we need more with each kind of user rights.
Odds 'n' Ends
Ryan Stoppable comes through with another Numbers Game that takes a look at the results for "Ferb TV".
We have a lot to cover in this issue, so we'll try to bring back the episode review next time.
Upcoming Special Events
by Mouseinphilly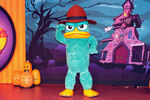 Are you planning to go to the special Halloween events at Disneyland or Walt Disney World? The Phineas and Ferb (and maybe even Agent P) costumed characters are all present for special meet and greets. Disneyland Park in Anaheim will host their visits at Mickey's Halloween Party events at a new location to be announced as the old Carnation Gardens, where they were last year, has closed to make way for a new Princess Fantasty Faire at The Happiest Place on EarthTM. Over in Lake Buena Vista, Florida, south of Orlando, the boys are at City Hall with their haunted house in the background from "One Good Scare Ought to Do It!" at the Magic Kingdom for special meet and greets during Mickey's Not-So-Scary Halloween Party. Tickets for these special separate admission events are at both the Disneyland and Walt Disney World websites. Whilst on the topic of teal-approved agents, charactercentral.net also reports that there are rumors of Perry being part of the interactive meet-and-greet at Disney's Hollywood Studios starting this fall on a full time basis. That part domesticated pet, part dynamic furball of action has met quite a few VIPs this year at DHS like former Hootie and the Blowfish singer Darius Rucker and cast members from Modern Family, among others. Stay tuned for more developments.
Jeff "Swampy" Marsh twittered to the world that British celebrity chef Gordon Ramsey will be a guest voice in Season Four. No word on if he plans to critique Buford's little Ferb TV spoof.
If you live in or around the Metropolitan New York Area, you can have your kids make a Phineas and Ferb inspired kite (thanks to the Disney-ABC Television Group) at the 2012 Maker Faire New York on Saturday, September 29th at the New York Hall of Science in Queens. More information can be found at the Maker Faire website. (See below for some more information on this.)
Finally, all of us here at the Gazette would be kicking ourselves in shame if we didn't mention that co-creator, executive producer, songwriter, art director, director, voice of Dr. Heinz Doofenshmirtz, blah blah blah, two car garage, et cetera, et cetera... ("Yeah? Well welcome to my world!") Dan Povenmire will celebrate his birthday on the 18th of this month. (We won't tell you how old he'll be.) If you have a Twitter account, send him a birthday greeting (in 140 characters or less, natch) to him @danpovenmire and tell 'em that the Phineas and Ferb Wikia sent you. Enjoy that Doonkleberry cake from Gunther Goatcheese's for all of us, Daniel, but look out for those pesky Donnkleberry Bats who'll try to devour said cake before you enjoy it.
Merchandise by the Boatload
by RRabbit42
As you know, Phineas and Ferb has done so well that they've graduated from having small appearances in the Disney theme parks to having their own attractions. When the show started to really get going, Disney matched it with a statement that they were going to release 200 pieces of merchandise. The next time they talked about merchandise, I believe the figure they stated was three times as before. That would put the total number of items at 800 if they are not including any of the previous items and are talking about 3x of new products.
From what I've seen, that may not be an exaggeration. Phineas and Ferb products are starting to show up all over the place. We've got the common items like t-shirts, hats, school supplies, toys and food. But did you know there is Phineas and Ferb perfume, insect repellant and gummy vitamins? Or that the Kellgog's fruit snacks are now on their third packaging design?
Sadly, some of the merchandise has been lost. I found out that there was a sketch book and some Chupa Chups lollipops that seem to only have been available in Mexico last year. I can't find them any more. These are just two of the items that have reached the end of their commercial life.
Our Merchandise Portal currently has 18 sections. It will soon be 19 as we add a "Beauty and Healthcare" section for the perfume, bandages, mouthwash and the rest. There might be more as new types of products are released or we have to split some sections into two or more new sections to keep them from growing too long.
Take a look at the Puzzles section of the Games page and compare it to the section above. I have moved the description down to a separate line. The description is usually the longest part of an item's listing. Giving it its own line will shrink the pages quite a bit. Let's see if we can get the rest of the Merchandise Portal converted over to that format.
As much as we probably all want to get everything with a Phineas and Ferb logo on it, very few of us are going to be in a position to do that. Money aside, some things just aren't going to be sold in all countries. But what we can do is help build a catalog of what's available.
If you see something in a store or on a website, add it to the Merchandise Portal. Don't worry if you can't get a picture for it right away. The information for where to buy it is more important.
But if you do buy an item, after you add it to the portal, consider writing a review of it. I have bought quite a few items, but every review I've written has been from an adult's point of view. There's a certain joy in learning about and playing with a new toy that only kids can experience. Don't worry about how you write it, and don't limit yourself to just toys. Share with us and let us join in on your excitement about your latest find.
Mobo's Miscellany

by Mobo85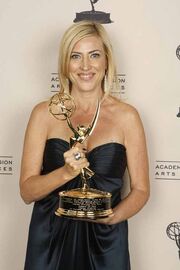 On Saturday, the Creative Arts Emmy Awards were held at the NOKIA Theatre in Los Angeles. Although Phineas and Ferb did not win in either of the competitive categories it was nominated for (Regular Show won Outstanding Short-Form Animated Program, and Dr. Doofenshmirtz was thwarted by Futurama star and former fellow would-be evil mastermind Maurice LaMarche in the category of Outstanding Voice-Over Performance, the show didn't go home empty-handed, as background painter Jill Daniels received a juried Individual Achievement in Animation award (her second) for her work on "Doof Dynasty". Ms. Daniels's achievement was announced last month, and you can find out more about it (and her) on my blog.
Later this month, the World Maker Faire will be held at the New York Hall of Science in Queens, New York. Presented by Make magazine, the Faire features all sorts of interesting hand-made projects on display to delight both children and adults, ranging from a microscopic hologram of the King James Bible to a unicorn sculpture named Katy Perry that breathes fire and dispenses soda. Sounds like the kind of place Phineas and Ferb would be right at home at. Well, thanks to Disney/ABC Television Group being one of the sponsors, they will- at least in spirit. Disney is offering a Phineas and Ferb-inspired build-your-own-kite activity on Saturday, September 29. For more information on the World Maker Faire, visit its official website.
---
From the Blogs: Your Favorite Phineas and Ferb Moments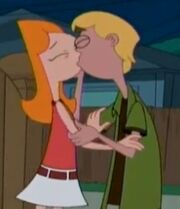 We are starting an occasional feature with this issue of the Gazette. From time to time, we'll be posting comments that you've made on our wiki members' blogs about the Phineas and Ferb universe. For our first foray into the blogosphere of the P&F Wiki, I asked in honor of the show's fifth anniversary, I pondered what your favorite moment was from the series.
Many of you brought up the two special episodes, "Summer Belongs to You" and the "Across the Second Dimension" movie. We'll begin with the former. Many Canderemy shippers said that when they called each other "boy friend" and "girl friend" and later kissed each other near the end of the episode, especially P&F fan92, while a couple of fans thought Phineas telling Candace to "GET ON THE TRIKE!" was a classic. One anonymous female fan thought that Isabella's head asploded (as they say in the Homestar Runner universe) was one of her favorites.
At2D was also well liked, especially the final segment. Buunak Peabody said that she liked the Robot Riot song and 2nd Dimension Candace kicking robot chassis, Mochlum thought when Phineas, Ferb and their friends came along with every invention they had (up to that point) to battle the evil Normbots ("It's muffin time, sir!"), Phineasandferbruletheworld thought that 2nd Dimension Perry (the Platyborg) having the evil fried ought of him, as well as Candace and her counterpart hugging each other were their favorites. And of course, Green Ninja thought that Phineas saying farewell to Agent P before having those memories erased was a favorite - and that was before the ultimate Phinabella moment: Isabella kissing Phineas.
As far as the regular episodes go, some of us (including truly yours in one of my two favorite moments) thought the hilarious Drusselstein Driving Test Waltz was a fun moment, even with Perry in his Rumpkinhosen writing out his Last Will and Testament in "The Doonkelberry Imperative", Ferb's Winston Churchill speech in "The Lizard Whisperer" (from 09MurphyM), the debut of Irving when he asked asked "Where's the P-man at?" (from JayTehSpongetta) in "Hide and Seek", while KinHikari pointed out Perry's lair entry in "The Great Indoors" as one of her favorite moments.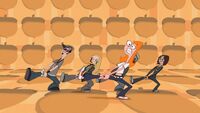 My other favorite moment? Well, remember the episode "Comet Kermillian"? It became famous for the YouTube moment of the P&F era. Just four simple letters and one of the most popular songs from the show, S.I.M.P. (Squirrels In My Pants). How else can you say this is hilarious, especially when Suzy Johnson, Jeremy's psychotic little sister, starts it by playing croquet with an acorn...and the next thing you know, Candace is dancing her brains out.
Want to read more about those favorite moments? Click here to read on and feel free to contribute yours as well.
Different Kinds of "Gifts"
by RRabbit42
One of the problems that you run into when looking for Phineas and Ferb products is that you never know where you're going to find them. It's not a simple matter of looking in predictable areas of the store. My shopping trips now take about twice as long because I'm looking in new areas to see if there might be something P&F-related in there. It's how I found the Campbell's soup with the two different labels on it, and it's how I found the wall decals. (Both to be added to the Merchandise Portal and/or reviewed in an upcoming newsletter.)
This is also how I found myself going into a store that I normally don't have a reason to. On a whim, I went into the Spencer Gifts store in the mall. (The sign says Spencer's, but the full name is Spencer Gifts.) I think I had stopped in last year or earlier this year and they didn't have any P&F items. But this time, they did.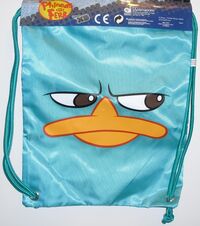 At the front of the store, they had two separate displays with Phineas and Ferb items. All but one of them was a clothing item, but I'm pleased to say that most of the clothing items were in the larger adult sizes so I can actually wear them if I want to. Up until now, I think I've only seen one or two baseball caps and a few t-shirts that would fit me.
Let's take a look at the item that's different first. A company called Accessory Innovations makes what's called a "drawstring backpack", but it's also called a "cinch sack". It's a flat bag with a pair of sturdy cords running along the sides that you slip your arms through. It's about 17x13" so it will hold a quite a bit, but if you're an adult, you're probably going to carry it like a bag instead of wearing it like a backpack. It's currently on sale for $14.99.
As mentioned, these are three adult-sized baseball caps. The two on the ends have embroidery on the bills, with the one on the right having its design on the underside of the bill. The first two are $16.99 each and the last is $19.99.
Now we have the four items that are going to help keep you warm. On the left is a pair of Agent P slippers, padded and plush, for adult-size feet. Similarly, the next is what's called a "laplander" knit cap with tassles you can tie around your chin.
On the right, we have two different kinds of socks, by a company called Planet Sox. The first are knee-high socks featuring Agent P. The second is a set of 10 "Mix N Match" socks, which features Perry's face, Candace, Jeremy, Isabella, Phineas, Perry, Ferb, Buford, Doofenshmirtz, and Perry wearing the "fabulous" star-shaped glasses. You get one of each in the pack, so you mix and match what you want. If you want to wear the same kind of sock on each foot, you'll need to buy two sets. I guess you'd have to wear sandals or some other kind of open-toe shoe if you want people to see which ones you've chosen. Or you wear regular shoes and keep that secret for yourself.
The prices on these are, from left to right: $19.99, $16.99, $5.99 and $12.99.
There are often different items available in a company's local store than there is on the website, and sometimes the selection is different between the local stores. This is the case with Spencer's. Baseball cap #2 and #3 are available on the website along with the drawstring backpack and the slippers. The website has another Laplander hat that features a "Perry mohawk", a couple other kinds of plush backpacks, a belt buckle and a wallet.
Now, one thing I do have to let you know is that Spencer's has items that are definitely for adults. Not just clothing that is made to fit the larger size of an adult, but rather items that aren't for kids or most teenagers. Because of this, I'm not going to link directly to their website. I'd like to since they have some good P&F items I haven't seen in any other store, but I think I'll err on the side of caution. As such, before you go into the store or go to their website, have your parents check it out first.
Coming in two weeks:
It's almost time for Halloween, so in the true "spirit" of the season (see what we did there?), RRabbit42's Hands-on with the New Merchandise shows you some officially licensed Phineas and Ferb costumes with an emphasis on Agent P and accessories, while Mouseinphilly presents a simple guide to do-it-yourself costumes of your favorite characters.
Recent episodes review
Other articles to be determined (submissions wanted - send to RRabbit42 or use the Newsletter submissions page)
Got a question or comment about this issue? Leave them below.
Ad blocker interference detected!
Wikia is a free-to-use site that makes money from advertising. We have a modified experience for viewers using ad blockers

Wikia is not accessible if you've made further modifications. Remove the custom ad blocker rule(s) and the page will load as expected.