(subscribe)

               
The Official Phineas and Ferb Wiki Newsletter, Issue 79: November 4, 2012
 
News and information from the world of Phineas and Ferb.
 
Crat Corner

by RRabbit42
We interrupt your regularly-scheduled Crat Corner
Normally the Crat Corner section of the newsletter is used to discuss issues happening on the wiki. This time, I am going to use to to bring to your attention two things going on across the pond.
The first is that the UK Disney Channel website is having a competition for kids and teens to win a chance to record some lines for an upcoming episode. If you are between 6 and 16 and a UK resident, head over to the website to get the script and instructions on how to send in your recorded entry. Looks like this ends on November 9, 2012 at 5pm, so there's a few more days for you to enter.
The competition is to see how closely you can duplicate a sound clip. The finalist will record their lines at Pinewood Studios in January. Runners-up will get a pair of trainers (sneakers for us yanks) made by Etnies and a goodie bag. If you click on that link to the Etnies website, two of the shoe designs are available in different colors. For example, the "Fader Kids Disney" has a Perry theme and an Agent P/Doofenshmirtz theme.
The second major event is that it's time again for the BAFTA Kids' Vote. Disney Channel UK has a section on their website that lists which of the nominees are from Disney, and this includes Phineas and Ferb. The four categories are films, games, TV shows and websites.
The BAFTA Kids' Vote website is located at http://www.baftakidsvote.org/. Though this is run by the British Academy of Film and Television Arts, people from countries outside the UK can also vote. I haven't been able to find when the voting will end, but it should run for a few more weeks at least.
Odds 'n' Ends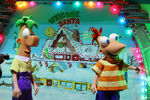 May The Farce Be With You... Glorf

Recent developments at Disney of the purchase (at US $4 billion) of LucasFilm got Phineas and Ferb writer Aliki Theofilopoulos Grafft to create this spoof and posting it on Twitter. Doof Vader sounds menacing at first thought, while Perry as Yoda sounds funny.

 

Fireside Girl April

Mouse's sister-in-law, April, dressed up as a Fireside Girl for Halloween this year.

---

Both articles and the "Odd 'n' Ends" come to us courtesy of Mouseinphilly.
Breaking away from the Norm
by RRabbit42
When a TV show reaches its third or fourth season, it pretty well has things dialed in. That's a good opportunity to experiment and explore new ways of telling stories. The second episode in this review does exactly that. But before we can get to it, let's go back three months earlier to when its partner episode first premiered in the US.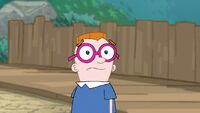 "What A Croc!" opens with Candace being put in charge for the day after her mother reconsiders what Lawrence is planning on watching while she's gone. But with Crikey, beloved animal star, going missing, it's up to Phineas and Ferb to find him. Irving has come over to show off the "UPAFDS", his Ultimate Phineas and Ferb Digital Scrapbook, and Candace has to tag along to get a chance to use it to bust her brothers. The search takes them through Danville's sewers, the art museum, the waterways above ground in downtown Danville and ending up at the Danville Nature Preserve.
Agent P receives his mission briefing from guest star Ray Liotta, who realizes that maybe he shouldn't have dropped out of The Academy in favor of being a much higher-paid Hollywood actor. Over at Doofenshimrtz Evil, Incorporated, Agent P learns that all the chicken-related research that Dr. Doofenshmirtz has been doing lead to the creation of the Chicken Replace-inator, which is designed to make people laugh by swapping objects with the nearest available chicken. Because it's obvious: people laugh when they see a chicken. "Chicken, laugh. Chicken, laugh." Sounds logical to me, Dr. D.
This episode has some good gags in it. There'a friendly jab at Jeff "Swampy" Marsh, Candace learning that alligators and crocodiles can't always be handled the same way, and another cameo by the Farmer and Farmer's Wife with their aptly-named (former) chicken farm. The best one, though, is when Irving realizes what he said also meant something else.
On the other hand, "Ferb TV" leads off with Phineas talking to the audience, warning them what they are about to see will be a little different. It definitely is. The TV rapidly switches between episodes of different series:
Doctor Ninja Baljeet — a doctor who is also a ninja and a master of overdone examples of his martial arts skills
The Klimpaloon and Giant Floating Baby Head Hour — a variety show where it doesn't pay to be a juggler
That's the... NORM — Little Suzy Johnson tries to hide Norm from her brother and everyone else
Your Cooking STINKS & so do YOU! — Buford shows a famous chef how to cook the right way
KATT KARR — a show where the artificially intelligent car is shaped like a cat and has other feline characteristic
the Ducky Momo show — help Ducky Momo get across the bridge because he really needs help doing this
In between all these are a commercial for Meap's Carbonated Goulash and one for the Fireside Girls.
Right at the end we find out who the audience was that Phineas was talking to. Since Candace wasn't impressed by his and Ferb's efforts, she heads off to retrieve mom, but by the time she gets back a few seconds later, it's gone. This time, it's from an Inator that we never actually see. We also never see Dr. Doofenshmirtz, but he does make his presence known shortly thereafter.
As I said earlier, "Ferb TV" is an experiment and doesn't fit the structure of other episodes. So I can't provide any kind of wrap-up for the episode. It's its own creature, a format all its own.
Hands-on with the P&F merchandise, part 54
by RRabbit42
In last issue's merchandise review, I showed off two Agent P pillows that you can buy from Target and Toys R Us. Leave it to the Disney Store to come up with something even more impressive.
This is a life-size Perry the Platypus pillow. It's 20" long in the body, 37" from beak to tail. It is made from polyester fibers and has some plastic plates in the feet to help them keep their shape, but everything else about him is soft and cuddly. Hand wash him when you need to clean him.
The picture to the right shows it in comparison with the other two pillows, with the Transforming Perry toy added in to also show the scale of each one. A bigger pillow like this has a bigger price. Expect to pay $40 for this, but since this is not just a pillow but a life-size version of Perry, it's worth it, and it's on sale right now for $25 at the Disney Store. The employee I talked to at the local Disney Store I visited said that large plush animals like this aren't made is as great of numbers as the smaller ones and they tend to go quick.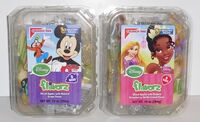 So far, the number of food and drink products has been small, but now there are three more added to the fold. We told you back in July about the new "Flavorz" apple slices and "CoolCuts" salads and mini meals. I haven't seen the CoolCuts in the stores yet, but I did manage to find the Flavorz snacks recently and I got two friends from work to help me sample them.
Crunch Pak takes Fuji apples and adds other fruit flavors to them. Each box has five packages, and each package weighs two ounces (five or six slices), which is about a third of an apple. The flavors are divided amonst the different brands: Phineas and Ferb gets Peach Mango, the Disney Princesses get Strawberry Vanilla Cream, and the other Disney characters like Mickey, Minnie and Goofy get Grape.
A fuji apple is normally a red-skinned fruit, but most of these had a green skin, so I think they might be a variety that isn't listed on Wikipedia's page yet. I thought they were Golden Delicious apples at first. Each package is 30 or 35 calories.
The taste test was two in favor of the Peach Mango and one for Grape. One of my co-workers mentioned she liked the smell of the Grape and Strawberry Vanilla Cream apples, but liked the taste of the Peach Mango apples better. One of the first P&F boxes I bought included a "rub and sniff" sticker to help you get an idea of what the apples would taste like.
Walmart had them for $3.48 each. You might be able to find them in other stores like Safeway and QFC. If anyone finds a store that carries the CoolCuts, leave a comment to let everyone know.
The next snacks are made by Brothers-All-Natural. These are a freeze-dried fruit snack and the process they use means they don't have to add any preservatives or extra sugar. The back of the package listed their "best if eaten by" date of about two years from the time I bought them.
Each package is a half cup of fruit (10 or 12 grams), running between 35 and 45 calories each. For the Phineas and Ferb line, the selection is as follows: Phineas/Fuji apples, Ferb/strawberries and bananas, Agent P/Asian pears, and Dr. Doofenshmirtz/Fuji apples with cinnamon.
As it turned out, all three of us liked Dr. Doofenshmirtz's apples with cinnamon. I picked Phineas' apples as a close second due to how sweet the apples are by themselves, but I also like Agent P's pears since they have a kind of gentle flavor. With the freeze-dry process, it's almost as if you could have the fruit dissolve in your mouth if you suck on them a little bit. Not exactly, but it's like that.
So far, I have only been able to find these at one branch of a regional grocery chain called WinCo Foods. I tried four others in the area, but they didn't have them. As I kept coming back to the first store over the next few weeks, I think I wound up buying at least half of what was being sold. They were just under $1 apiece.
The Phineas and Ferb snacks haven't been added to the website yet, but if you head there, you'll see they have packages for Mickey's Clubhouse, the Disney Princesses and Cars in those same flavors, plus peach, strawberry (without bananas), Mandarin orange and pineapple. I was able to get the display stand from the store once it was nearly empty. A lot of times, displays are thrown away once they run out, so after the P&F snacks show up on the website and I can order some, I'm going to set the display back up in my house. Until then, my mantra is "must resist the tasty goodness in those last four packages".
Fortunately, one of the ways I can resist that temptation is with the new Agent P Lip Pop! lollipop. This "Teal-berry" (blue raspberry) lollipop is made by FLIX Candy and comes on a plastic holder shaped like Perry's beak.
The "buy now" button on the FLIX website takes you over to Candy Warehouse, which has this great description:
"Your mission, should you choose to accept it, is to consume as many Agent P Lip Pops as you can while donning your favorite secret crime-fighting platypus's disguise! When he's not saving the world from destruction at the hands of his evil nemesis Doofenshmirtz, Agent P aka Perry the Platypus from Disney XD's Phineas and Ferb masquerades as an unintelligent everyday house pet that doesn't do much. As Perry, Agent P is a force to be reckoned with. Fit a fedora low over your eyes and snap your Lip Pop firmly in place before you spring into super hero action. It will be hard, but try not to get lost in the blissful teal-berry taste of this tasty blue-green sucker—you've got a planet to save."
The lip pop is Teal of Approval Certified. I found them at Toys R Us for $1.50 each. As one of my co-workers put it, they're "so cute and taste great, too". I agree. I finished the first one a few minutes ago. It's not going to be the last.
Coming in two weeks:
Hands-on with the new merchandise
Recent episodes review
Other articles to be determined (submissions wanted - send to RRabbit42 or use the Newsletter submissions page)
Got a question or comment about this issue? Leave them below.
Ad blocker interference detected!
Wikia is a free-to-use site that makes money from advertising. We have a modified experience for viewers using ad blockers

Wikia is not accessible if you've made further modifications. Remove the custom ad blocker rule(s) and the page will load as expected.